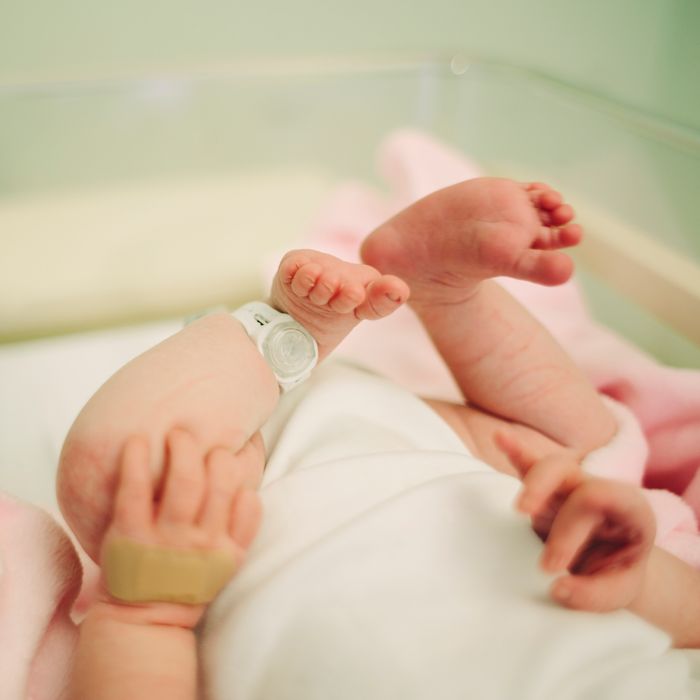 Photo: Getty Images/Getty Images
My husband and I weren't in the room when our daughter was born. I used to say we willed her into existence.
He and I first met in a grimy college bar. I was 21; he was 25 and dreaming about his future again. Three days later, we laid on a deserted beach in the September sun. "I probably can't have kids," he said suddenly. Six years earlier, he'd been diagnosed with a cancer that nearly killed him. I held my breath while he described the radiation, chemotherapy, and stem cell transplant. He paused to watch my reaction.
"It doesn't matter," I shrugged, laying my head on his chest. Motherhood was still a distant idea, and the realization that he was almost lost to me before we ever met was unbearable. Within weeks, we were engaged.
By the time I turned 25, motherhood had become a matter of how and when. Friends were making plans and building their futures, and I wanted to plan ours too. I had peed on enough pregnancy tests to know magical thinking wouldn't work, so we eventually booked an appointment with a fertility specialist. The visit confirmed that our options — a combination of sperm washing, ICSI, hormonal treatment, and IVF — were limited. "And the success rate?" I asked, my leg bouncing. Less than 5 percent. The cancer treatments had killed most viable sperm.
"I'm sorry about the cryobank," the doctor said, staring down at his file. My husband pulled his hand from mine. Before his cancer treatments, his parents drove him to a cryobank to preserve his sperm for the future, to give him the options he deserved. But a few years later, the facility had a power outage. The backup generator failed and everything was lost.
My husband still squirms when he talks about having cancer. His face goes stony, his eyes look somewhere far away. Every time we talked about having a family — and how — he had that look. It scared me, so I quietly researched other options on my own.
"What is this?" my husband asked, months later, when he found a pamphlet on sperm donation. Quiet hung in the air. "What are you thinking?" I finally said. "That I'll be an outsider in my own family," he said sadly.
When I daydreamed of our family, I longed for the firsts: the first night, first steps, first time hearing "mama." I longed for a baby, not genetic ties. We decided adoption was our option.
Adopting domestically, in British Columbia where we lived, was our best chance to have a newborn, we learned, as well as an open adoption. That meant our child would always know their origin story. It also meant the birth parents choose their baby's adoptive family, so there was no guarantee of a match.
After a year of saving and convincing ourselves we were ready to be parents, we met with the director of the closest adoption agency to us. I picked the chipped veneer from the table in the bland conference room at the agency's office while we discussed the adoption process: First, there'd be a home study assessment, a screening process for prospective parents. Over the course of three months, a social worker would conduct a series of interviews to ensure our suitability to parent. We would also need to complete educational modules on adoption, medical exams, and police background checks. Then, assuming we were approved, we would create a profile book with candid photos of our life and a personal letter introducing ourselves to birth parents. This, along with the home study report, is how birth parents choose a match from a pool of approved prospective families.
She placed a stack of paperwork in front of us to sign:
Did we understand there were no guarantees? 
Did we understand a birth parent can change their mind anytime, when matched before the birth? 
Did we understand, by law in British Columbia, a birth parent had 30 days after birth to rescind consent to adoption? 
We understood. We paid the $4,000 nonrefundable fee for the home study assessment and scheduled our first home study meeting for the following week. The total cost for a successful adoption was roughly $20,000. We took out a line of credit to cover the costs.
Before the first at-home meeting with our assigned social worker, I flung clothes around the bedroom, unsure of what to wear. Nothing in my closet seemed to say good mother. I gave up and put on jeans. When the doorbell rang, I kicked my clothes under the bed.
"Let's start with getting to know you," she said, pulling a pen from her messy bun. We laughed describing the night we met, but she was interested in prodding deeper than our college dive-bar origin story. Did we smoke? Drink excessively or do drugs? How would we cope with sleepless nights? How would we raise our child? We planned to raise our child with honesty and patience, but didn't have every answer.
Two hours later and just before she left, she handed over a stuffed five-inch binder for the educational modules. I read through the chapter titles: Attachment theory, openness, drug and alcohol exposure. Afterward, we collapsed on the couch.
"How many more meetings?" my husband asked, rubbing his eyes. "Three," I replied.
Each meeting we focused on something different: our upbringings, finances, friendships. She inspected our house for hazards. We talked about my husband's cancer. Would I have support if I became a widow? I dug my nails into my palms and nodded.
During our final meeting, we went through a checklist of what we were — and, more painfully, were not — willing to take on as parents. I felt nauseous as we checked our way through the list: Ethnicities? All. Cultures? All. Mental health, physical health, openness plan. When they asked about exposure to drugs and alcohol, I hesitated. My husband said no.
"It's best to say you are open to some exposure," she advised. "If she discloses any substance use prior to knowing she was pregnant, you won't be eligible." I checked yes.  Our home study was approved.
Four months later, the call. We combed through the birth mother's profile, her medical history and prenatal care, and agreed within the hour.
A few days later, we met the birth mother and her social worker at a diner an hour's drive from where we lived. She was 14. A child with a basketball belly and red hair like mine. She kept her eyes down, sneaking glances at us. When we talked about the future, she had a hard time answering. "The future seems far away," she said. She didn't share details about her pregnancy or why she chose adoption. But I wondered. When it got quiet, we sipped our drinks, hoping someone would fill the silence.
Driving home, I asked my husband what he was thinking. "I don't know. How can we tell from one conversation?" I shrugged and reached for his hand.
That week, we bought a car seat and laughed while installing it. The few friends who knew dropped off baby hand-me-downs. My mom cried at the bottles lining our counters. Joy felt close. Then ten days later, the baby was born.
"She's here!" the birth mother's social worker announced over the phone.
"She?" I laughed.
"Check your email," she said. "I'll call when you can meet her." When we hung up, my screen filled with a pixelated photo: a tiny newborn in a knit hat. "We have a daughter," I whispered to my husband, leaning my head against his chest. I heard him swallow hard as he hugged me.
Two hours later, the phone rang as I was packing bottles into the diaper bag. "The doctor needs to discuss something," the birth mother's social worker told me, her tone concerned.
"Why?" I asked, standing still.
"There's a chance the baby has fetal alcohol syndrome," she said quickly. (Today, the condition is known as fetal alcohol spectrum disorder, or FASD.) "He'll call. I'm sorry. I have to go." I stared at the phone wondering what to do next.
We called the agency. "What's happening?" I demanded. "We don't have answers yet. Don't panic," the director of the agency said. As we hung up, a friend walked through the door with flowers. Her 3-month-old daughter cooed on her hip. A sob exploded from my sternum. "Just breathe," she told me.
More hours went by. Eventually, our friend left, also in tears. My parents brought food no one ate. I Googled. My husband paced and read the binder's section on alcohol exposure.
Finally, the doctor called. He was kind but direct. "The baby has facial malformations consistent with fetal alcohol syndrome," he said. My husband pointed to questions he'd written: How severe? What does care look like? What resources will she need?
He told us FASD presents differently in each person. There can be behavioral issues. Central nervous system issues. Many require support in adulthood. Many have a shorter life span. No test could diagnose the severity of her condition at her age, which meant we couldn't know what support and resources were needed.
The air disappeared from the room.
The agency called shortly after. Did we want to proceed? It was our first parenting decision. An impossible one — and we had 24 hours. "Where will she go if we don't bring her home?" I said, voice shaking. "There are loving families waiting to care for her," the director of the agency said gently. What kind of mother am I to turn away? I thought to myself.
That night, my husband sobbed when he called his mom. She and my father-in-law had taught students with FASD over their teaching careers. "More people than you think are living with FASD," she told us. "Many thrive with the right support." My husband turned to me, whispering, "I don't know if I can handle more doctors in my life right now."
We sat in our living room poring over what little information we could find about FASD care and resources. We went back and forth: Could we financially and emotionally care for her? Shift the dreams we had for our family? My husband rubbed the worry on his face. He was afraid the love, patience, and advocacy required of us would swallow the life we dreamed of. "I don't want to let go of more dreams," he finally said, exhaling heavily. He dreamed of teaching his kid to snowboard, to dirt bike, to drive. Those dreams felt more complicated now.
I couldn't answer him. What if this was our only chance at a family? I wanted to pummel my fists into his chest. Scream at him for having cancer. Destroy the cryobank for eviscerating his sperm. Burn down the world, for failing a 14-year-old girl. Burn it down again, because the baby had no choice but we did. I had nowhere to point my rage so I curled into a ball and wept.
I wept because I loved her and wanted to bring her home.
We didn't sleep. At 3 a.m. I kicked off the duvet and made coffee. My husband flicked on the TV. A smiling baby filled the screen. He punched the power, and the room went dark. In the morning, we called the doctor. My voice was scratchy and raw; his was gentle and warm. I told him our story. How I wrote love letters to our baby and tucked them under candles I lit, like a beacon into the cosmos.
"Is she ours?" I whispered into the phone.
He was quiet for a minute. "You don't have to walk this path if you don't think you can," he replied.
There was no right answer.
"You can blame me, okay?" my husband said after we hung up. "But I think you know we aren't her parents." Shame covered me like a blanket. "I know," I whispered.
In the aftermath, I walked around hollow-eyed, afraid I had already failed at motherhood. Our friends came back and collected their baby things. I banished the car seat to the closet. For weeks, every morning I woke up and remembered. Then seven weeks later, another baby girl was born. Her birth mother chose us.
We pored over the birth paperwork, medical history, and prenatal care, then asked the agency more questions. There were no signs of exposure. "So," my husband said. "Should we try again?" I nodded.
A few hours later, we walked through the hospital. I fought to stop myself from imagining what this moment would've looked like with the other baby. When we walked in the room, our daughter was asleep in a clear bassinet. "You're here," her birth mother said.
When I lifted my daughter to my chest, she let out a tiny sigh. "We found each other," I said quietly. My husband cried.
There is no language to soften the moment your daughter's birth mother leaves her with you. Her grief was overwhelming. I whispered "thank you" over and over because I didn't know what else to say. I traced the outline of our daughter's face until I had it memorized in my bones. "She looks like you," I said to her birth mother.
In those first early weeks of motherhood, while I held my daughter skin to skin, I still thought about the other baby. I wondered if her family rocked her in a rocking chair, or kept her hospital tags in a keepsake box, like I had kept our daughter's. Even though I knew in my bones I would make that same decision over and over to find our daughter, I struggled to think of it as right. It's taken me all this time, almost 13 years later, to understand that decision for what it was; it was us being honest with ourselves.
The decisions I have made in motherhood, both big and small, don't come with an answer I could find in that overstuffed binder I threw away years ago.  From how much screen time she should have and if we should give in and let her have Instagram, to what her relationship with her birth mother should look like and how best to support her. They rarely come with certainty. And almost always I am conflicted between wanting to keep her world innocent and wanting to be honest.
The other day I finally told her the story of the first baby. "So you could have been someone else's parents?" she asked, her eyes big and curious. "Is it bad that I'm glad you said no?" The truth is that of course it was the right decision for us. For our family. The other truth is that we don't know if it was the right decision for the first baby. That's the part that haunts me. The part that makes me think of her every year her birthday comes around.
"It isn't bad," I tell her, lifting her gangly preteen body onto my lap. "It's okay to be happy we ended up where we are, and also feel a little sad how it happened. That's how I feel too."