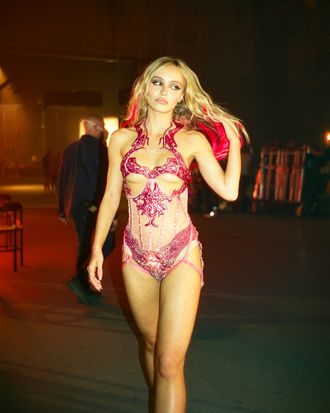 I don't know if you've heard much about The Idol, HBO's latest offering in the "more vibes than TV show" category. If you have not, consider yourself warned: Sinister ponytails and a mess of controversy ahead. The show will hit the network's revamped streaming platform, Max, in June, and though relatively little is clear about its actual contents, a spate of information about its ominous backstory is already available. We know that the Weeknd (legal name Abel Tesfaye) co-created the series with Euphoria showrunner Sam Levinson. We know it stars Lily-Rose Depp as a hypersexualized young pop star who, in the middle of an apparent breakdown, suddenly hands the reins of her career and life to a mysterious and greasy older man played by the Weeknd, to the shock and horror of her management team. We also know, based on the trailers, that there will be a ton of sexually explicit scenes, bisexual lighting, and Britney Spears deep cuts.
Speaking of Britney: Despite the "Gimme More" needle drop and the line "I haven't seen shit like this since the '90s" in the show's trailer, both Levinson and the Weeknd swear the storyline has nothing to do with Spears or any other female singer, for that matter. (Never mind that Spears's life and career were also dictated by someone other than herself until recently.) After the show debuted at Cannes to a five-minute standing ovation and a choked-up speech from Levinson, the director was asked during a press conference about The Idol's inspiration. "We're not trying to tell a story about any particular pop star," he said, adding that fame is "a lot of pressure — to have to be constantly on, and to be what everyone wishes you to be. It's a lonely life." Sounds a lot like the lyrics to "Lucky," no?
With that in mind, the Weeknd explained that for him, the biggest inspiration for the show was not a famous singer but a famous vampire. "The first thing I can think of is Dracula," he said when asked about whom his own character is based on. An original and subtle metaphor for the blood-sucking execs of the music industry, sure, but think about it: Who is under more pressure to be controlling and violent toward young women than Dracula, who literally needs to kill them to stay alive?
Horror may actually be an apt genre for The Idol, the reported details of which have made me wish that, like he Weeknd's vampiric alter ego, I could shut myself in a dark, soundproof coffin for hundreds of years. As Rolling Stone recently reported, the show has spent the past several years in limbo after a rumored rehaul essentially scrapped the entire thing and reshot it without its original director, The Girlfriend Experience's Amy Seimetz. Several industry reports have claimed that the Weeknd and Levinson took over with the goal of pivoting away from the "female perspective" of Depp's character, and the show quickly became a misogynistic, violent pornfest. A crew member described the result in Rolling Stone as "a show about a man who gets to abuse this woman and she loves it," while another simply called it a "rape fantasy." One proposed scene allegedly had Depp's character carry an egg in her vagina while begging the Weeknd's character to rape her.
Though that one was reportedly never filmed, at least one equally off-putting plot point did make into the show, based on accounts from Cannes: Depp's character poses for a photo with semen on her face and subsequently gets dubbed a "human cumsock" on social media. The other reviews out of France are less than encouraging:
Neither of the show's creators seem too perturbed by the optics of their creative decisions. At the Cannes press conference, Levinson said that his first reaction to the Rolling Stone report was, "I think we're about to have the biggest show of the summer." He also claimed the piece left out details that didn't fit its narrative, though he did not relay any of those omissions to reporters.
The Idol airs on June 4, which gives you two weeks to find a coffin sturdy enough to filter out further imagery of the Weeknd's ponytail. Good luck!