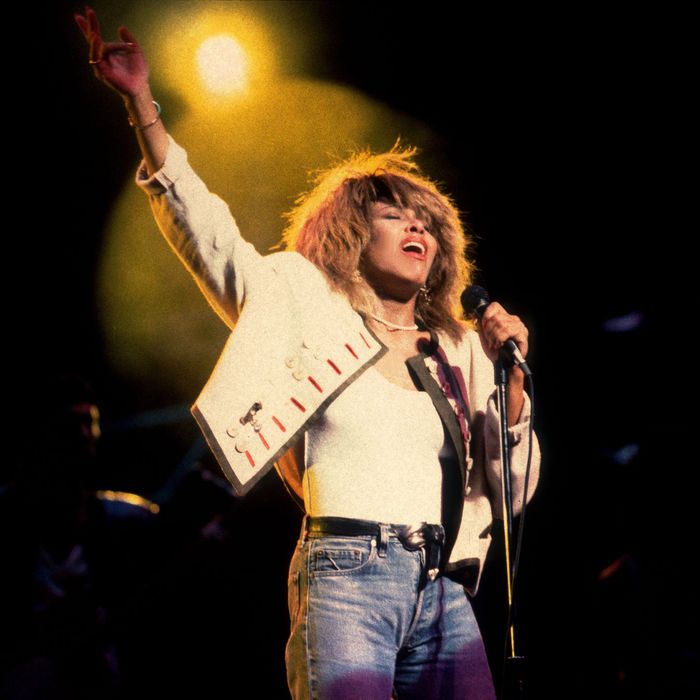 Photo: Paul Natkin/Getty Images
In November 1996, Tina Turner gave interviewer Mike Wallace a tour of her estate in Villefranche-sur-Mer, a coastal town along the French Riviera. While observing the Mediterranean view from one of her bedrooms, Wallace asked her, "You think you deserve all this?" Turner side-eyed him and said, "I deserve more." This profound yet painful clip is making the rounds on social media after the passing of the 83-year-old musician. Turner didn't just deserve more; she deserved it all. The brief exchange in that clip is tinged with racism and sexism: How dare someone like you expect more? Isn't the hand you've been dealt enough? But Turner operated from abundance — not scarcity.
For the past few generations, Tina Turner, born Anna Mae Bullock, has been an icon of staggering proportions, a Black woman from Nutbush, Tennessee, who became the queen of rock and roll owing to her unshakeable charisma, electrifying voice, and incomparable stamina. The lengths Turner ran across the stage on those enviable legs and high heels were as much a performance as a testament to her perseverance through all she had endured in her life. But it is important, now that Turner has ascended to the pantheon of other greats who have transitioned, that we remember the composite of who she was: an innovator in both music and life, a woman who refused to be confined to any single portion of her story.
Although most of us are familiar with Turner's body of work as a musician, we also have to acknowledge the vast influence of Brian Gibson's 1993 film What's Love Got to Do With It. Who could forget Angela Bassett's battered face in her Oscar-nominated performance as the singer? The film was adapted from Turner's autobiography, I, Tina, in an effort for her not to have to talk about her abusive ex-husband, Ike, anymore. But that didn't happen. That abuse has been referenced in popular songs like Beyoncé's "Drunk in Love," and for decades after Turner's divorce, interviewers continued to ask her about what her former husband, her ex-bandmate, had done.
She spoke out about abuse in an era when Black women's suffering was not taken seriously. Yet many years later, not much is different. We've seen it with Anita Hill and Megan Thee Stallion among many others. There was power in Turner's speaking up about all she had endured, but the problem with that power was that the rest of the public didn't grow along with her. For decades, many came to see Turner simply through the prism of her pain. In a 2018 interview with Marie Claire South Africa, she said, "People think that my life has been tough, but I think it's been a wonderful journey." She never discredited her misfortunes. On the contrary, Turner urged us to see her — and, by extension, Black women — as existing here alongside us, not careening toward death but in constant bloom with the blessing of life.
This blossoming happened for Turner at a time when women were thought to be over the hill before they turned 40. She had already been through it all by then: a divorce, extreme debt, professional nosedives. Folks believed her story would conclude in the bars and saloons along the Las Vegas Strip. But then came Private Dancer. In 1984, Turner competed alongside 20-somethings like Madonna, Prince, and Michael Jackson, and she sprinted right past them. Private Dancer was her debut album with Capitol Records and her first release without the specter of an abusive man hanging over her. This comeback was one of the most commercially successful endeavors of her entire career. Almost 40 years later, the discourse has not changed, but Turner's reemergence at the age of 45 and the success of Private Dancer will always stand as lighthouses to guide us back to the truth that one can always start again.
If Turner has taught the world anything, it is that resilience can have its rewards and that one's story is never over. She was the queen of the rebrand. She never gave up on herself, no matter how much the public believed she would fade into the annals of history as a footnote, perhaps in Ike Turner's story and nowhere else. But she kept changing, kept challenging herself, and kept growing, and that transformation made her relevant for more than half a century.
Turner bared so much of her soul and her brilliance to demonstrate that we should never count ourselves out of the game. She will always live on in the performers whose stage presence and musical stylings have descended directly from hers. But Turner's immeasurable influence can be found in how quickly and successfully she transcended expectations through the restrictions of gender, race, and abuse to become one of the crowning figures in the history of popular music. We are left with her voice and images and clips of her megawatt smile, wild hair, and free spirit. Through these artifacts, we'll always have a piece of her with us, a talisman of great strength to croon or scream to us that we are simply the best because she was, indeed, the best.