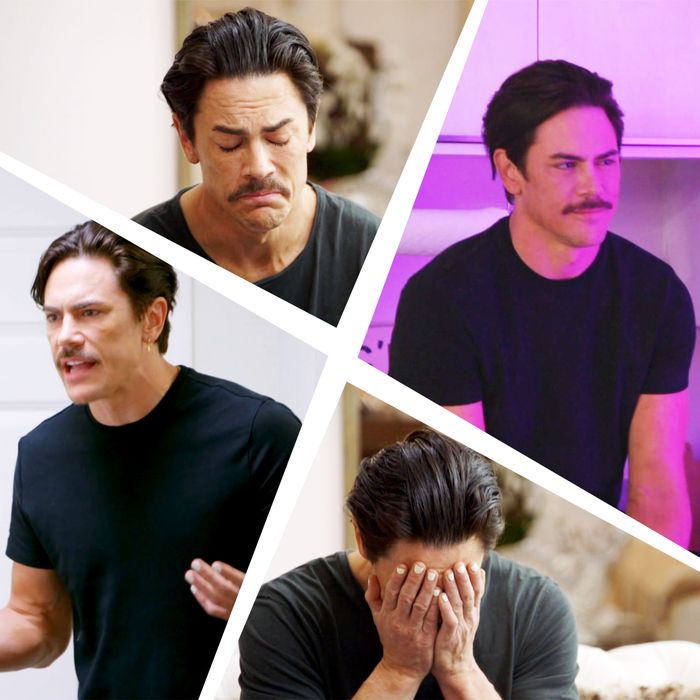 Photo-Illustration: by The Cut; Photos: Bravo
How can you tell if someone is lying? Maybe an eye twitch. Or averting eye contact. A shaky leg. Really, the only way to know someone is lying is by catching them. Vanderpump Rules star Ariana Madix knows this better than anyone. In March, she had her world upended when she discovered that her boyfriend of nine years, Tom Sandoval, had been cheating on her with one of her best friends, Raquel Leviss. On the current season of the show, Leviss was linked to Tom Schwartz, Sandoval's bestie and business partner, who was only very recently divorced from their co-star Katie Maloney. But it turned out that their messy smooch in Mexico wasn't even close to being the show's most incestuous scandal.
"Scandoval" — as this betrayal is now officially known — was a seismic reality TV bombshell. As the Bravo show aired, we watched Sandoval and Leviss conceal their seven-month affair from those closest to them. Not only did this make for addictive and maddening viewing, but it has underlined the idea — well, my idea — that reality TV is so popular, in part, because there is nothing quite as captivating as watching people lie.
At the most basic level, reality TV provides a record of its subjects' behavior. In the "real world," each of us remembers things in our own way, through our own viewpoint. But reality TV gives the audience a bird's-eye view: We get to see how people behave in different groups or assess whether what they say behind their co-stars' backs aligns with how they act to their faces. If someone starts lying, reality TV editors can easily cut back to key scenes that remind us what really happened. We've seen plenty of that this season on Vanderpump Rules, where Sandoval's pattern of lying to women has been replayed as history has started to repeat itself. Kristen Doute's historic warning that Sandoval is the "best liar I have ever known" felt particularly pertinent when we heard it again during last night's finale.
With a story line like Scandoval, we literally have a time stamp for when Sandoval and Leviss's affair began, which makes so much of their on-camera behavior since that moment seem even more horrific. I felt nauseous when Leviss started quizzing Madix on her sex life and body issues, knowing full well she had been sleeping with her boyfriend for, at that point, weeks. I was similarly enraged when watching scenes where Sandoval portrayed a grieving Madix as a bad girlfriend. (He complained she didn't make him coffee or buy batteries, despite … having a full-blown affair with one of her closest friends.)
On a show like Vanderpump Rules, which viewers see months after it's been filmed, the knowledge we gain in the time between when filming wraps and the show airs can make us feel powerful. I wanted to scream at the TV when Scheana Shay defended Leviss and said she would trust her to "sleep in the same bed" with her husband Brock. But truthfully (and sadistically), it made me feel a little smug and superior to know the truth as Sandoval and Leviss's castmates fell for their lies. I, like many fans, felt like I would definitely have been able to suss what was going on had I been in their shoes, even if that's probably nonsense.
As a culture, we have a collective fascination with liars. Look at how we track the falsehoods that come out of Donald Trump's mouth and social-media accounts — for the record, he made a total of 30,573 false or misleading claims in office — or our latest obsession with pathological newbie George Santos, who fabricated large parts of his life story and was indicted on fraud and money-laundering charges earlier this month. Scripted TV is fixated with scammer stories like The Dropout, Inventing Anna, and WeCrashed, which examine people who managed to fool the world's elite. And most true-crime shows ask, "Why do people do bad things?" and another question, too: "Why do people lie?"
Reality TV has weaved its way into these arenas, from a reality-star president to the "true-crime era" of Bravo's Real Housewives franchise, which recently saw one of its stars being jailed for six and a half years for fraud. I wonder if lying is in the DNA of reality TV as a medium, because the audience suspects on some level that what they're watching might be scripted or manipulated, but will often turn a blind eye for entertainment's sake. In the 2015 book Reality TV, professor June Deery calls this "staged actuality" — the tension between the real and the staged, which she thinks is central to the medium's appeal. There is a duality at play here, because reality TV both emboldens its stars to lie but also makes it much easier for liars to be caught.
In our increasingly digitized lives, the gleeful embrace of the concept of "receipts" represents people trying to hold onto definitive proof on the rare occasions we have it. Right now, from politics to the Bravo-verse, "truth" often feels subjective or like it's being purposefully distorted. In this context, there is something extra satisfying about reality-TV footage as evidence: It hits different in a way that supersedes screengrabs of texts on a screen — particularly when editors have so many tools, from flashbacks to confessional interviews, at their disposal.
As "Scandoval" has unfolded on-camera, I spent a lot of this season of Vanderpump Rules inflating my own ego and feeling like the smartest person in the room. How could they all be so stupid?, I thought, despite knowing that it's much harder to tell when people are lying to your face, particularly if you trust them. The show's sky-high ratings suggest that fans like watching people doing bad things — but more so, that liars are a central part of reality TV's appeal. As viewers, we need them. Otherwise, it'd be harder to self-appoint ourselves as the arbitrators of truth — and the ultimate judge of right and wrong.