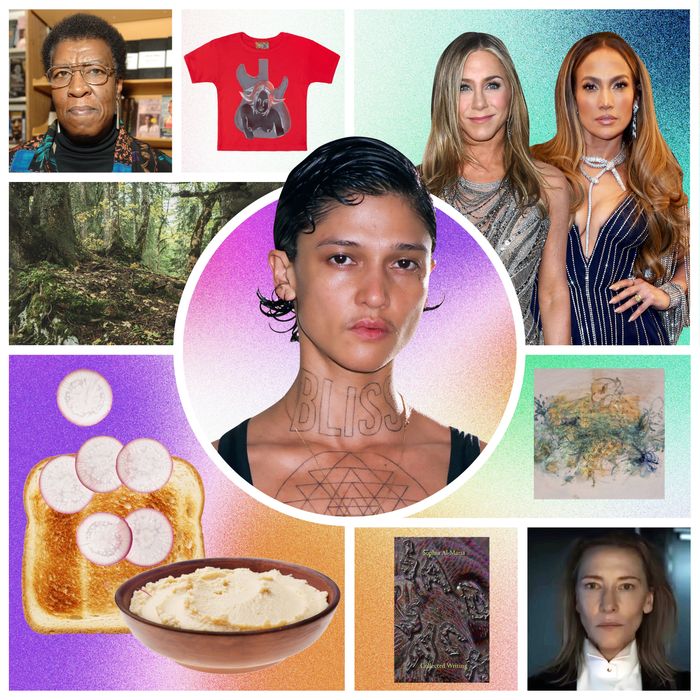 Photo-Illustration: by The Cut; Photos: Company Gallery, Getty Images, COME TEES, Book Works, Everett Collection
At first glance, Tosh Basco's paintings look like they belong squarely in the modern-art camp, alongside Jackson Pollock, Lee Krasner, and Willem de Kooning. But Basco isn't exactly a fan of that lineage. "Abstract expressionism is so bro-y," they say. "I don't feel part of that history, and I don't feel the need to be part of that history."
Still, they say, "I've found myself absolutely possessed by these materials." Basco only started working with paint a few years ago — they spent a lot of the 2010s doing photography and performance art under their stage name, boychild, both in the underground drag scene in San Francisco and on more traditional contemporary-art stages. In 2015, they started creating drawings as an extension of their performance work, covering their body in makeup and paint and pressing it onto paper. Last fall, they tried their hand at painting, using gestural movements that they liken to their "Hand Dance" performances to apply oil to the canvas. The results, vivid canvases dominated by loopy, vaguely corporeal shapes, will be presented by Company Gallery at Frieze New York this week.
Which isn't to say Basco has abandoned performance art — or photography, or drawing. While holed up in Zurich working on their new projects, they've been consuming a mixed bag of cultural ephemera: a documentary about Rubik's cube competitors, music by their collaborators, and poetry, which they like to dance to in the woods. And yes, they know how that sounds.
Congratulations on Frieze! How do you see these paintings fitting in with your larger body of work? 
These paintings are an extension of my practice as a performer. Around 2015, I started thinking about ways of transcribing my improvisation-based practice. As a queer and trans person of color, improvisation as a performance is very entangled with how I experience the world. Eventually I went from using dance-floor material to paper. I used materials like charcoal and pigment, which is FDA-grade synthetic mica, so reproducing something that comes from the earth. That felt like a metaphor for drag: What does it mean to perform a gender? For me, drag was a synthetic, fantastical mode of performance that exploded a fixed conception of gender.
I still work improvisationally. I don't necessarily look at a canvas and think, I want to make this. One of the paintings at Frieze, I had every intention of making a fully red painting and it turned out to be a four-meter long blue painting.
Considering that you're most known as a performer, how does it feel knowing your works will be out there without your physical presence?
It's a strange feeling. When I first started doing drag, at a certain point I started to have a really fraught relationship to documentation of the performance and photography in general. If I'm covered in makeup and touching the surface of the stage, I always felt those traces of the movement were more true than a photograph or a video. But I was feeling that I was becoming quite predictable in relation to the medium. I knew what it was gonna do, and I couldn't break free of my patterns.
I have a lot of preconceived notions about the things I don't have access to or belong to, like these histories in art that are predominantly filled with white men. So it's complicated for me. These materials are allowing me to think through things in a way that is very challenging and humbling.
Putting the works out is terrifying. I'm quite shy in social spaces, and I'm always nervous to perform. This is a different kind of stage fright because for me, the frame is a stage. But it's been very important for me to follow that feeling of terror. The first terror was stage fright and trying to move toward that feeling. It's exhilarating and scary.
You do a lot of collaborative work. What's the hardest thing about creating with another artist?
Collaboration is very hard. It's taught me a lot about love — not just romantic love, but what it means to show up. It's not for everybody. Like love, it's also a lot of work. I work collaboratively in lots of different ways, in ways that people don't realize. There isn't a way with language and authorship and crediting to acknowledge that. For me, that's always been some of the hardest work: trying to explain to other people what all of us are doing, and redistributing perceived hierarchies of that labor. That is also the most rewarding aspect of it.
Where do you get your best culture recommendations?
Friends. One of my friends, the movies she tells me to watch are either the best or the worst. It's like Russian Roulette. 
High risk, high reward. You've talked about how important nightlife is to your work. Where are you going out these days?
I've been going out in the forest. I'm currently living in Zurich, and being in nature has really been where I go to find the same release I used to find in the club. Dancing to a poem feels like dancing to a pop song for me. I used to be really confused and opinionated about conceptual art, and sometimes I feel that judgment now when I say that. But it truly does.
I've been really jamming out to our musical collaborators, Tapiwa Svosve, Asma Maroof, and Patrick Belaga. They just put an album out that I'm obsessed with. I also really like to jam out to our other friend and collaborator Fred Moten's writing.
What's your go-to rewatch?
I have a hard time rewatching stuff. I've been really into typing in the first couple letters of a name into Netflix and seeing what comes up. Like with "JEN," you get the best rom-coms — Jennifer Lopez, Jennifer Aniston…
What else are you watching these days?
My partner's always making fun of me because she sees the documentaries that I watch. I started this one about Rubik's cube competitors. The last thing I watched that I loved was Tár. Tár was fab. Iconic lesbian.
What's something you'll never watch, no matter how much someone hypes it up?
Horror and gore.
What's the last book you couldn't put down? 
I actually binge-read a book instead of binge-watching a TV show. It was YA science fiction. I can't tell you the name. It's a secret. But I also love Octavia Butler and Sad Sack, which is by one of my collaborators, Sophia Al-Maria.
What's the last meal you cooked for dinner?
I just had toast with hummus, radishes, and endive.
What would your last meal be?
I'll let you know before I die. Maybe avocado and chips. Or mushroom chocolate. Is that a bad answer?
Not at all. I can see you taking the shroom chocolate and going to the forest to dance.
Yeah, dancing with the trees.
What's your favorite piece of art that you own?
I have an amazing series of drawings from Sophia Al-Maria. She writes different kinds of scripts and then does drawings on top of the scripts.
What's the best advice you've ever received?
Be gentle on yourself.
How about the worst advice?
I don't know if it's advice, but when people say to just relax.
Favorite game to play?
I like Exquisite Corpse. It was invented by the Surrealists. You take a piece of paper and fold it, and you draw on the top edge of the paper and then flip it. So the next person can only see the very end of the drawing, and they get to draw.
You're ordering an Uber and you can bring three celebrities with you. Who are you bringing?
Octavia Butler and the Cuban American artist Ana Mendieta … I'll throw Agnes Martin in there, too. She seems like she'd be funny to be in a car with.
You've done some work in fashion. What clothes are you loving right now?
Come Tees are a staple for me. I wear a lot of my old Telfar. It's all faded and holey. My favorite sweatshirt is this Telfar sweatshirt that has so many holes in it, it looks like it's from 1975. It's my comfort hoodie.