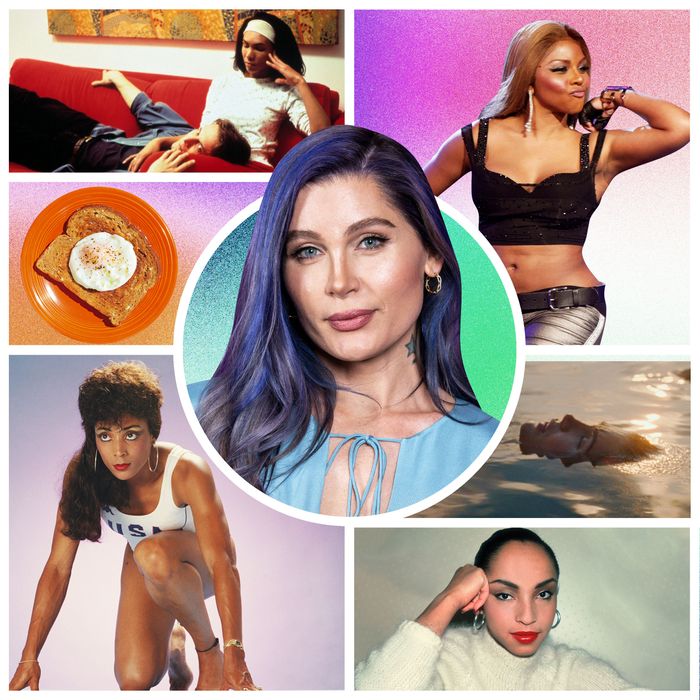 Photo-Illustration: by The Cut; Photos: Getty Images, Everett Collection, IFC Films
Trace Lysette's career could be best described as a slow burn. In place of some overnight, flash-in-the-pan success, she has carved a niche for herself, appearing on everything from Law & Order (her television debut in 2013) to Amazon's Transparent to FX's Pose as well as in features such as the Jennifer Lopez–fronted Hustlers. Now, with Andrea Pallaoro's Monica, a feature that made history last year at the Venice Film Festival, she's having her hard-earned turn as a leading lady.
Monica is not jam-packed with action or big dramatic moments. It is a quiet and emotional film, often bringing the viewer extremely close up to the faces of a family in turmoil. The titular character, played by Lysette, returns home to an ailing mother, played by Patricia Clarkson, and a life she has long left behind. The reunion is uncomfortable, even agonizing at times, as Monica's gender transition looms as a mostly unspoken element of the film.
When the project premiered at the 2022 Venice Film Festival, it became the first film led by a trans actor to make it into competition on that stage. Then the cast made headlines again after what Lysette calls an emotional 11-and-a-half-minute standing ovation. "I knew if I got the shot to play Monica," Lysette says now, just before the film's wide release, "I could bring her to life."
Monica is a very quiet film. Which scenes resonated most with you?
And some of the smaller moments stick out to me — like at the end of the movie, where I'm sitting on the dock in the sunshine, holding a baby. How many times does America get to see a trans woman in a bathing suit holding their baby with her family, being maternal in that way?
Toward the end of production, you were very involved, going as far as to raise money to hire a public-relations team. Why was this project so important to you that you would do all of that work?
I came on as an actor first, and at some point they wanted notes. Andrea and I would talk about the film, and I gave notes and had dinners and gave more notes. It felt right that I come on as an executive producer as well. But it was a fight — I'm not going to lie. It was a heavy load. We're talking seven or eight years of trying to get this over the finish line, and when the goalpost keeps moving, it is sometimes just so hard. You make the film and then, of course, you have to submit it to festivals. You get into Venice, which only takes like 20 films a year, and it gets 91 percent on Rotten Tomatoes and you get an 11-minute standing ovation, so you think, Is this enough? Am I safe yet? Oh no, we don't have distribution.
So you keep going, and you fight to get distribution. Then you realize you're not doing an actual premiere? So you think, I'm going to figure out how to do a step-and-repeat. I'm going to crowdfund for some PR. I don't know if I'm going to get this shot again, so it's just been a fight. But my whole life has been a fight, so it's not something that I'm not used to. I just look forward to the day that I can feel safe and secure and not have to fight so hard.
We've seen a lot of the story lines in this film before. The idea of an LGBTQ+ person reconnecting with their family isn't new, but the way it is approached here is refreshing. Did that play a hand in your interest in the film?
At first, I was admittedly a little resistant to some of it. I thought, Well, surely there's going to be some big blowup moment at some point. I would have set it off. But I'm Trace; that's Monica. And I had to take the clues from the script to understand the shell of who she was. I knew we were similar but different. We have different backgrounds, listen to different music, different families — she moves in a different way than I do. She has this quiet strength that I think is similar to me, but sometimes she handled things in a way that was different from me. And I had to honor her.
I don't think any two families are the same. The stories we have seen like this are the loud, preachy, ABC moments, whereas this is very internal. I think that's also realistic. It took me time to understand that we were challenging the audience to think for themselves — to sit, to wonder, to have question marks when the movie ended. Everything is not wrapped up with a bow. It's very auteur, and it took me a little time to appreciate all of that.
Walk me through the moment of receiving that standing ovation at Venice.
It brought up a lot of things for me. First, it felt nice to feel seen: 11 and a half minutes of a thousand people clapping in your face changes you forever. But I really did start to have flashbacks from other parts of my life, and a lot of question marks came up for me. Like, What does this mean? Is this enough? Is this the seal of approval that I need to feel safe? Do these people understand my journey? Do they get how long this journey has been and where I come from?
I went to the bathroom after and just, like, boo-hooed in a stall by myself. I still don't know if I've made sense of that entire moment, but it was a beautiful and intense day.
When you say flashbacks, what do you mean?
I had flashbacks of me as a working girl in the West Village doing survival sex work — talk about getting it out of the mud. It's been an unbelievable roller coaster of a life for me. I don't even know if, statistically, I should still be here given some of the things I participated in when I was younger and had very limited resources. How do you get from walking around Seventh and LeRoy, or pulling a date in the West Village, to the oldest stage in competitive cinema in Venice, Italy, at the oldest film festival in the world and get that kind of reaction? What does all of that mean, and also how? I think everything for me is still survival-based. I'm trying to get out of it and live in abundance and manifest more of that, but a lot of it is circumstantial and waiting for the world to catch up.
I feel like a cis actress who goes to Venice and gets an 11-and-a-half-minute standing ovation probably has a couple scripts waiting for her on her desk when she gets back home. She probably has a couple offers ready to go. I didn't have that, and that will mess with you if you sit in it. I'm trying my best to understand that it's going to happen when it's supposed to happen.
Since this is our "Taste Test" column, I want to go into some of those questions. Before going on set for a film, or before any performance — even if it's, like, walking a ball, when you used to do that — do you have any rituals?
I do breathing exercises for acting. Breathing and vocal exercises. I also do these little physical-actor exercises, like folding my body over and bringing myself up, one vertebra at a time, really slowly. And I do this other exercise that I heard Meryl Streep does — I don't know if that's a rumor or not — but you pretend like you're inside a barrel and you're cleaning the inside of the barrel with your hips. It just loosens you up because we hold so much tension in our bodies, and you just have to get that out. Sometimes I just dance in the trailer to get loose. When you free up all your physical, your emotions are free, too.
Is it like the dancing that Monica does in the film?
No, I listen to Lil' Kim. I hope people know we are two different people! I'm acting my ass off in that film. It's very different.
What do you listen to at the gym?
I listen to a lot of '90s — all genres. I like a lot of women's hip-hop. I like Sade; I like Lil' Kim; I like Stevie Nicks. I actually like Miley Cyrus's new song "Flowers." Oh, and I love Kim Petras!
Where do you get your culture recommendations from?
Usually through friends, word of mouth. Or Instagram. I'm trying to get into TikTok, but it's very difficult for my analog brain.
Do you have any comfort rewatches?
I watch Jackie's Back! about once a year. I just think it's hilarious. Also Princesa, which is an Italian film from the early 2000s. That was the first time I ever saw a trans woman lead a film and also trans women as the supporting cast. It's still my favorite movie. It's kind of sad, but I could do a whole feature piece on that movie. And I watch Hustlers sometimes.
What was the last thing you cooked?
An egg over medium on toast with salt and pepper. So fancy.
What's something you'll never watch?
Murder documentaries. I would be in a true-crime show, but the documentaries … no, thank you.
Who are five celebrities, dead or alive, that you would invite to a dinner party? And actually, you can do just people who are notable to you, whether or not they are "mainstream celebrities."
Off the top of my head: Crystal LaBeija and Rachel Harlow; Aleshia Brevard, who was a trans actress; Florence Griffith Joyner, who was my childhood idol. I'll do one alive: Lil' Kim.
Crystal LaBeija and Lil' Kim would probably get along famously! What is the wildest piece of gossip you've heard about yourself?
Honestly, any time I hear people think I have money. Like, what? I don't have that yet. You know when you look up somebody's net worth? Mine says a million dollars. I'm always like, When and where?
What's the best advice you've ever received?
"What's for you won't go past you." It's just one of those clichés that's stuck with me. I think your gut is to fight and fight, and sometimes it's good to do that. But sometimes it's good to lean into where the love is.
What about the worst advice?
Probably when people tell you something is personal. Ninety-nine percent of the time, it's not personal. It's easy to go into, Oh, they tried me, or something like that. But, like, you don't know what's going on in their life or what they're going through that day. You have no idea, so don't process it.