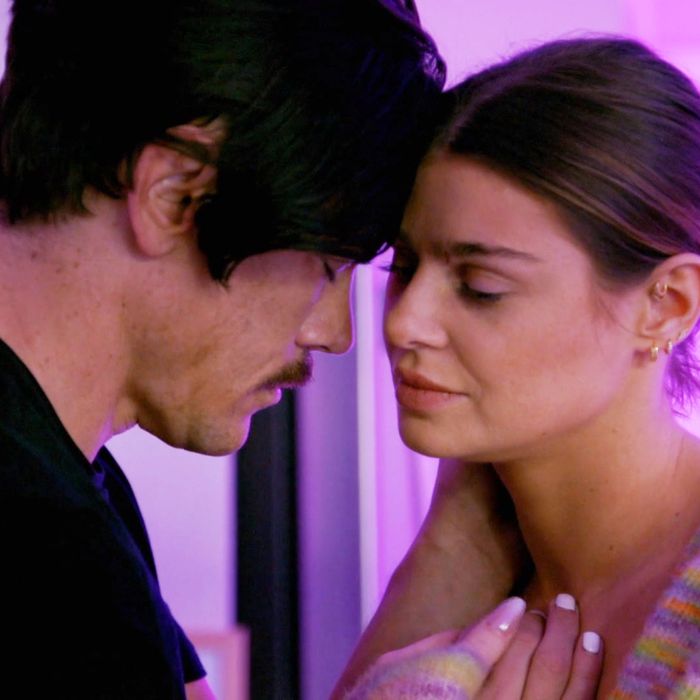 The long-awaited season-ten finale of Vanderpump Rules finally aired on Bravo last night, and it was arguably the best final episode of the show's (any show's?) run so far.
To recap: Roughly two months ago, we (us, the tabloids, the entire cast, Andy Cohen) learned that Tom Sandoval had been cheating on fellow cast member and his partner of nine years, Ariana Madix, with the couple's close friend and co-star Raquel Leviss. (If you need even more of a refresher, we have a handy lil' explainer explaining everything right here.) On Wednesday, viewers of the show got to see the fallout of the affair play out on-camera: Naturally, Bravo went back and wedged in fresh footage after TMZ broke the news of the affair in March. The finale supplied one jaw-dropping statement after another from nearly every cast member.  
Here are some of the wilder moments from the episode.
"When I kissed Raquel, I felt hope, I felt like, 'Wait a minute, you're not washed up. Your best days aren't behind you, maybe they're just beginning.'" —Sandoval to friend, castmate, and other Tom, Tom Schwartz, playing the teeniest, tiny violin dick flute while talking about his midlife crisis.
"Ariana never asked. Me saying, 'I'm going to Schwartz's.' All she would have had to do is follow me and see that I'm not." —Sandoval to Schwartz again, this time apparently making the case that Madix should've just caught him cheating months earlier and then this all wouldn't have happened in the first place. A thought! One that could only be had by this man!
"I was just so curious to know what it would be like to be physical with someone that you love, 'cause I already knew that I loved him as a friend. And I've never had sex like that before. I should've, like, completely removed myself from the situation, but I did not have the willpower to not see him." —Leviss to a producer during a confessional, after being asked why the affair began in the first place. Even more shocking than the words coming out of her mouth? The smile on her face as she said them.
"You literally, like, trashed it for, like, Sandoval's little cocky cock. Like his stinky, 40-year-old cock, like seriously, Raquel!" —DJ James Kennedy, Leviss's ex-fiancé and Sandoval's (former?) close friend. Really, everything that came out of Kennedy's mouth belongs on this list. It's official: Kennedy is the No. 1 guy in the group now.
"I think that Tom has been hooking up with a lot of people. A few years ago I heard the rumors that Tom and Billie Lee go off and do whatever they go and do. We need to open that case back up. It went cold, and I don't think it need to be cold no more." —Lala Kent to a producer during a confessional. Bravo scholars will remember that Lee joined the cast in season eight and became good friends with both Sandoval and Madix while working at Lisa Vanderpump's Sur, i.e., Sexy Unique Restaurant. Mm-hmm!
"It's scientifically impossible for me to form, like, an actual fist. All of my nails would break." —Scheana Shay to a producer in her confessional, trying to debunk Leviss's claim that Shay was so angry about the affair reveal that she (Shay) punched her (Leviss). Leviss ended up getting a temporary restraining order against Shay, but filed to drop it a few weeks later … after the reunion taping.
"That girl is searching for her identity in men. She has no identity of her own." — Madix to Sandoval about Leviss. Whew!
"Dude, you're sleeping on Ariana. You're a fucking idiot. She's amazing." — Sandoval to Leviss … about Leviss. See, Sandoval accidentally called Leviss "Ariana" while recounting his conversation with Schwartz to her. Leviss grinned at the mistake, which, I don't even know at this point.
"Raquel was wearing a TomTom hoodie, and I was like, 'Oh, she's following you around like a puppy dog,' and you were like, 'She's not there for me, trust me.'" —Katie Maloney to Schwartz about a comment he made to her back in October at BravoCon. So, who was she there for, Schwartz? I think we know the answer!
"Ariana has always known the truth about that." —Sandoval to Shay about Miami Girl, a woman Sandoval was accused of cheating on Madix with at the beginning of their relationship. He denied it at the time, with Madix backing him up. Case-that-we-didn't-even-realize-was-still-open closed, I guess.