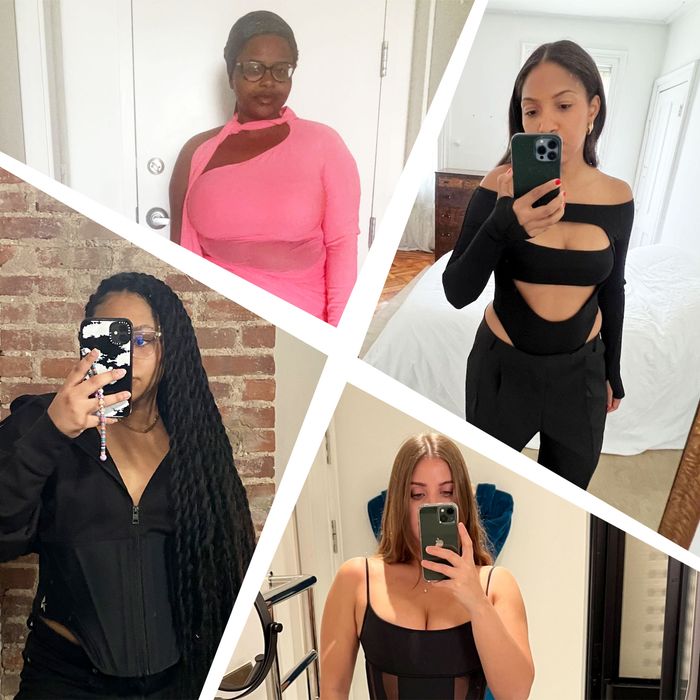 Photo-Illustration: by The Cut
For more of the Cut's favorite fashion, beauty, and home finds, sign up for the weekly Cut Shop Newsletter.
The long-awaited H&M x Mugler collab is finally here. The latest buzzy collab follows brands like Maison Margiela, Moschino, Simone Rocha, and more. Staying true to creative director Casey Cadwallader's vision of the brand, the collection features sheer and stretchy pieces, corsets, gloves, and cut-outs that fit H&M's price point. The full collection features nearly 40 looks with many being remakes of archival favorites. But we're sure what you really want to know is how it fits and we're experts on that. Cut staffers tried on four looks from the collection — here's what you should shop, what you should skip, and what size you should get.
Tariro Mzezwa, Morning Blogger
Size: XL/14/16
How does it fit?
It is SNUG. I wear anything from a size 14 to 18, depending on the item, fabric, cut, etc. I got this dress in an XL but would prefer to size up, if the line has plus sizes.
How would you style it?
I'd wear some high strappy gold sandals with chunky earrings with my hair back for a summer night out. It came with one glove, but I'd probably only wear that with tights in the winter.
Would you buy it?
No. I love the idea of this dress — it's fun, it's sexy, it's colorful — but unless I could size up, I'd spend the whole time adjusting and moving it around, feeling uncomfortable. And even if it did fit, I'm not convinced I'd wear this more than a few times.
Joanna Nikas, Deputy Style Editor
Size: M or 6
How does it fit?
Small. I'm a size 6 and it felt like a 4. But that isn't a terrible thing as it did make me feel snatched.
How would you style it?
I would style it with baggy low-rise pants to off-set the tightness of the corset. I chose this look in part because of the attached gloves, but didn't get to try those on. I think that would have made the look.
Would you buy it?
Yes. Disclaimer: Only if I had no other corsets in my closet. It's a good staple piece to style under blazers or jackets. However, if I already had one, given the price point, I'd probably pass.
Chinea Rodriguez, Shopping Writer
Size: S/6 or M/8
How does it fit? 
I think the hoodie would've looked even better sized down so it was more fitting in the waist. I'm usually a small in H&M tops but opted for a large because of the corseting. I got the matching skirt in a size 8 which is my usual size from H&M but when I got it mostly zipped up it was basically a belt on me. I'd recommend sizing up and taking the time to actually try things on in store.
How would you style it?
I love the idea of a corseted hoodie as a concept and honestly I really loved this when I figured out how I liked to wear it. In terms of practicality, it isn't. It moves around a lot but to be fair I don't think the collaboration as a whole is meant to be practical. This is a basic the Mugler way which is not basic at all. For the sake of the photo I threw on some black jeans I had around but I'd wear this with low rise denim that's slightly baggier and like patent leather heels.
Would you buy it? 
Yes, I actually really liked it and I think styled right it could be interesting.
Noelle Lacombe, Photo Director
Size: M
How does it fit? 
The unitard fits true to size but I'd be curious to try a size down. I wish it strapped me in tighter — I could use a bit more support. When I move around the chest strap slides up a bit revealing a sliver of under boob.
How would you style it?
The sides of the top go up quite high so I feel like you want to show that off. I'd style with baggie jeans or with oversized trousers that sit low on the hips to accentuate the high-rise nature of the top.
Would you buy it? 
Sure! It's a really fun piece to have in your closet that's relatively easy to throw on yet makes a big impact.