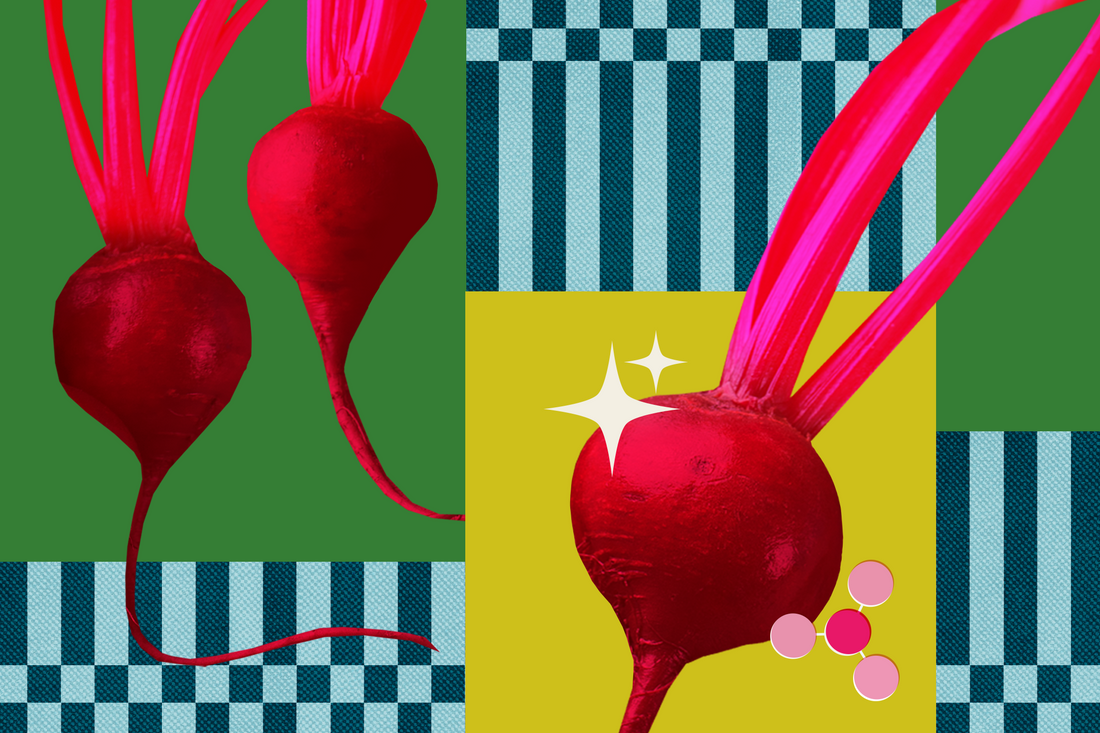 Photo-Illustration: Lauren O'Connell
To the average reader, health and wellness culture all too often sounds like word salad. Every week brings another fad diet, another influencer touting their favorite new supplement, or another scientific study exploring a specific health benefit of one particular vitamin or mineral.
Unless you have a degree in chemistry or nutrition, keeping up can feel impossible — at most, you wind up with a vague familiarity with the headlines. The research around nitrates is a perfect example. If you've heard anything about nitrates, it's probably that the World Health Organization linked meats processed with nitrates to cancer-causing chemicals in 2015. But really, there's a much more complex story to be told about dietary nitrates.
First things first: What exactly are nitrates? "Nitrates are a chemical compound found in vegetables, in the soil, and in water," Brooke Jacob, Program Manager and Registered Dietitian at ChristianaCare, explains. In fact, there are actually two separate compounds at play here: nitrates and nitrites. Both are chemical compounds that contain nitrogen; nitrates have one nitrogen atom and three oxygen atoms, while nitrites have one nitrogen atom and two oxygen atoms.
Both nitrites and nitrates are also used as food additives to preserve and stabilize processed meat and cheese. This is where some of the confusion around nitrates and nitrites begins. Nitrates are more stable than nitrites, thanks to the presence of that extra oxygen molecule – but once eaten, bacteria in your saliva and the acid in your stomach can turn them into nitrites. The body then converts those nitrites into two distinct compounds — nitric oxide and nitrosamines — with different results. While nitric oxide is a key player in the body's vascular processes, nitrosamines like NDMA have been classified as carcinogens and linked to cancer, in some studies. That's why you'll see "nitrate-free" labels on organic lunch meats and bacon marketed as the healthier choice — even if some experts like Jianping Wu, a member of IFT's Nutraceutical & Functional Foods Division and Professor in the Department of Agricultural, Food and Nutritional Science at University of Alberta, say these labels are misleading.
"Chemicals such as nitrates or nitrites are not allowed for use in processing organic meat, but juice from vegetables such as spinach are allowed for processing organic meat. Obviously, we understand that these juices [still] contain a very high amount of nitrates," Wu explains. "Even if it's labeled organic meat, after processing, it also contains some nitrates or nitrites as well."
Consumer concerns about nitrosamine often overshadow the more beneficial side of nitrates: their ability to produce nitric oxide. "Nitric oxide is the key molecule" involved in vasodilation, or the dilation of blood vessels, Wu explains. When you're stressed or afraid, your blood vessels constrict, increasing your blood pressure; when you're relaxed, your blood pressure slows down to a healthy level. "I think any molecule that can improve your relaxation of your blood vessels is considered beneficial, generally speaking," Wu says.
Research on beet juice — a good source of dietary nitrates — reinforces this connection between nitric oxide and vasodilation. Two separate meta-analyses of clinical trials found an association between consumption of beetroot juice and a reduction in systolic blood pressure. Another systematic review concluded that beets might improve endothelial function, causing blood pressure to decrease.
Jacob also noted the connection with the DASH (Dietary Approaches to Stop Hypertension) diet, which focuses on consuming fruits and vegetables while reducing high-sodium foods. "Consuming beets or beetroot juice would fall in line with the DASH diet," Jacob says. "I believe that beetroot juice could assist with lowering blood pressure as it falls in line with the DASH diet, is a low-sodium food, and also may offer the benefits of vasodilation as well."
Studies have also shown that dietary nitrates like those found in beets could help extend endurance during exercise. "Reviewing the research, there does seem to be a component that may enhance exercise endurance," Jacob says. "These findings are more supported for the recreational exerciser as opposed to a highly trained athlete, and seem to improve exercises that utilize larger muscle groups such as cycling, running, and swimming." She also notes that beets are a good source of potassium and folate, as well as B vitamins, magnesium, iron, and phosphorus. "Magnesium supports muscles and nerve function, and iron also supports red blood cells as well," she says. "As with all vegetables, they provide a healthy profile of nutrients with a modest amount of calories."
Of course, scientists don't yet know all there is to know about nitrates, and both Wu and Jacob noted the need for more research into nitrates to be able to concretely establish some of these health benefits. "We may see an individual have a health benefit, but another individual won't see the same benefits as the first person experienced," Wu explains. Factors like genetics, age, lifestyle, and even the environment can affect each person's results.
Similarly, Jacob suggested consulting a registered dietician if you're thinking of adding more nitrate-rich foods like beets, beetroot juice, or beet powder to your diet. There can be too much of a good thing: for example, beets can lead to the formation of kidney stones in people who are already prone to them. A dietician can advise you on whether or not adding more nitrate-rich foods to your diet might be a good idea, and even help you find the most potent supplements.
This advertising content was produced in collaboration between Vox Creative and our sponsor, without involvement from Vox Media editorial staff.