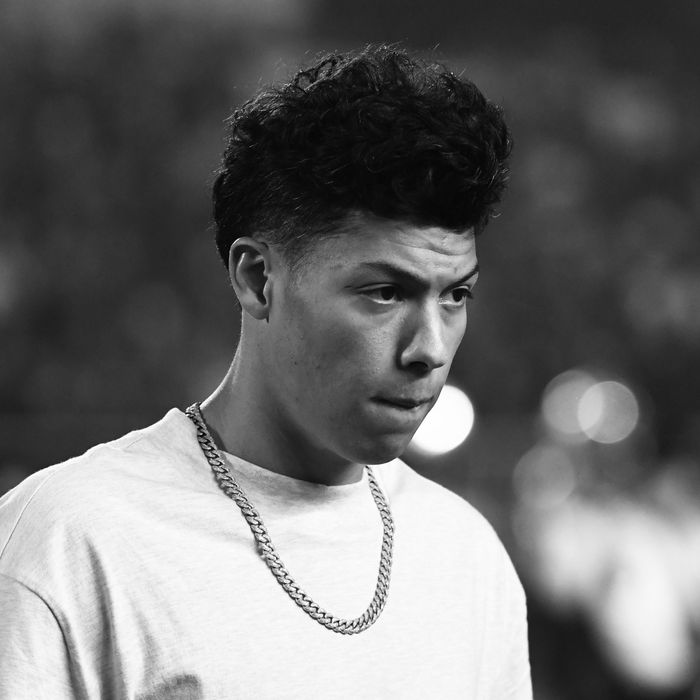 Jackson Mahomes, a TikTok influencer and the younger brother of Kansas City Chiefs quarterback Patrick Mahomes, has been arrested and charged with sexual battery in connection with an alleged incident at a restaurant in Overland Park, Kansas, in February, NBC News reports.
According to court documents, the 22-year-old Mahomes allegedly touched someone without their consent in a sexual manner and used force against another individual at the establishment. Following an investigation, he was booked into a local jail on three counts of aggravated sexual battery and one count of battery before posting a $100,000 bond.
Back in March, the Kansas City Star published a video that appeared to capture at least one of the alleged incidents. In it, a man said to be Mahomes wraps his arms around a woman and repeatedly attempts to kiss her. "Releasing a short clip of any video does not provide proper context," a legal representative for Mahomes responded at the time, adding, "We have faith in the process and look forward to a swift resolution in the matter."
Mahomes has more than 1 million followers on TikTok and is best known for posting videos of himself dancing at Chiefs games and making appearances at functions with his brother; per People, the two once appeared in a State Farm commercial together. Mahomes previously came under fire for pouring water on a Baltimore Ravens fan at a game in 2021; that same year, he apologized for doing a TikTok dance on a memorial for Washington football player Sean Taylor, who was shot and killed by home intruders in 2007. Mahomes is expected to make his next appearance on May 11.