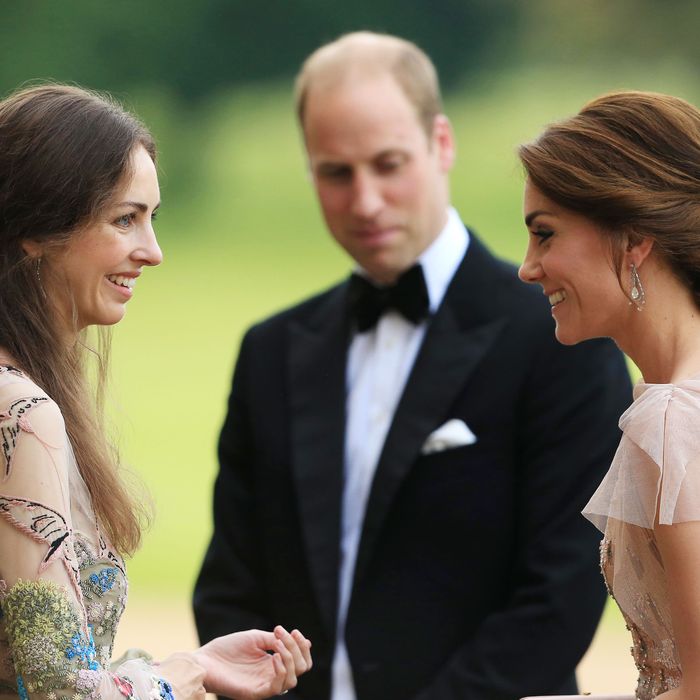 Photo: Stephen Pond/Getty Images
Ahead of King Charles's coronation on May 6, the tabloids have been hyperfocused on what's going to happen with Prince Harry and Meghan, Duchess of Sussex. For weeks, everyone speculated about whether or not the couple would attend, if they would be seated right next to Prince William and Princess of Wales Kate Middleton, and if everyone would come to blows over Harry's revelations in his bestselling memoir, Spare. But now the matter has been settled: Harry will attend the coronation alone, and Meghan will stay home in Montecito with the kids to celebrate Archie's 4th birthday. Scandal (mostly) averted.
If you look closer, though, there is another potential powder keg of coronation drama hiding in plain sight. It involves ancient titles like "Marquess" and "Marchioness" and "Lord in Waiting," an elite social group called the "Turnip Toffs," and whispered rumors of a royal affair. Does the name Rose Hanbury mean anything to you? Let's discuss.
This story begins in 2019, when the British tabloid the Sun reported that Kate had fallen out with one of her closest friends, Rose Hanbury, for unknown reasons. Hanbury, a 39-year-old former model who looks not unlike Kate herself, is married to David Rocksavage, 62, the Marquess of Cholmondeley (pronounced, of course, "Chumley"). This makes her the Marchioness of Cholmondeley, and she and her husband live in the storied Houghton Hall in Norfolk. Their home is just four miles down the road from Will and Kate's country retreat Anmer Hall, and the couples reportedly socialize in an elite country circle in Norfolk called the "Turnip Toffs." (I don't have an explanation for how that nickname came to be.)
But, as the Sun reported back in 2019, Kate allegedly decided to "phase out" Rose from the circle for mysterious reasons. "No one understands quite how things have come to this," a source told the tabloid at the time, referring to Rose as Kate's "rural rival."
Royal sources were quick to quash the feud rumors. Royal-friendly reporter Richard Kay published a story in the Daily Mail soon after claiming that "I am told the rumors of a falling out between these two attractive young women are false. I can also reveal both sides have considered legal action but, because none of the reports have been able to offer any evidence about what the so-called dispute is about, they have chosen to ignore it."
The "evidence," if you could call it that, was later tweeted and deleted by British columnist Giles Coren. "Everyone knows about the affair, darling," he wrote, shocking the British press and leading royal watchers to suspect he was talking about an affair between Will and Rose. Oh!
Then the palace reportedly did threaten legal action, and the British tabloids dropped the story completely. There was no follow-up reporting about a potential affair, no evidence presented (other than photos of Will and Kate and David and Rose attending the same fancy events), and certainly no comment from any of the involved parties. Now, if the Cholmondeleys come up, the British tabloids refer to them simply as friends of Will and Kate.
Hopefully everyone does get along now, because David, Rose, and their children will be front and center at the coronation. King Charles has named David as his "Lord in Waiting," which means he'll have a key role at the ceremony (probably carrying a sword or something). On top of that, Charles has also named Lord Oliver, one of David and Rose's twin sons, as an official Page of Honour for the ceremony. Oliver will walk right alongside Will and Kate's eldest son, Prince George, who is also a Page of Honour.
Tatler also notes that David has been made a "permanent" Lord in Waiting to King Charles, which means he won't just be present at the coronation ceremony — he's going to be at all kinds of royal events and state functions throughout Charles's reign, many of which Will and Kate will likely attend as well. Perhaps this appointment is the royal family's way of crushing the feud rumors once and for all.
As a source told the Daily Beast earlier this month, "There has never been any enmity between Kate and Rose. The rumors were all a load of rubbish. The family are ancient allies of the Crown and they will be there."
Sure, sure, sure. Personally, if I get up at the crack of dawn to watch Charles's coronation next weekend, I won't be looking for Harry's reaction to anything — I will keep my eyes trained on Will, Kate, Rose, and David instead, watching for potential interactions or meaningful eye contact. If everything is fine, they'll all act normal, right?