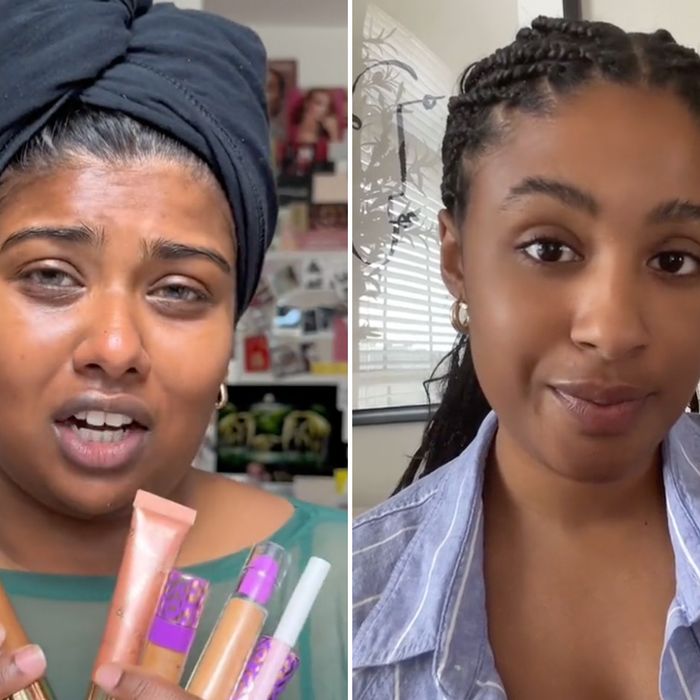 Photo-Illustration: The Cut; Photos: @shawtysin, @heybriajones
If you've been on TikTok this past weekend, you've probably seen creator Bria Jones accusing Tarte of mistreating her on a recent press trip. The beauty brand known for its concealer, Shape Tape, is no stranger to drama, mostly surrounding its trips, called #TrippinWithTarte. Earlier this year, it flew out some of the biggest influencers, including Alix Earle and Monet McMichael, to Dubai for a week of dune-buggy riding in the desert and swimming in pools attached to Ritz-Carlton villas. When GRWM videos started flooding TikTok, people quickly questioned where the people of color were on the trip. The brand took note and included a handful of Black influencers on its following trip last week. Beauty creators like Clarke Peoples and Golloria George were invited to a "Tarte Island" trip, and it looked like the brand learned from its mistakes and corrected them — but creator Cynthia Victor, a.k.a. @Shawtysin on TikTok, posted a video on May 2 talking about how she went on a Tarte trip and alleging she was given a smaller room than the non-POC creators. Yikes.
#TrippinWithTarte is nothing new; the beauty brand has sponsored monthly trips to lavish locations or major events since 2013. The trips have seen everything from flying private jets to Bora Bora to Hawaii getaways to visiting the founder's house in Key Largo, Florida. So one might think the brand would have figured it out, but no. Here's how the most recent allegations started:
Why Tarte Is Being Accused of Mistreating Black Creators
The most recent allegations come from beauty influencer Bria Jones, who posted an emotional TikTok video on May 4. For a Tarte trip to Formula 1 in Miami, she was supposed to leave on May 5 and return home on May 6, missing the main F1 race day (she would be able to attend the practice race days). When she found out that other non-Black influencers (with more followers) were invited to stay until May 7, the day of the biggest race, she realized she was getting different treatment than the other creators. "I have more integrity than to get all the way to Miami and realize that I'm being treated like a second-tier person or like I'm being ranked," Jones said in the now-deleted video. "It just feels like a sorority situation."
Tarte Did Respond to the Allegations
Tarte founder Maureen Kelly posted a GRWM video on May 5: "I woke up pretty sad this morning and I wanted to talk to you guys about a couple of things," Kelly said before sharing her side of the story. She claims that she wasn't thinking about what was going on at F1's racetrack; instead, she was thinking of ways to have the greatest number of people enjoy the experience. "We made a plan for everyone to have one day at the racetrack, one really nice dinner, and one really fun night at the club. So everyone was coming for the same amount of time and I was really excited to hang with so many cool creators. Every day had a mix of big creators and up-and-coming creators," Kelly said. The TikTok response was swift: Content creators including Simi Muhumuza called Kelly out for "gaslighting" without actually apologizing for the mistreatment. "It's like you don't care at all about the complexities of marginalized voices in these spaces," Muhumuza said.
In an exclusive statement provided to The Cut, Tarte's CEO said, in part: "I understand that this incident has caused pain to the creator involved and to our wider community. As the founder and CEO of tarte, I acknowledge that we fell short in our responsibility to ensure that all of our creators are treated equally and fairly … it's become clear to me and my team that we need to do more to support and value our creator community by recognizing the role you've played in our success." The company outlined steps it will take to review its creator program, establish a creator advisory group, and hire a dedicated DEI employee.
Another Beauty Creator Accused Jones of Lying
One of the most viral videos surfaced from a content creator, Niké Ojekunle, a.k.a. @specsandblazers on TikTok, who posted a GRWM video a day later, as she prepared to head to Miami with Tarte. In a series of now-deleted videos, she defended Tarte and took personal jabs at Jones, saying that she'd lied about her Tarte experience on her Instagram Live. "She lied, she made up this experience that was not true," Ojekunle said.
Bria Later Apologized and Says She Hashed Things Out With Tarte
On May 7, Jones posted an apology to TikTok, saying that she's been in contact with Kelly and the entire Tarte team and there was miscommunication on both ends. "I recognize my mistake in responding so quickly and publicly, but Tarte has done a great job working through the situation with me," she said in the video. At the end, she said she's taking a break from TikTok for her mental health, and the comments are shut off on the video. In her last video, she suggested leaving Ojekunle and Fannita alone and that she doesn't condone any bullying.
Nevertheless, the Internet Has Thoughts
Endless stitch videos have been circulating on TikTok both defending and tearing down Jones and Ojekunle. A creator named Keenya posted a video saying the notion that "I suffered so you should suffer too" coming from Ojekunle is a running theme, and it shows a lack of solidarity. Television host Kamie Crawford called out white creators, saying that whatever Jones felt is not for them to give their opinion on. It's simply racist to tell people to "just be grateful" when they're blatantly being treated differently. Creator @jouelzy defended Fannita, saying that she is a young creator and should be given grace because young women are often not set up to negotiate their fees properly, but criticized Ojekunle for not standing up for the other Black creators.
Meanwhile, a video recirculated from 2018 of Jackie Aina and Alissa Ashley reacting to Tarte's Shape Tape foundation, claiming that the brand took "no effort" in trying to successfully launch foundation for darker skin tones.
This post has been updated.