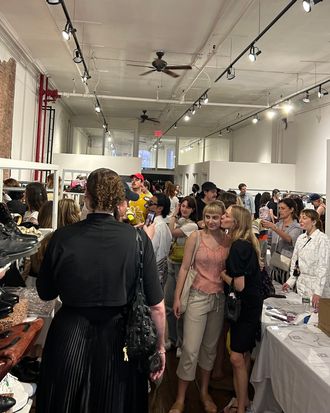 When I was in college, a friend tried to convince me to buy a pair of Birkenstocks every few months for three consecutive years. I always thought they looked mildly frumpy and seemed to get dirty often and easily, eventually resembling two forgotten slices of meatloaf that had been noticeably smushed by bare feet.
And yet there I was at Chloë Sevigny's closet sale watching someone cling to an old, visibly worn pair of Sevigny's Birks like a squirrel hoarding nuts for an imminent winter. I wondered how much time that person had spent waiting on the unseemly long line, which wrapped around the block; how much they were about to pay for the old shoes; and whether they'd have the gall to actually wear them in the heat of summer.
"I wore the wrong shoes," said Sevigny, who was posted up at the sale with fellow famous attendees such as Chelsea Manning. "Thongs." I looked down to see her feet slipping out of slightly wedged flip-flops. She'd been standing in them for at least five hours now, taking photos with adoring fans and fashion fiends alike who had waited hours for the chance to shop the proclaimed "It" girl's collection. Perhaps she would have been more comfortable taking back her pair of apparently coveted Birkenstocks.
Hours before I actually had the chance to enter the sale, I stopped by to scope out the line. The occasion had been exceedingly discussed online, and mutterings of fear regarding wait times and subsequent fashion-adjacent chaos had surrounded hopeful purchasers since the extravaganza was announced less than a week ago. This was, after all, dubbed the "Sale of the Century" by organizer and "NeverWorns" closet connoisseur Liana Satenstein. The Vogue contributor, with Eden Pritikin, Chelsea Zalopany, Arianna Aviram, and Ariella Starkman, wrangled together four of the most prolific and objectively fashionable people in the industry — Sevigny, of course, alongside Vogue fashion writer and editor Lynn Yaeger; Vogue's former creative digital director, Sally Singer; and fashion editor Mickey Boardman — to delve into their Valentino-, Proenza-, and Miu Miu–adorned closets and sell their wares.
I arrived around 12:30 p.m., 30 minutes after doors had officially opened. People had been gathering at the entrance since 6 a.m. I walked the length of the line, which wrapped around the entire block, all along Bond Street, Great Jones, Broadway, and Lafayette (where another line was forming across the way for Lafayette Bakery's Cronuts). It ended, ironically, at the doors to get in, behind a bouncer wearing a suit and dark sunglasses (something every good clothing sale has, apparently). The people on line were clad in all the things TikTok adores: low-waisted linen skirts, suit vests, capris, Miu Miu boots, loafers paired with socks and accessorized with headscarves, camouflage and nondescript baseball caps and many a mustache. A well-dressed group smack dab in the middle of the line told me they'd been waiting almost three hours. I saw them finally make it inside around 4 p.m., over three hours later, and found myself thanking whatever higher power there may be for granting these fashion lovers a good-weathered day and saving their silk, suede, and leather goods from what Mother Nature often provides.
In the days leading up to the sale, several eager shoppers found ways to hack the system. Fashion writer Alexandra Hildreth (a.k.a. @guyfieri.superfan) put a call on her Instagram story saying she would stand on line for anyone for the right price, which ended up being $40 an hour. "People were out there hustling, and some people definitely got hustled," Hildreth told me. She ended up waiting from 9 a.m. to 11:30 a.m. and made $100.
The "Line Dudes," who have famously waited in lines for others across New York for items like the iPhone 6 and the Cronut, were in attendance just behind Hildreth. When the woman who'd hired them arrived, drama apparently ensued. She had allegedly brought more friends than line holders she'd hired, prompting pushback from the dudes, who told her, according to Hildreth, that on principle it was unfair of her to bring more people than she'd held place for in line. Ultimately, they said, it made their business look bad. "I don't think anyone in line was super-pressed about her extra friends, but we're all like 'Girl, your behavior is so embarrassing,'" Hildreth said. "She responded by turning her back toward him like he didn't exist and holding up her hand. A lot of sociopolitical battles being fought on the corner of Great Jones and Broadway yesterday."
Elsewhere in line, though, the vibes were fine, and even "good," one salegoer told me.
Inside, patrons were, surprisingly, fairly orderly, though typical shopping decorum was admittedly thrown out the window — there was no waiting for someone to sift through a rack; multiple people rummaged through the same hangers at the same time. At one point, I pulled out a pastel yellow slip dress to look at and three people immediately hovered around me, close enough to touch, waiting for me to either take it to the dressing rooms or put it back on the rack for them to snatch at like vultures.
Items like a camel-colored Hermès coat, a sharply tailored Proenza blazer, an intricately beaded Balenciaga dress, a leather Comme des Garcons skirt (for $750 on its own and $1,000 in a set), a black-and-white checkered Miu Miu dress for nearly $600, and a floor-length sheer Valentino dress for $650 (I had to let someone who thought the "SS" for "Sally Singer" meant the frock was $55 down easy) were a few of the things still available when I entered around 4 p.m. Several pieces of Sevigny's line with Opening Ceremony floated around, like a tiny knit gray cardigan, which I ended up purchasing. A left-behind tag for a pair of Doc Martens priced at $35 sparked the first note of envy I felt that day. Closet sales, I've found, are increasingly more competitive than sample sales. Most items available are truly one-of-one, and once they're nabbed off the rack, they will likely be impossible to find again. That's especially true for pieces like these, which were previously owned and worn by Ms. Sevigny herself. It's not every day you can buy something that touched New York City's downtown royalty.
Online, lucky salegoers shared their finds to rapt audiences. TikTok user @myahansel grabbed a long brown cardigan and a supremely unique letterman jacket from Sevigny for $75. Another got a vintage plum Roberto Cavalli dress (and a photo with Sevigny) after waiting four and a half hours. Someone else bought a denim midi skirt for $45 that they said Sevigny had told them was custom made for her. Jazmine Rogers, who goes by @thatcurlytop online, bought a pink organza ruffle skirt, a super-mini denim skort, and a denim corset. Someone else came clean and admitted to purchasing a tube of Gucci toothpaste, an item I had eyed myself for irony's sake.
While some relished in their finds, others took to the internet to share their disdain for the sale altogether. One TikTok user posted a video of the sale saying, "If you are looking to come to the Chloë Samonyay" — yes, pronounced like that — "sample sale in New York City, do not come. The line wraps around the block. Every girl in line is wearing vintage." Ah, that is indeed often a horrifying signifier of what's to come. Another poster said that "Everything I've seen from the Chloë Sevigny sample sale has been atrocious. It just appears they're excited to wear a celebrity's clothing, which is cringey at best." The user prefaced the video with "no offense," though, so surely none was taken.
Singer manned the "cash register," a long table managed by a few women and one chihuahua, which was outfitted with printed-out Venmo QR codes for each respective seller. As I waited to check out, Singer was looking for the jacket of a dress. "It's supposed to be a set!" she told the hopeful buyer. Eventually, the cropped blazer was found in the arms of another patron. It looked as though one of them would have to relinquish their find. Singer looked at them both and said, "You decide!" The two amicably agreed to split the set, and each went home with their own piece. Gobsmacked, I couldn't help but feel I'd witnessed true democracy in action and a quiet bond formed between two strangers, one they'll remember once a year, each time they wear their spoils, and that will far outlast the garments' lifespans.
I ended up leaving with two cardigans: the aforementioned one from Sevigny's line and a wool-silk-blend sweater from Yaeger's closet with tiny knit buttonholes that I love dearly. But the best get of all was seeing Mother Sevigny on Mother's Day.