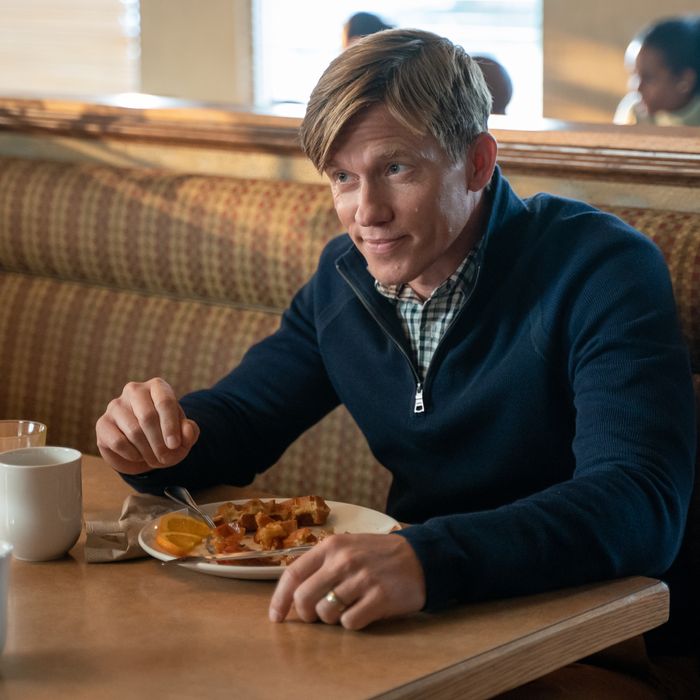 Photo: Colin Bentley/Colin Bentley/SHOWTIME
There are many reasons to love Yellowjackets: Its complicated and accurate portrayal of female friendship, the '90s soundtrack, the many actresses who have emerged and reemerged in the spotlight due to its popularity, the psycho-horror-wilderness-cannibalism plot. But for me, there is one reason why this series manages to be just shy of perfect: Jeff, the himbo husband supreme.
I know what you're thinking: "But Jeff isn't special!" Yes, we all know this. And that's exactly why I love him. In fact, it's only become all the more clear how plain Jeff (Warren Kole) is whenever he appears opposite his onscreen wife, Shauna (Melanie Lynskey), who is one messy bitch we have no choice but to stan. Still, next to Shauna, Jeff makes me smile, and considering the show's increasingly dark and cannibalistic premise, that is something I don't take lightly.
This isn't the first time I've found myself drawn to a male character who has seemingly popped off in the second season of a popular series (Stranger Things's Steve Harrington, anyone?), but it is the first time I've felt an active need to declare it. And while I am a feminist, I can't help but feel Jeff deserves some justice when it comes to how we're discussing Yellowjackets' cultural impact.
In a show that could be promoted with the log-line "I support women's rights, but more importantly, I support women's wrongs," Jeff holds his own. As we witness almost every female character have nuanced and emotional reactions to the trauma that they've endured in their life (rightfully so), he remains steadfast. Whether he's sitting in his garage blasting Papa Roach's "Last Resort" after dealing with a long day of Shauna's mess, or projecting solidarity with his family by listening to N.W.A.'s "Fuck Tha Police" outside of a police station, Jeff wishes he could be as hard as any of the soccer players who survived 19 months in the Canadian wilderness. Except he's not, and that is exactly the type of wholesome father and husband this show needs.
It's not a front, either; he really is a simple man who is just so in love with his wife. I expected that Jeff would respond to all the chaotic situations Shauna has put him in with some anger or hostility, but instead, he remains … just Jeff. It's a relief to watch a man be so nonviolent and unserious next to the mysterious women who make up the team of wilderness survivors. It's how I wish the world really could be! Instead of menacing men who get angry about cheating wives who eat old high-school sweethearts, we deserve to be surrounded by Jeffs. I won't settle for anything less.
Jeff is a man who is quick to publicly defend his wife against allegations of murder, berates himself for not being kinky enough to try strawberry lube ("I think this stuff is for bisexuals and goths," he remembers telling Shauna), all while tossing in a corny dad joke here and there (though we never did hear him tell the answer to what the hot dog said to the bun). Unlike Shauna, he keeps his turmoil inside, hardly letting anxiety slip through the cracks. He is simply a precious himbo whom I hope the writers of Yellowjackets will protect at all costs. Who would've thought I'd be left rooting for the wife guy in a show that gave us a cult leader like Lottie Matthews?