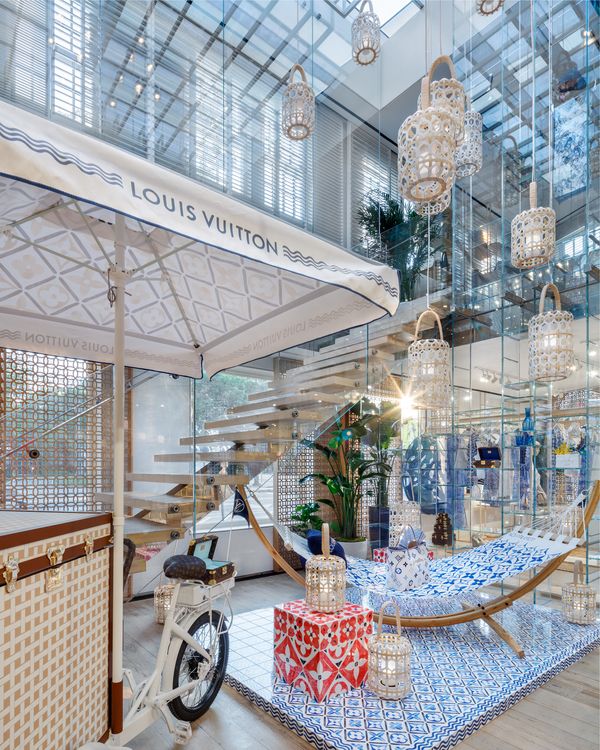 Photo: Louis Vuitton/B) Brad Dickson 2023
If you were hoping to live in a Louis Vuitton house, you now can. Sort of. The luxury retailer has just opened its newest store summer hot spot East Hampton and is fully leaning into the beachy lifestyle.
The newest store features the entire Louis Vuitton universe, adorned with macramé detailing and mannequins wearing airy cotton dresses and sandals. It even includes monogrammed trunks, should you decide to jet off from the Hamptons and need last-minute luggage. As one does.
How exactly does Louis Vuitton do beachy, nautical, Hamptons décor? Leather-accented lanterns made by global artisans, a monogrammed-trunk ceramic vase, ocean-blue glassware, and branded Ping-Pong sets for you to use on your branded Ping-Pong table. The table is not currently in the store, but I'm sure you could use the set on a regular table until yours arrives. The brand also considers your comfort; there are pool chairs available, and, yes, there is a Louis Vuitton hammock. No, I did not sit in it.
At the store launch this Thursday, customers browsed the two-floor space while eating frosé sorbet, which seems more than appropriate. Stylist Karen Blanchard, accessorized with an enviable silver Pochette Coussin, remarked that the space was gorgeous and modern while eyeing the brand's store-exclusive LV by the Pool collection and very tiny monogrammed trunks.
Some perks if you decide to make the trek out to the summer hot spot: an exclusive limited-edition Neverfull tote that says "Hamptons" and the blue-and-white LV by the Pool collection. Should you need a new handbag, there are many, including a wall of Capucine bags most recently spotted with Zendaya in their campaign. If you decide not to leave the store with a hammock or trunk, you can at the very least shop its city guides, sunglasses, or its latest green-juice-inspired scent. Sign us up!