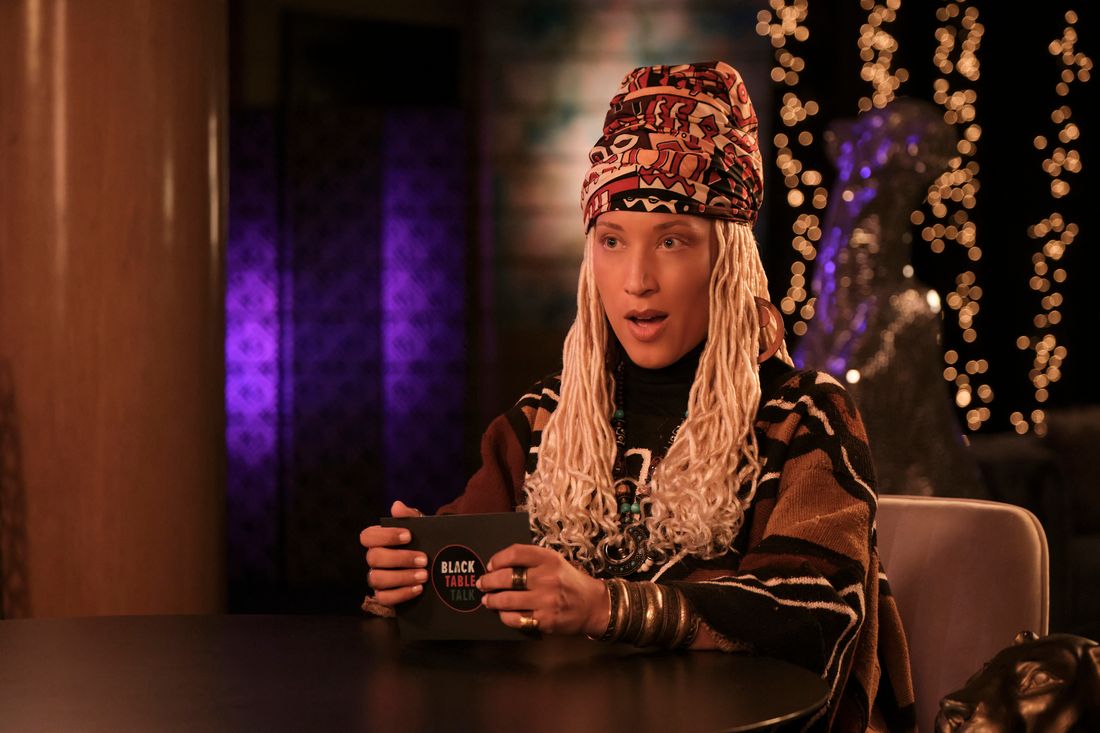 Photo: Courtesy of Photograph by Tina Thorpe/HBO
Since the premiere of the first sketch comedy shows in the '50s, the format has flourished to become a staple of comedy and television. Many notable funny people got their start in the genre, where they could hone their skills of quick wit and impeccable timing. But here's the thing: I rarely connect with or see myself in most sketch comedy shows. Sure, there have been Black female sketch comedians who have dominated in their respective series; however, the sketches were never aimed at me as the target audience. In early sketch comedy shows, it was more expected for Black women to be the butt of the joke or, at best, assist in building generic gags that almost anyone could understand. So when I found A Black Lady Sketch Show, an HBO Original streaming on Max, I was curious — and maybe even a little skeptical.
As the title announces, A Black Lady Sketch Show is a beacon to the funny bone of Black women. Across the show's four seasons, show creator and comedian Robin Thede and her crew of hilarious ladies — including Skye Townsend, Gabrielle Dennis, and Ashley Nicole Black — produce scenes that are so relatable, it feels like my group chats and phone calls are being tapped. Each episode features five to six sketches that speak to the complex societal nuances Black women deal with in romantic relationships, the workplace, between each other, and within ourselves.
It's rare (dare I say, unheard of) for a show to tackle so many culturally relevant themes that speak to my existence in my Black womanhood, and it's very much by design. The show was the first to have an all-Black-women writers' room (led by Lauren Ashley Smith) and an entire cast of only Black women. More often than not, I watch shows and movies and wonder, "Where am I in this?" But with A Black Lady Sketch Show, there's no question. With each episode I am shown that my experiences as a Black woman are not unique, and there's beauty in that. Our intersectionality is at the forefront and centered in a way that almost feels like an invasion of privacy — in the best way possible.
Starting from season one, I knew I was in for a ride with the sketch titled "227: The Reboot" where the ladies, including comedy star Quinta Brunson, recreate a revived version of the 1985 hit show of the same name. It's a show I've only heard of in passing while sitting with the older women in my family as they banter about their youth.
The belly laughs began when Thede introduced her recurring character, Dr. Hadassah Olayinka Ali-Youngman, pre-PhD, a Hotep, excuse me "Hertep," character that makes light of the sub-genre of pro-Black nationalism and the role women play in its misogynoir and anti-intellectualism. We know people like this in real life, — from the Black Hebrew Israelites who yell their mission through microphones on the streets of New York City to our aunts and uncles at the family cookout — but they are rarely shown in our entertainment, especially the women. Though most of us don't agree with their rhetoric, Hoteps are a sector of our community, and having that demonstrated in a show is a testament to the real-life experiences being discussed in the writers' room.
Speaking of real-life experiences, one of my favorite sketches, "Shit Talk," from the recently-released fourth season, sees the ladies create a fictional daytime talk show in the bathroom of their corporate job. The relatability of gossiping with coworkers and following the office drama with your fellow Black girls was so specific that I had to show our office receptionist the episode for confirmation on the comedic relevance (and yes, it was confirmed). The sketch also brings light to the microaggressions Black women deal with in the workplace, from coworkers who ask "What kind of medicine does Dr. King practice?" to when non-Black coworkers come back from vacation and say, "I got a tan. Look we're the same," knowing full well we are not. We laugh amongst each other (or in Slack) and it's fun to know none of us are alone in these incidents.
One of the more popular recurring sketches is "Courtroom Kiki," where the women are elated to discover that the judge, bailiff, stenographer, prosecutor, defendant, and the entire jury in a trial are Black women, resulting in the chant "Black lady courtroom *clap, clap*." As such a rarity is unlikely to ever happen, the sketch speaks to the lack of representation of Black women in the legal field, and more importantly, how we notice each other in every room.
A Black Lady Sketch Show gives Black women permission to laugh out loud at our own expense and amongst ourselves. While the jokes can be understood by anyone, they are written with a wink and a nod to this exclusive club we belong to: I can recount any scene to my friends and the immediate laughter comes from a place of comradery and kinship. The series has already been greenlit for a fifth season (to premiere in April 2024), and I'm sure there's even more hilarious Black girl magic coming our way.
Subscribe to Max to watch all four seasons of A Black Lady Sketch Show.
This advertising content was produced in collaboration between Vox Creative and our sponsor, without involvement from Vox Media editorial staff.