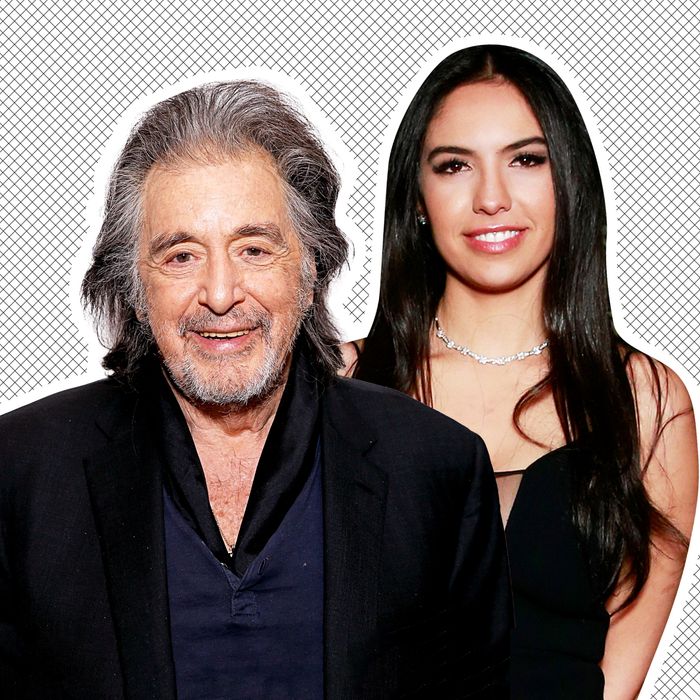 Congrats to the new parents!
Photo-Illustration: by The Cut; Photos: Getty Images
Huge news for anyone invested in the comings and goings of Hollywood's elder dads: the child of 83-year-old Al Pacino and his 29-year-old partner, Noor Alfallah, has arrived. Per the BBC, the couple named their baby Roman — presumably after the ancient empire, not Succession's most oedipal son. Congratulations to them. And us!
News that Pacino was expecting his fourth child came at the end of May, right on the heels of Robert De Niro's reveal that, at the spry age of 79, he'd just welcomed his seventh. You would think seven kids is a lot for someone in their eighth decade of life — his last child, if you were curious, arrived in 2011, when the Oscar winner was 68 — but De Niro has expressed nothing but delight. Shortly after the baby's arrival, he described fatherhood as "always good and mysterious and you don't know what the hell is going to happen." Indeed!
Initially, it sounded like Pacino may not have been jazzed about the mysterious element of child-rearing — tabloids claimed that, not knowing what the hell was going to happen, he'd asked Alfallah to get a paternity test when he found out she was pregnant. Shutting down the rumors, Pacino stressed that he considers this new family member "really special coming at this time." Can you feel his excitement? Palpable.
Pacino does have some previous experience in the parenting department — he has 22-year-old twins named Anton and Olivia and a 33-year-old daughter, Julie Marie. This is Alfallah's first child but her second elder dad: She dated Mick Jagger in 2017, shortly after he'd welcomed his eighth baby at the age of 73. Feels safe to assume she loves newborns just as much as she loves old people (a lot, according to her sources), which is lucky for both Roman and Pacino. Sending love and mystery to the new parents!