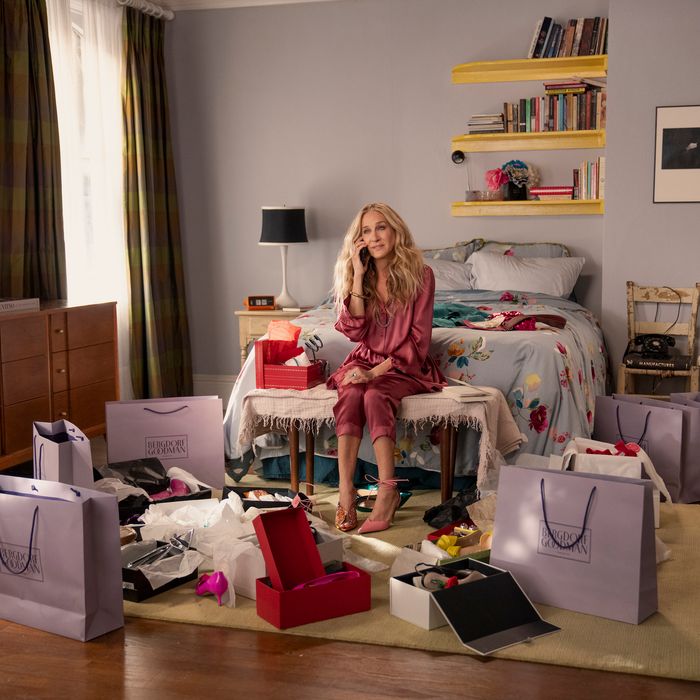 Photo: Craig Blankenhorn/HBO Max
While many things have changed from the original Sex and the City days — Carrie's natural curls are out, blowouts are in; Big was out, then in, then out, then in, and finally very, extremely out — one element of And Just Like That … remains the same: These women will turn a look if it's the last thing they do. Luckily for you, you no longer need to hate or gawk at or gush over the costuming all by your lonesome. We'll do it together right here. Every. Single. Week.
In the first few seconds of episode three, before I could even settle in and mentally prepare for the chaos and nipple-munching I was surely about to bear witness to, a heist occurs.
Seema, ever so fabulous and chic, steps out into New York City only to have a purse-snatcher pilfer her Birkin bag. She screams, pleads for help from onlookers to no avail, and sprints after the culprit only to lose him to the streets. "What's happening to this city?" she mutters from the back of her chauffeured car. (Newsletter editor Brandon Sanchez hypothesizes that Mayor Eric Adams was surely in the And Just Like That … writers' room that day).
Watching this sequence unfold, I couldn't help but wonder (sorry, had to do it) … are the women in the Sex and the City universe simply not meant to have Birkins?
In the franchise's original iteration, our beloved Samantha is stripped of both a client in the form of Lucy Liu (huge L) and the opportunity to own one of these coveted bags, which can range from $16,795 on some resale sites to $302,400 (that's the price one sold for at a Sotheby's auction last year). Of course, Samantha lies in an attempt to literally secure the bag, which causes her subsequent downfall, but who can blame her? No one even really knows how to purchase a Birkin. You can't just walk into any Hermès store and declare you'd like to purchase one. Word on the street is that one needs to first create a relationship with the heritage brand and with a sales associate. Then, and only then, might you be invited to purchase the most famous purse on the face of the Earth.
If we had any doubt in our Sex and the City–pilled minds that the character of Seema is supposed to fill the Samantha-size hole left in our hearts, it was squashed in episode three. How many people do you know who have fumbled such an expensive bag? The similarities are astonishing.
I Couldn't Help But Stare …
While this episode certainly satisfied our never-ending hunger for morsels of eye-catching fashion, the Birkin arc remained supreme. In the end, Seema discovers her discarded bag in the roots of some sidewalk shrubbery — the burglar had answered her prayers and only stolen her wallet (phew!) and tossed the purse. Clearly, he hadn't heard of StockX. It is also worth noting that Seema could have prevented the strife and worry she is consumed with post-robbery if she'd only insured her handbag, which is, apparently, available in most home-insurance policies. The more you know.
Honorable Mentions:
• LTW's glasses! They look Loewe-esque, but I can't be sure. She's making poor vision look CHIC!
• Carrie's new audio producer's bowtie! (Odd and cute.)
• Carrie's Loewe grief shoes (Nothing says "I love myself" like heels decorated with balloons.)
• Miranda's boater hat. (She looks ready to sing in a quartet.)
• Charlotte's Burberry shirt and matching patterned apron makes her look like she's rivaling Succession's infamous capacious bag.
• Carrie's Monopoly New York crewneck, which our team has searched far and wide to find. If any readers can locate it first, we will be eternally grateful.
• Richard Burton's (Charlotte's dog, duh) yellow puppy raincoat and boots.
• Seema's Louis Vuitton cloth mask. (Hot, but definitely not up to code when it comes to COVID.)
For more, join us for And Just Like That Club, our subscriber-exclusive newsletter dissecting and obsessing over all the minutiae of the new season. Existing subscribers can visit this page to sign up. If you're not a subscriber yet, click here to get started.