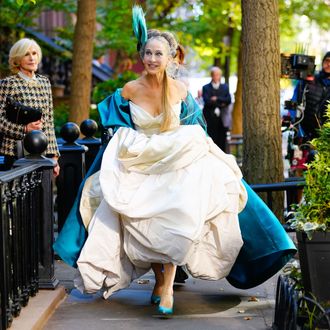 While many things have changed from the original Sex and the City days — Carrie's natural curls are out, blowouts are in; Big was out, then in, then out, then in, and finally very, extremely out — one element of And Just Like That … remains the same: These women will turn a look if it's the last thing they do. Lucky for you, you no longer need to hate or gawk or gush over the costuming all by your lonesome. We'll do it together, right here. Every. Single. Week.
The season-two premiere of And Just Like That … was all about the three E's: excess (over-accessorizing), eh (cop-out outfits), and emnemnemnem (the sound Che presumably makes while gobbling up Miranda's nipples in their opening scenes). That last point does not pertain to anything we'll be chatting about in this fashion digest, but I would be remiss to just let that slide.
Anyway, it's imperative to remember that Patricia Field, who was behind basically every stunning look in SATC, from the Fendi Baguettes to the Vivienne Westwood wedding gown, has passed on styling this iteration of the franchise. (Molly Rogers and Danny Santiago are now at the helm.) However, Field has conceded to dressing Kim Cattrall, and Kim Cattrall only, for her brief return to the series (we'll get into that later this season).
Field used styling as an avenue for escapism and emulation. The clothes she dressed Samantha, Carrie, Miranda, and Charlotte in were aspirational and out of budget for many of us. For the millionth time, we wonder who the hell is going to spend $40,000 on shoes! Even if they are Manolo Blahniks. But their outfits always looked lived-in: Bra straps would sometimes slip out, and hair would frizz, and purses would hang over the backs of chairs at restaurants like everyone tells you not to do (but you do it anyway). The middle-aged versions of these cosmopolitan women, on the other hand, wear platform stilettos to take dogs on walks and can't keep the name "Valentino" off their lips. To be frank, And Just Like That … seems to be going full-throttle glamour while remaining completely unrelatable. But, then again, maybe that's the point.
So while the show might not always serve us a good look, someone in each episode is almost always sure to turn heads. And plenty of outfits in this episode certainly made me do a double take.
I Couldn't Help But Stare …
Lisa Todd Wexley, played by Nicole Ari Parker, won my undivided attention this episode in a very welcome way. Running late to the Met Ball (a phrase heard five too many times from each character's mouth), she still manages to look incredible in a red Valentino gown and matching feathered headpiece, similar to the one Frances McDormand wore IRL to the Met Gala in 2018 and reminiscent of Florence Pugh's this year. The shot of her train held dutifully by her husband, Herbert, billowing as she crosses an avenue with the city behind her, is enough to make any suburbanite believe in the power of walkable cities. LTW said it best: "It's not crazy. It's Valentino."
Honorable Mentions:
• Carrie's Very Big Hat and Very Tall Stilettos she seemingly just threw on to walk Charlotte's dog alongside her. (Why?)
• Carrie in a New York Times (grrr) sweatshirt. (I don't think I've ever seen her in a plain old crewneck.)
• Charlotte's Met Gala look was one part horse girl and two parts Barnum and Bailey.
• Miranda's strap-on. (Enough said.)
• Carrie "repurposing her pain" by rewearing her Vivienne Westwood wedding dress to the Met after a seamstress fiasco. (Kind of a cop-out, but delightful to see again, sustainable queen!)
• Along with her dress, Carrie wore her beloved bluebird-like head decal, so I'm on bird watch for every episode now. (I eagerly await this avian's arrival.)
For more, join us for And Just Like That Club, our subscriber-exclusive newsletter dissecting and obsessing over all the minutiae of the new season. Existing subscribers can visit this page to sign up. If you're not a subscriber yet, click here to get started.