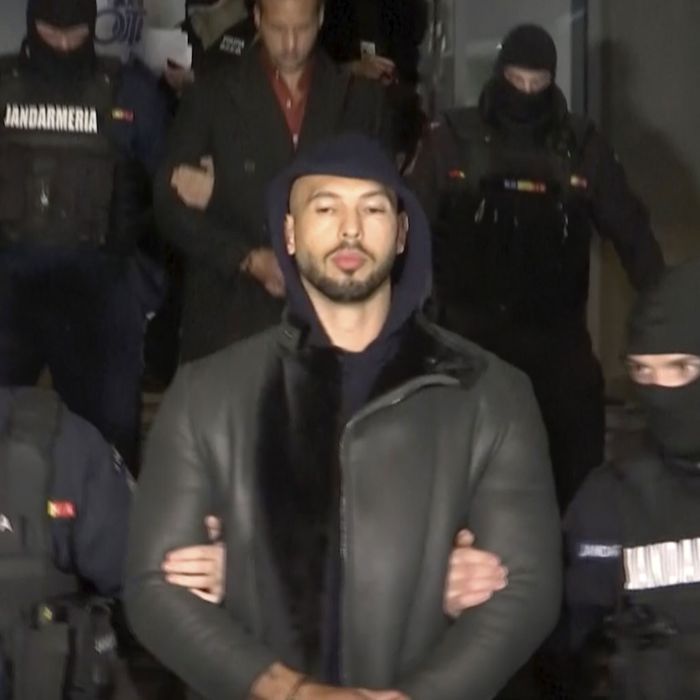 Photo: Uncredited/AP/Shutterstock
At the end of 2022, Romanian authorities arrested Andrew Tate, a British American kickboxer turned far-right social-media personality who has spent recent years spewing misogynistic, hateful opinions to legions of followers, many of them teens. In June, prosecutors announced that Tate will be tried on charges stemming from a human-trafficking-and-rape investigation. Tate and his brother Tristan, who was arrested with him, are accused of coercing and kidnapping women to participate in their webcam business — not exactly shocking, given this guy's whole deal. A fan once called him the "king of toxic masculinity," which is one way to describe a leather-jacket-wearing guy who, between sexist diatribes, posts photos of himself smoking cigars while posing next to luxury cars and enormous guns.
Between his arrest, a feud with Greta Thunberg, and news that authorities have seized his enormous car collection, it's been an eventful few weeks for Tate. Let's untangle this together.
First off: Who …?
Tate first entered the public eye in 2016, when he briefly appeared on the 17th season of the U.K.'s Big Brother after pivoting from a decidedly unremarkable kickboxing career. He was removed from the show mid-season — seven days in, to be exact — after a video surfaced on The Sun showing him beating a woman with a belt, followed by another one of him telling a woman (it's not clear if it was the same one) to count the bruises he'd given her. Tate and, by some reports, the women in the videos, claimed both instances were consensual.
Since then, Tate has built a career spouting misogynistic, violent, and generally vile takes to an alarmingly large mob of followers. In October 2017, a month after theorizing in a Twitter thread that "depression isn't real," he offered a characteristically gross opinion on the allegations against Harvey Weinstein, writing on Twitter, "Women have been exchanging sex for opportunity for a very long time. Some did this. Weren't abused." He added, "If you put yourself in a position to be raped, you must bear some responsibility."
At some point in 2017, Tate relocated to Romania, a move he later said was partially because it was easier to avoid rape charges in the country. "I'm not a fucking rapist," he said in a YouTube video, "but I like the idea of just being able to do what I want."
From Romania, Tate continued to spread his macho gospel, frequently circumventing a Twitter suspension by using multiple accounts while also posting on other platforms, including Facebook, Instagram, YouTube, and TikTok. Clips of his videos are hugely popular on social media, where they circulate largely unchecked thanks to fans who flood the apps with reposts.
Any other notable comments?
Oh boy. Tate has described in detail how he would attack a woman with a machete if she accused him of cheating; claimed women "belong" to men and shouldn't be allowed to drive; asserted that men can have multiple wives, but women having multiple husbands is "disgusting"; and expressed a preference for dating 18- and 19-year-olds because they're more impressionable and have been through "less dick." In a 2021 podcast episode, he said he is "absolutely sexist" and "absolutely a misogynist." His arrest happened to follow a particularly gross Twitter spat with teenage climate activist Greta Thunberg, which culminated in him donning a Versace robe, lighting up a cigar, and filming a video where he called Thunberg a "slave of the matrix" while inexplicably obtaining a stack of pizza boxes.
Tate also considers himself a life coach. He's amassed thousands of fans through his online course–slash–community forum, "Hustler's University," where, for $49 a month, you can learn "over 18 methods of making money," per the group's website. He has also been openly running a webcam business with his brother Tristan, which they told the Daily Mirror in March is actually a "total scam" that convinces men to hand over large amounts of money under the illusion that they're helping the cam girls with personal debt.
Tate's comments have earned him a spot among characters like Alex Jones, who welcomed Tate on his podcast; PizzaGate conspiracy theorist Mike Cernovich, who appeared on Tate's podcast, Tate Speech, in July 2022; and anti-Islam activist Tommy Robinson, whom Tate has described as a "solid guy" with a "good heart."
And no one has stopped him?
Needless to say, plenty of activists and anti-hate-speech groups have called for Tate's videos to be removed, especially given that a large chunk of his millions of followers seem to be teenage boys. Some of his most vocal opponents are educators, some of whom even published a guide helping other teachers and parents speak to kids about his hateful ideologies.
In August, amid a huge spike in his online popularity — driven partially by Hustler's University members who were urged to repost Tate's videos to earn money off of referrals —Tate was permanently banned from Facebook, Instagram, TikTok, and YouTube. In a "final message" posted to an unofficial YouTube account after his ban, Tate claimed that clips of his statements were taken out of context. He shuttered Hustler's University shortly after.
Yet banning his official accounts was not particularly effective in stemming the spread of Tate's misogynist, racist, and homophobic views. He continued to post videos from other, unofficial accounts, one of which Twitter even verified in January 2022. Meanwhile, his followers, many of them members of Hustler Nation, continue to circulate his clips. In November, his official Twitter account was reinstated as part of Elon Musk's "free speech" push upon purchasing the company.
You mentioned legal troubles?
Tate and his brother Tristan just so happen to be suspects in a lengthy Romanian investigation into human trafficking and rape. In April of 2022, the Romania residence where Tate lived with his brother Tristan was raided by the country's authorities, which local newspapers said was a police response to a report that an American woman was being held at the house against her will. The American woman was found, alongside a Romanian woman who was also there unwillingly, per local reports. Responding to a request from the Daily Beast, Tristan denied that any women were found in the house.
In the final days of 2022, both Tate brothers were arrested by Romania's Directorate for Investigating Organized Crime and Terrorism (DIICOT), ostensibly in connection with the same case. Investigators suspected Tate and his brother are part of a group that forces women to work as cam girls through "physical violence and mental coercion (intimidation, constant surveillance, control and the invoking of alleged debts)." Two women who allegedly helped him run the business, Luana Radu and Georgiana Naghel, were also detained. Prosecutors described what essentially amounts to a sex-trafficking ring, saying they believe the four suspects who were arrested "created an organized crime group with the purpose of recruiting, housing, and exploiting women by forcing them to create pornographic content meant to be seen on specialized websites for a cost." According to the Daily Mail, prosecutors told the court that they believe one of the Tate brothers raped a woman in March of last year, which is when their investigation began.
One local report claimed that authorities found six young women at the Tates' residence, which was among the five buildings seized by authorities as part of the investigation. While an official statement from DIICOT did not name the Tates, it did confirm that four people had been detained and that the agency identified six people who authorities say were sexually exploited by this group. Photos and video taken of the raid show Tate being escorted into a police car, and reports claim that guns, swords, and stacks of cash were found at the compound. In the following month, authorities also seized Tate's enormous collection of luxury cars, reportedly worth 5 million euros, and ten properties owned by companies registered to the brothers.
In a statement following the arrest, the Tates' lawyer Eugen Vidineac told the BBC that his clients reject the allegations, adding, "We are not at a stage where guilt or innocence is proven." Though Vidineac claimed that prosecutors had no evidence of rape or human trafficking beyond the victims' statements, one filing reportedly included WhatsApp messages between Tate and an alleged victim forbidding her from leaving his compound unless escorted by one of his employees.
What now?
It seems the Romanian investigation has finally come to a close. In June, prosecutors announced that Tate and his three associates, who were all detained for several months before being released to house arrest in April, will be tried in Bucharest, Romania, on charges including human trafficking and forming an organized criminal group related to the abuse of women. According to the charges, the foursome started a criminal group in 2021 and committed human trafficking between Romania, Britain, and the U.S. Investigators also say they've identified seven women who claim the defendants coerced them into performing sexual acts on camera and distributed the content. Prosecutors claimed that one of the women was raped using "violence and psychological pressure" on two separate occasions.
Is human trafficking Tate's only offense?
Obviously not. In the wake of the arrest, more allegations were made against Tate, including from one Romanian woman who says Tate tried to recruit her into his sex ring when she was 16. In January, Vice reported that two anonymous women claimed they were both abused by Tate in 2015 while working for his webcam business in England, and that after four years of delays, U.K. prosecutors declined to move forward with their case.
Tate denied their claims through his lawyer, claiming that "they wanted money because I fired them" and adding that "the police found messages from the girls' phones where they were talking between themselves and planning to lie about me." Both women say they were informed by prosecutors that voice notes they exchanged about whether to tell police Tate had given them alcohol had informed the decision not to bring charges. A third woman involved in the case came forward a week later, claiming that Tate raped her in 2013 and that she was contacted by police a year after filing a complaint to have her complaint folded into their investigation. In texts that she says she handed over to police at the time, Tate allegedly wrote, "I love raping you."
Just as his human-trafficking investigation was coming to a close, Tate was also served with a civil suit from the three U.K. women who'd accused him of abuse, plus a fourth alleged victim who says she was strangled until she was unconscious while having sex with Tate in 2014. The documents list an appalling slew of allegations including rape, strangulation, beating, and coercive and controlling behavior. According to the plaintiffs' legal representation, Tate could be heard from inside his Bucharest compound, where he was on house arrest, telling security to have the lawyers "fuck off." He has 14 days to respond to the suit.
Meanwhile, Tate has continued corresponding with his seven million Twitter followers from house arrest, denying the many allegations against him and trolling gender-inclusive activists. One of his recent posts spliced together news clips of men accused of rape and abuse, including Johnny Depp's defamation trial, with the caption, "Today it's me. tomorrow it's you. Nobody is safe from these lies."
This post has been updated.