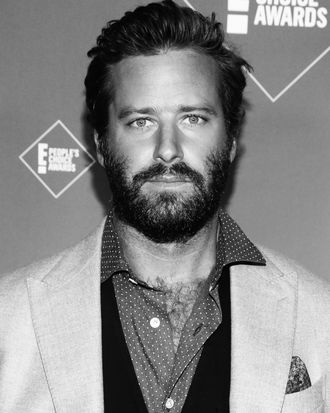 Armie Hammer
Photo: Todd Williamson/E! Entertainment/NBCU Photo Bank via Getty Images
More than two years after a woman accused Armie Hammer of raping her, prompting an investigation by the Los Angeles Police Department, prosecutors have decided not to charge the actor, saying there is "insufficient evidence" due to the "complexity" of his relationship with his accuser, according to the Los Angeles Times.
In March 2021, as abuse allegations swirled around Hammer after graphic messages detailing fantasies of violent sexual scenarios surfaced on social media, a woman who identified herself as Effie came forward and said that Hammer violently raped her in 2017. Even as Hammer's exes accused him of inflicting psychological harm, he waved away the controversy as "vicious and spurious online attacks" and said all his interactions with the women were consensual.
During a press conference with attorney Gloria Allred, Effie said through tears that at the time of the assault, Hammer "repeatedly slapped [her] head against a wall," leaving bruises on her face. "He also committed other acts of violence against me, to which I did not consent," she stated. She accused the actor of repeatedly striking her feet with a crop "so they would hurt with every step [she] took," and preventing her from leaving. "I thought that he was going to kill me," Effie said, but eventually, he left — "with no concern for my well-being," she added. "During and since this attack, I have lived in fear of him," Effie continued, explaining that the distress became so severe that for a time, she "lost interest in living." When she spoke out, Effie said she "hoped to prevent others from falling victim to him in the future."
In a statement to Variety following the allegations, Hammer's attorney, Andrew Brettler, denied that the actor raped Effie and maintained that his relationship with her was "completely consensual, discussed and agreed upon in advance, and mutually participatory." Brettler deployed a familiar scorned-woman defense, pointing to text exchanges and seeming to suggest Effie concocted "outrageous allegations" after Hammer turned her down.
According to Variety, Allred declined to say whether or not her client created @houseofeffie, the Instagram account that first surfaced the DMs. But Effie explained that she and Hammer dated on and off for four years after meeting via Facebook. She said she "fell in love with him instantly," and that the whole thing escalated quickly. "He would often test my devotion to him," she explained. "He abused me mentally, emotionally, and sexually."
The pattern Effie outlined — a buildup of intense affection, followed by coercive and controlling behavior — tracks with how Paige Lorenze and Courtney Vucekovich described their brief relationships with Hammer in 2020. He denied their accounts, too, specifically calling Lorenze's "patently untrue." Nonetheless, in the wake of the accusations, Hammer was dropped by his talent agency and his publicist, and he exited two movies amid reports of erratic behavior.
In a statement posted to Instagram, Hammer said that he was grateful to prosecutors for "coming to the conclusion that I have stood by this entire time, that no crime was committed." He added that he is looking forward to "beginning what will be a long, difficult process of putting my life back together now that my name has been cleared." According to the Times, Allred's office no longer represents Effie and had no comment about the prosecutor's decision not to charge Hammer.
This post has been updated.