For more of the Cut's favorite fashion, beauty, and home finds, sign up for the weekly Cut Shop Newsletter.
Bikini styling is inherently at the mercy of the environment in which bikinis are typically worn: namely, outside, and often in the presence of water and intense sunlight. Throw trillions of particles of sand into the mix — not to mention sunscreen residue — and you've got yourself a really interesting challenge. Needless to say, it probably isn't the best time to whip out your expensive suede shoes or a special-occasion silk top. While that might be obvious, other aspects of this particular styling equation are less so. For example: How does one concoct a thoughtful "look" around what are essentially two scraps of waterproof fabric without cosplaying as a Love Island contestant en route to a group date?
Keep scrolling for some pointers.
When you are starting with a bathing-suit top
For bikini-top-centric styling, opt for a sarong, shorts, or beach-y pants (i.e., anything made out of light cotton or linen) on the bottom.
Make sure whatever you choose is comfortable, ideally with a waistband that doesn't leave any unwelcome marks or indentations around your stomach since you'll likely be baring your midriff at various intervals.
Add a necklace or ankle bracelet


I like to keep my accessories simple when I'm at the beach or pool and usually limit myself to just one item of jewelry so I don't have too much to keep track of when I shed layers to go swimming. A necklace is always a reliable choice given that you're already showing off your bikini top, but an anklet can be a great surprise alternative, especially if you're wearing shoes that you want to draw attention to.
Finish things off with sunglasses
And a hat or headscarf.
When you are starting with a fun bathing-suit bottom
Your lower half deserves its time in the sun, too — hence the occasional leg-baring bikini ensemble.
Layering a tank or tube top and a short-sleeved button-down over a bikini is one of my go-to templates for this scenario.
Pair with an oversize top
Wearing an oversize button-down or pajama shirt (either short-sleeved or long-sleeved) alone works too, either styled loose like a minidress or knotted near your navel with a simple piece of jewelry.
Add a (flat) colorful shoe
There's a lot of room to play with in terms of footwear here, but personally, I'm not a fan of heels or wedges with a swimsuit.
Flats are the move — either a strappy leather sandal or something practical like Birkenstocks or Tevas in a fun color.
When the focus is a full-coverage look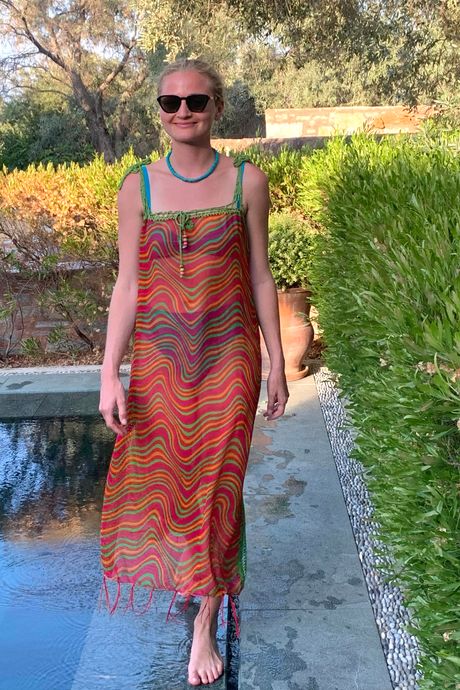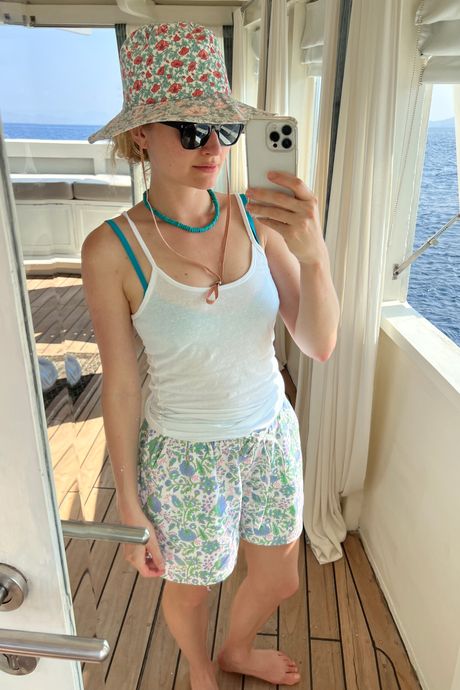 When cultivating a fuller-coverage pool or beach look, I like to get creative about how to still make the bikini a cohesive part of the outfit. That aim can manifest in a variety of ways, from colorful straps peeking out from underneath my tank top to showing off a high-waist silhouette through a slightly transparent cover-up. The idea is to be clothed enough that I could sit down for lunch at a beachside restaurant, but not to the extent that what I'm wearing veers into fussy or impractical territory.
Let's put it like this: After washing down my last French fry with a sip of spritz, I should subsequently be able to take a nap on my stomach in the sand without a second thought.
No shoes needed
It's a barefoot-boy-summer after all, right?