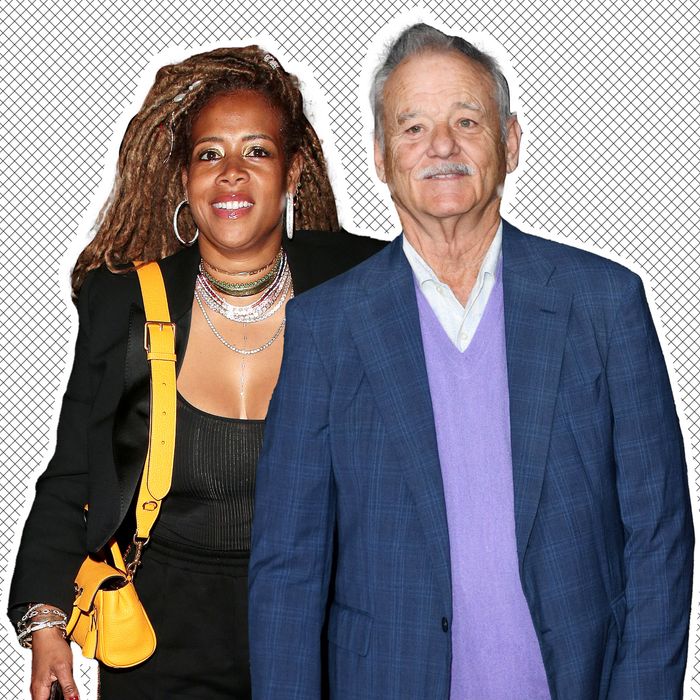 Bill Murray and Kelis — lovers?
Photo-Illustration: The Cut; Photos: Getty Images
Some of the most groundbreaking developments in the creative arts are happening inside of whatever funhouse publicists use to concoct unlikely celebrity couples. Deep in the annals of this incubator, a group of deranged Oompa Loompas are hard at work churning out mind-melting duos like Timmy and Kylie, Emily Ratajkowski and Eric André, Shakira and a hot F1 guy. Real, fictional, or somewhere in between, they are all utterly imaginative; rich in the element of genuine surprise. And what's more, the gears inside this zany machine never stop turning. Their newest invention, for example, proposes that Bill Murray and Kelis are dating. My compliments to these freaky chefs.
According to the not entirely esteemed U.S. Sun, Kelis (whose full name is Kelis Rogers) and Murray have been "getting close for a while." Can you imagine it? Me neither! The outlet claims Murray was in the audience at Kelis's show in London, where he's filming another Ghostbusters reboot, earlier in June. At some other unspecified point in time, they were allegedly seen at the same hotel. "However unlikely it seems," one unnamed source has confidently asserted, "they are both single and are having fun despite the fairly big age gap." (Kelis is 43, while Murray is 72.)
How exactly could such an improbable union come about, if not in a lab experiment gone delightfully off the rails? Was Murray's lifelong dream to see the song "Milkshake" performed live? Did his grandchildren play "Bossy ft. Too $hort" for him, and which specific lyrics resonated with him? According to the Sun, Kelis and Murray have in fact connected over "shared relatively recent bereavements." Kelis lost her second husband, a photographer named Mike Mora, to stomach cancer in 2022, while Murray's estranged second ex-wife, Jennifer Butler, with whom he shares four sons, died in 2021.
On the one hand, it is sort of difficult to celebrate any news concerning Murray, given the myriad allegations of misconduct and violent behavior that have been lodged against him. On the other, the sheer randomness of this pairing cannot be overstated. Who might have introduced them? What mish-mash of famouses was gathered at that hypothetical party, or do we think they accidentally ordered the same ginger-and-lemongrass shot at some trendy L.A. juice bar? Is the simplest answer in this case the correct one, and this unhinged coupling is too bonkers a concept to be real? Neither party has directly confirmed or refuted the rumors, though Kelis has acknowledged them on social media. When one of her followers commented "care to address these Bill Murray allegations?!?" under a photo carousel — from a beach, no purported new boyfriend in sight — she posted to Instagram on Friday, the singer replied: "lol no babe, I wouldn't bother at all."
But whatever is actually going on here, I hope the enormous brains behind all these bizarre duos continue to fire on all synapses because I certainly am enjoying the variety currently on offer. I can't wait to see what they cook up next.
This article has been updated.