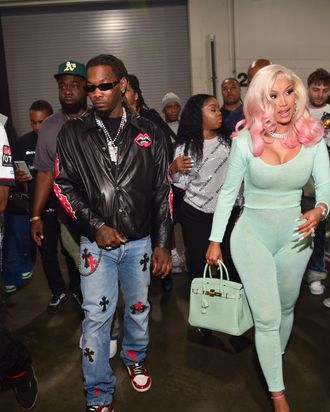 Photo: Prince Williams/WireImage
For Cardi B, Twitter is a multipurpose platform: She has used it to host her political summits and economic forums, to friend-flirt with You's Joe Goldberg, and to beef with various celebs — including her husband, Offset. After Offset claimed — in a now-deleted Instagram Story that arrived seemingly out of the blue on Monday — that Cardi had sex with someone else, she took to Twitter Spaces to respond. Belting Keyshia Cole's "I Should Have Cheated," she told her followers, "Do not pay attention to that country man, y'all." Although Cardi didn't deny the supposed infidelity outright, she did make it clear that she wouldn't cheat with just anyone.
"I think sometimes motherfuckers forget," she said. "I'm Cardi B. If I was giving this pussy to anybody it be not just anybody. Can't fuck regular-degular-shmegular, 'cause they gonna tell the world." She also said her own industry was off-limits because that information would get out, too. Cardi had some final words for her husband: "Please boy, stop acting stupid. Going crazy over a fucking space. Don't play with me. What the fuck. Stop playing."
Cardi and Offset got married in 2017 (news she eventually confirmed on Twitter, where else) and share two kids, but have separated a few times in recent years. In 2020, Cardi filed for divorce, though the couple worked things out and stayed together. Are they now hunkered down at opposite ends of some giant house, shouting into separate social media platforms on one Wi-Fi network? Who knows! But maybe they could just meet in the kitchen and talk it out?