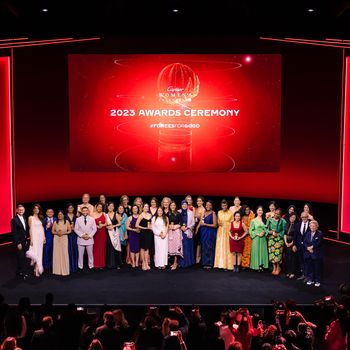 Photo: Courtesy of Cartier
Denica Riadini-Flesch was "the least fashionable person you will ever meet" when she started her clothing label in 2016. At the time, she was an economist working for a large development organization, but she wanted to make a more direct impact in her native Indonesia. She traveled from village to village meeting with farmers and learned that the local women creating the clothes we all wear were living in poverty. So along with two other women, she founded SukkhaCitta, which means "happiness," as a farm-to-closet fashion-brand company that produces its items from cotton made by women in Indonesia.
Recently, she was one of more than 30 women honored at the Cartier Women's Initiative in Paris. Other honorees include Lidia Diaz of Plant Powered, who is creating healthy food alternatives in the Dominican Republic, as well as Emily Ewell, who is creating sustainable solutions to feminine care in Brazil with her company Pantys. Riadini-Flesch received the first prize, which includes funding but also, more important for her, connections with other changemakers. "It can be lonely battling people who are doubting you as a woman. Once we started sharing our stories, we realized that across the world we were dealing with the same discrimination," says Riadini-Flesch.
The idea for the company started when Riadini-Flesch met Ibu Kasmini (in Indonesia, many don't have last names — "Ibu" means mother), a 65-year-old farmer whose grandmother had passed down her farming practices to her. Instead of planting cotton, like her grandmother did, Kasmini started planting corn, because it was more lucrative. "In the '60s, we had a cotton industry," says Riadini-Flesch. "I asked myself, 'Why did it go extinct?'"
She started to do some research and found that, today, 99 percent of Indonesian cotton is imported. What's more, clothing production there uses dyes that pollute the rivers villagers use for irrigation. SukkhaCitta, she decided, would only use dyes from indigenous plants, no chemicals. With some time, she persuaded Kasmini to grow cotton like her grandmother had. How? She gave her two things: money and freedom. "We didn't come in and tell her what she should plant. She started remembering what plants were in her grandmother's farm," said Riadini-Flesch. "She would grow the cotton next to chili, and the chili becomes the trap crop so that the bugs go to the chili and not the cotton." She then grew mung bean, which helps the soil by absorbing nitrogen, and corn next to that; since it is tall, it would protect the cotton. "All these crops she planted by memory have a function. It's indigenous knowledge that already exists." These diverse biomes stand in contrast to industrial cotton-farming techniques.
Riadini-Flesch now works with over 100 farmers in Kasmini's village and is scaling up to over 500 farmers across seven villages, with 80 percent being women. "When women lead solutions," she says, "we give permission to other women to do the same."