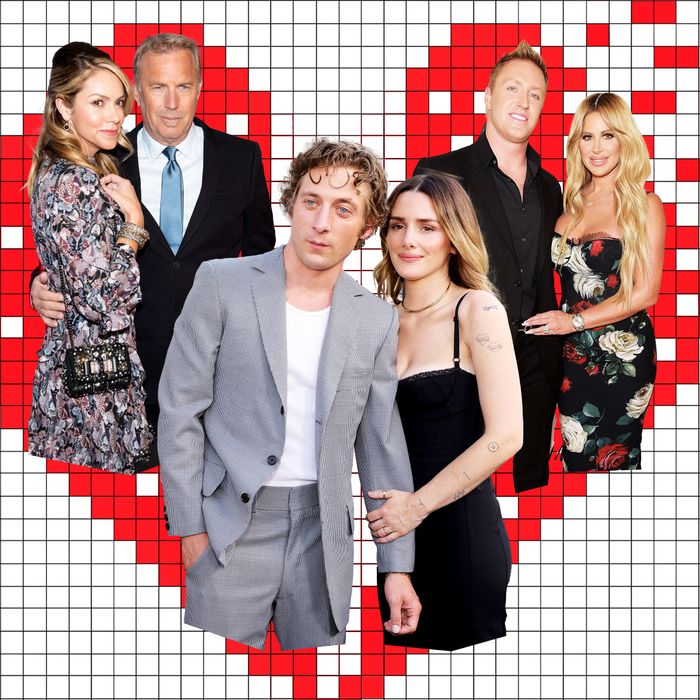 Photo-Illustration: by The Cut; Photos: Getty Images
In the ten years since Gwyneth Paltrow consciously uncoupled from Chris Martin, the prevailing trend for celebrity divorces has been one of performing civility. When they announce their separations, A-listers typically release joint statements replete with requests for privacy and promises to stay loving friends and co-parents. Reese Witherspoon and Jim Toth said they were moving forward "with deep love, kindness and mutual respect for everything we have created together" when they announced their divorce this spring. Toni Collette and her now-ex-husband Dave Galafassi promised, "We will continue to thrive as a family." Chelsea Handler announced her breakup with fellow comedian Jo Koy by claiming, "This is not an ending but another beginning. It is a comfort to know that I am still in love and love this man the way the sun loves the moon and the moon loves the sun."
These kinds of announcements have become so common and expected that even normal people issue them now when they get divorced. But in the last couple of months, a new, more acrimonious current has emerged. Something different is in the air. Something messy!
Perhaps it started when Kevin Costner's wife of 18 years, Christine Baumgartner, filed for divorce in May. The couple did not release a joint statement underlining their mutual respect for one another and reassuring the rest of us that they'd come to the decision together and would remain the best of friends. In fact, Costner said publicly, right away, that he was blindsided by the filing. "It is with great sadness that circumstances beyond his control have transpired which have resulted in Mr. Costner having to participate in a dissolution of marriage action," his rep told the tabloids. The situation devolved from there.
Almost every element of the separation has made its way into the tabloids, indicating that perhaps neither party is particularly interested in maintaining privacy. First, sources alleged Costner cheated, which his rep made a point of denying on the record. Then, Costner's attorney, the famed celebrity divorce lawyer Laura Wasser, filed legal documents accusing Baumgartner of refusing to leave the couple's $145 million home in Carpinteria, California, per the terms of their prenuptial agreement. "Christine feels he should be the one to go," a source told Us Weekly. "She's so angry with Kevin for what she feels led to the end of their marriage — him putting work ahead of the family." (Relatedly, Costner's drama with Yellowstone creator Taylor Sheridan is also ongoing.)
Since then, accusations have continued to fly on both sides, and Baumgartner has requested a whopping $248,000 a month in child support. She also claimed in legal docs that Costner told their three kids, ages 13, 14, and 16, about the divorce "on a ten-minute Zoom call from Las Vegas."
"This could be a bitter court battle," another source told Us Weekly. "Kevin's a man of strong conviction and stubborn to the bone."
While we haven't seen a celebrity breakup this mudslinging since Ashton Kutcher and Demi Moore broke up in 2011, Costner and Baumgartner are not the only celebrities currently playing out their separation in public. Also in May, actress Addison Timlin filed for divorce from her husband of four years, Jeremy Allen White, just as he was gearing up to promote the second season of The Bear. Since then, Timlin has posted on Instagram about being a "single mom" to the couple's two young children — a jab she later edited to read "co-parent." They have not released any joint statements assuring the public of their continued love and respect for one another, leaving fans to pore over the details of Timlin's divorce filing, which listed September 2022 as their date of separation. Curious, as White publicly thanked Timlin when he accepted a Golden Globe for his performance in The Bear in January. It seems like they tried to keep things civil at first, but now sources are telling "Page Six" White was "blindsided" by Timlin's Instagram post and hitting back at the implication he is not an involved father.
But perhaps no couple has illustrated this new, uncivil trend more artfully than Real Housewives of Atlanta alums Kim Zolciak and Kroy Biermann, the erstwhile reality stars who filed for divorce last month. Even by Bravo standards, their split has been highly acrimonious — and public. Biermann, a former NFL linebacker, was the first to file, and he came out swinging, requesting full legal and physical custody of the couple's four minor children. Then, Zolciak claimed Biermann smoked weed around the kids and asked the court for him to be drug tested. Biermann responded by requesting Zolciak undergo a psychological evaluation, claiming that she has a gambling problem that prevents her from caring properly for the children. Sources associated with both parties have filled out the details of these claims in the tabloids, suggesting that they are both eager to have their side of the story aired. Zolciak's two older daughters from a previous relationship, meanwhile, have made headlines for unfollowing and refollowing Biermann on Instagram with sources explaining to Us Weekly the significance of those decisions. It goes without saying that no one is asking the public to respect their privacy in this scenario.
Of course, there are still plenty of A-listers who are keeping the details of their dissolutions sealed from the public. The tabloids have barely made a peep about Reese Witherspoon's divorce from Jim Toth since the now-ex-couple announced their split in March. Tom Brady and Gisele Bundchen's divorce generated a ton of headlines last fall, but neither of them have done a tell-all interview about the other, and they waited to announce the split until they had all of their financial and custodial agreements in place. For some celebrity couples, a no-holds-barred public brawl is just never going to happen for several reasons: Perhaps they still have entwined business interests, or young children together, or secrets that would make both parties look equally bad.
It is refreshing, though, to see some divorcing couples actually acting like they are going through a divorce. It was getting hard to believe that all the A-list couples who have broken up in the last ten years were really committed to staying the best of friends. Remember Jenna Dewan and Channing Tatum's joint statement when they announced their split in 2018? They literally described their marriage as a "magical journey" between "best friends" and insisted they were still just as much in love as before, just separating for some reason. "Absolutely nothing has changed about how much we love one another, but love is a beautiful adventure that is taking us on different paths for now," they wrote. Since then, they have rarely been spotted together and certainly have not referred to each other as BFFs. Perhaps these kinds of statements were all a bit optimistic.
So will more famous couples follow Kevin Costner's lead and let it all hang out when they divorce? It's possible. At least one more dramatic split is currently brewing in Hollywood: Earlier this month, Dean McDermott announced on his Instagram that he and his wife, Tori Spelling, were getting divorced after 17 years of marriage. The problem, it seems, is that Spelling did not consent to such an announcement, and he was forced to delete it a day later. After that, paparazzi "caught" Spelling showing up to her friend's house with a suitcase while wearing a hoodie emblazoned with the question, "What the actual f*ck is going on?" (The censorship is Spelling's.) Sounds like this drama is just getting started.