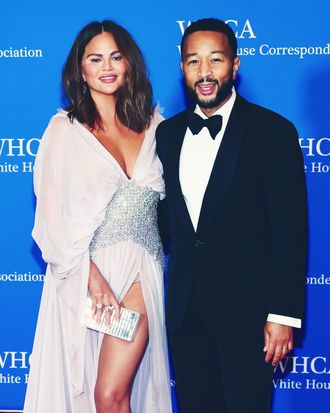 Photo: Paul Morigi/Getty Images
Chrissy Teigen shared the good news on Instagram: She and husband John Legend have welcomed baby No. 4 to their family. In an emotional post, Teigen shared that the baby boy, Wren Alexander Stephens, was delivered via surrogate just minutes before midnight on June 19. His middle name is an ode to their surrogate, Alexandra.
"For as long as I could remember, I've always wanted four children," Teigen writes in the post. But after going through pregnancy loss in 2020, "I didn't think I'd be able to carry any more babies on my own." So in 2021, she and Legend reached out to a surrogacy agency. Maybe they could have two "tandem surrogates," they thought. "Twins, kinda?!"
As their surrogacy journey began, Teigen decided she wanted to try to carry "just one more time," she writes. "We've already seen the worst. I promised I would be okay no matter what happened." They restarted the IVF process — Teigen went on to give birth to daughter Esti this past January — during which time they met Alexandra. Reflecting on their first interaction, Teigen writes, "I knew she was a perfect match for us the moment we spoke to her." The embryo-transfer process was grueling, but they remained patient as Teigen's own pregnancy developed.
"As we crept toward the safe zone of my own pregnancy, we were overjoyed to learn Alexandra had become pregnant with a little boy," she writes. "Our little boy." They celebrated by eating hot pot.
Congrats to the happy family!