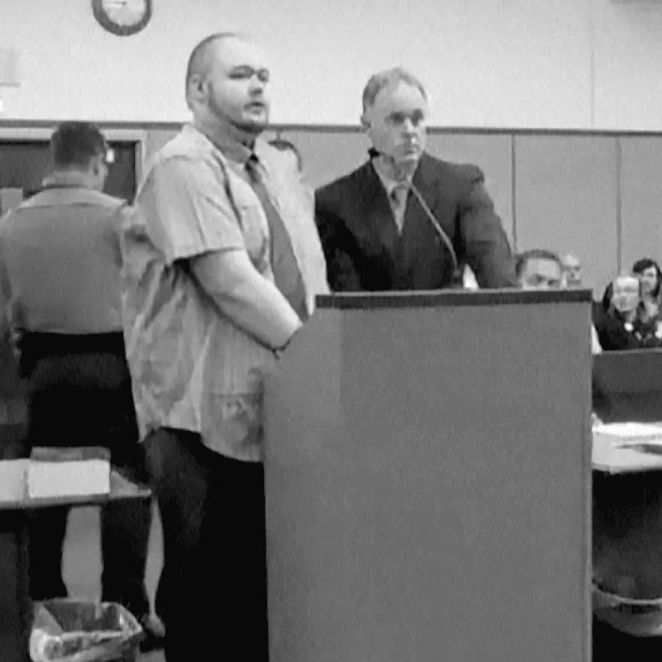 Photo: Colorado Judicial Branch via AP/AP
The 23-year-old accused of killing five people and injuring at least 25 others in a massacre at a Colorado Springs LGBTQ+ nightclub has received five consecutive life sentences without possibility of parole. CNN reports that Anderson Lee Aldrich appeared in court on Monday and pleaded guilty to five counts of first-degree murder and 46 counts of attempted murder for the 2022 Club Q shooting. Aldrich received an additional 2,208-year sentence on attempted murder charges as well as a four-year sentence on bias-motivated charges.
"He has destroyed a safe haven," a Club Q employee and survivor told the courtroom at the hearing per the New York Times. "He has broken this community into pieces that may never be repaired."
On November 19, 2022, the eve of Transgender Day of Remembrance, Aldrich entered Club Q wearing body armor. Wielding a handgun and an AR-15-style rifle, Aldrich started shooting into the crowd before getting tackled and disarmed by two patrons, one of whom, an Army veteran, beat the shooter with their own handgun. Aldrich was eventually arrested and in December was charged with over 300 state counts spanning murder, assault, and bias-motivated crimes causing injury; a judge later tacked on 12 additional counts. Public defenders for Aldrich stated in court documents that their client was nonbinary and used they/them pronouns, a claim that Aldrich's neighbor — who recalled them regularly using anti-gay slurs but did not remember them saying anything about being nonbinary — called a "total troll on the community" and the legal system. The Times also reported that a man with the same name and age as Aldrich was arrested in 2021 after threatening his mother with a bomb and engaging in a protracted standoff with police before eventually surrendering. Aldrich was charged with felony menacing and kidnapping in relation to that incident, but the charges were eventually dropped and the records sealed.
During Monday's sentencing, survivors and family members of the victims referred to Aldrich by male pronouns with one survivor's mother calling their use of nonbinary pronouns a "repugnant attempt" to court leniency, according to the Times. District Attorney Michael J. Allen said in a news conference that there is "zero evidence" Aldrich identified as nonbinary prior to the shooting, which he called "a terror attack based on hate."
Aldrich's plea agreement, reached after months of lengthy discussions among prosecutors, survivors, and victims' families, combined the different types of murder charges and dismissed lesser ones including assault. Survivors and relatives of the victims — identified as 28-year-old Daniel Aston, 38-year-old Derrick Rump, 40-year-old Kelly Loving, 22-year-old Raymond Green Vance, and 35-year old Ashley Paugh — shared painful memories of their loved ones in the courtroom and pressed for the harshest possible punishment for Aldrich, whom they called a "bigot," a "coward," and an "animal." Though Colorado abolished the death penalty in 2020, a death sentence is still possible: The Times reports that the U.S. Attorney's office in Denver could still pursue federal hate-crime charges against Aldrich, and an agent in the Denver FBI office says the agency is currently investigating the shooting. A lawyer for Aldrich claimed they are "deeply sorry for all the people they killed, the lives they impacted."