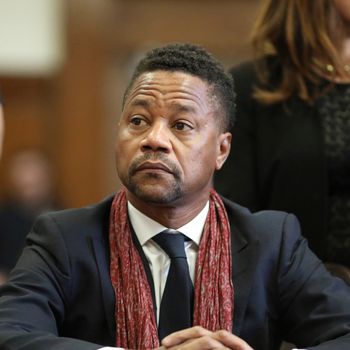 Cuba Gooding Jr. has narrowly avoided a sexual-assault trial for the second time, having settled his rape case out of court minutes before jury selection was set to begin.
In the $6 million civil suit, which was filed in 2020, an anonymous Jane Doe claims that Gooding raped her in 2013 in his room at New York's Mercer Hotel, where he had stopped with the purported purpose of changing his clothes after the two met at a Greenwich Village restaurant. Gooding's lawyers argued earlier this year that Gooding's encounter with the woman was consensual, alleging that she had bragged about having sex with a celebrity.
The New York Times reports that just before jury selection, with prospective jurors already gathered in the room, an electronic docket entry indicated the trial was off and "the parties have resolved the matter." Neither Gooding nor Gloria Allred, a prominent women's rights attorney representing Jane Doe, showed up in court. (Allred declined to comment on the case, while Gooding's team did not immediately respond to the Cut's request.) But ahead of the trial, Judge Paul A. Crotty ruled that the anonymous woman seeking damages would have to reveal her name in court, writing that she could have "substantial prejudice to the defendant."
Had it proceeded, the case would have surfaced testimony from three other women who say Gooding subjected them to nonconsensual sexual encounters. According to the Associated Press, one of them would have been Kelsey Harbert, who has accused Gooding of grabbing her breast at a Times Square bar in 2019. Since then, some 30 women have accused the actor of misconduct ranging from unwanted touching to biting to sexual assault, and though he has pleaded guilty to kissing one of them, Gooding has so far avoided two trials for his alleged offenses. And after six months in alcohol and behavior-modification treatment following his misdemeanor charge for forcibly kissing, Gooding was permitted to retract his plea and plead guilty to noncriminal harassment, effectively clearing his record and avoiding further retribution.