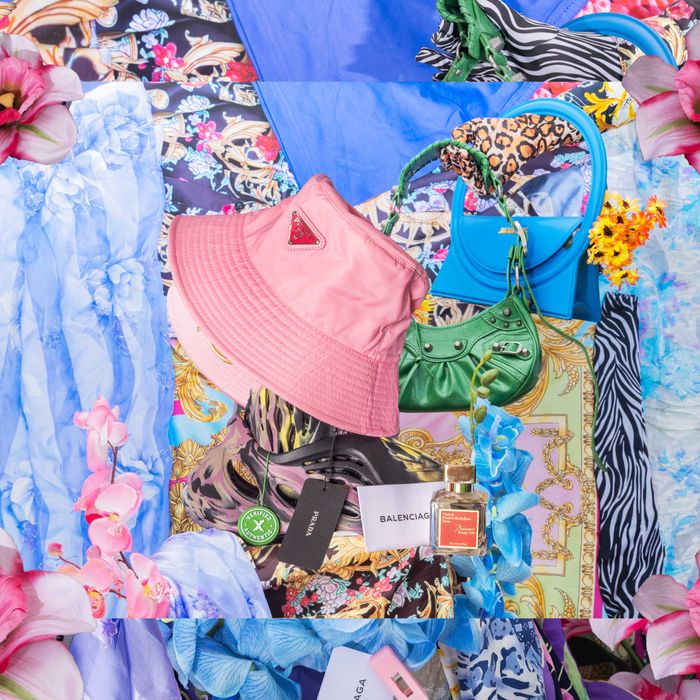 "Peak Dupe" is a series about the end of authenticity as we know it.
I don't believe in luxury dupes. For me, an aspirational piece is something I save up for, cherish, and pass down (to my 14-year-old niece). But over the past few months, my TikTok's "For You" page has been filled with unboxings of luxury items: Chanel bags, Gucci shoes, Prada hats. How is everyone affording all of this? I wondered. "The Gate," say TikTok influencers who frequent the site. After Googling the term — and scrolling past an IMDB page for a 1987 movie, a bar in Brooklyn of that name, and lots of articles about Bill Gates, I realized what they were talking about: DH Gate, a China-based e-commerce website and app that has third-party retailers selling manufactured goods.
The website looks like my mom's coupon closet exploded onto my screen. It immediately brought me back to my high-school days, when I used to shop at AliExpress for bundles of hair extensions. There are flash deals, coupon packs, and trending items, such as synthetic wigs ($19.91,) Apple AirPods ($10.60,) Yeezy shoes ($12.99,) Gucci slides ($35.11,) Hoka sneakers ($30.86,) Blumist vapes ($4.77,) Cartier watches ($75.39.), each product sold by a different vendor. And that was just the first page. The shopping experience isn't simplified at all. You don't just find a product, add it to your cart, and check out. Instead, you have to use specific keywords to find what you want and you have to read a lot of reviews and ratings of sellers.
I wanted a Jacquemus Le grand Bambino bag. It is the perfect size for a night out and has a top handle, a strap, and the JACQUEMUS logo in gold letters. If I were purchasing it on a retailer's site like Ssense or Net-a-Porter, I'd simply search for the bag, add it to my cart, and check out for $905 plus tax, going about my day with the dopamine high that I can get only from knowing something new and shiny will arrive at my door in three-to-five business days. This dupe experience went a little different.
I went on dhgate.com, found the search bar, and typed "Le Grand Bambino." Before me, were bags in the shape of the Bambino, but all missing the Jacquemus logo. Legally, the third-party retailers aren't allowed to show logos on the site because the bags are replicas, so I turned to the reviews. The very first listing I saw, a nude bag listed for $59.01, didn't have any, so I instead looked at the seller reviews, which were below average per DHgate for everything from repurchase rating to on-time delivery rating. I went back to the original search page and scrolled through the other bag options from other sellers. The next one I clicked showed images of the bag in five colors: pink, green, white, nude, and black. The price was $62.89. According to the reviews, this seller had an above-average response time, but also an above-average dispute rating and a below-average repurchase rating, so that wouldn't work either.
Luckily, there is a world of TikTok influencers who make a living off helping people navigate the site. But this world, too, seemed to require a secret password I didn't know; the first results that came up when I searched "DHgate Jacquemus" were just luxury unboxings showing off the dust bag and the actual dupe bag. When I finally found another video with my desired bag, I saw that someone had already asked for the link, but the poster told them to DM her for it. Gatekeeping replicas is crazy, I thought to myself. How do so many people find success on this site? 
So I got a bit more specific. I altered my TikTok search bar to say "Jacquemus dh gate link" in hopes of someone sharing an unboxing alongside a link. Finally, I found a video that promised a link to a DHGate page in the comments, a page I believe belongs to the seller. When I clicked on the video, it had 15 likes, two saves and only one comment (the comment was the link). And behold, I finally found it. The photo of the bag on the site actually had the Jacquemus logo. The price was listed at $70 and it looked like a quality bag. The seller had 95.7 percent positive feedback, a 93 percent on-time delivery rating, and 282 transactions.
I chose my color (black, in hopes that the quality looked a bit more genuine than a bold color like green), I added it to my cart, and after shipping costs, it came to $79.71. I was making the purchase in mid-May, and before entering my card details, I noticed the bag wouldn't arrive until between June 13 and July 5. Five weeks? Who knows if I will even want it by then.