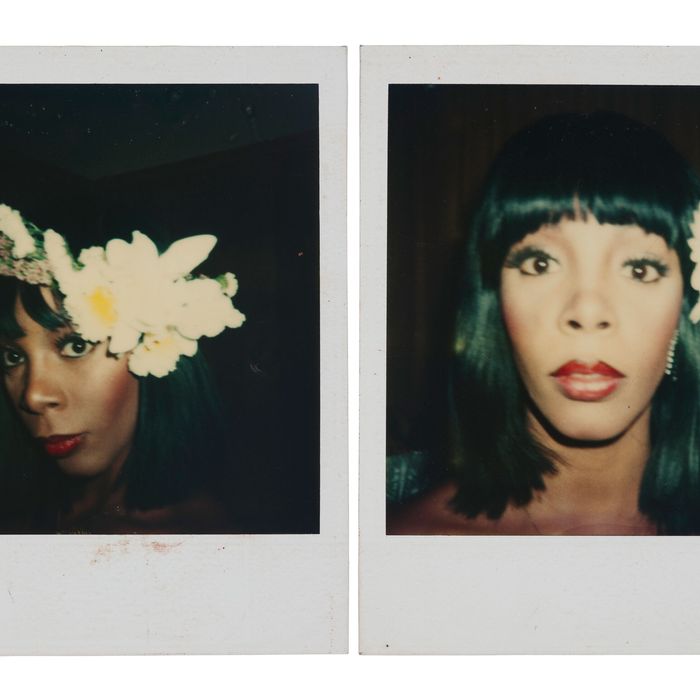 It's a great summer for Donna Summer fans. Just over a month ago, a highly anticipated documentary, Love to Love You, Donna Summer, co-directed by Roger Ross Williams and Brooklyn Sudano (the youngest daughter of the late disco megastar), explored the turbulent backstory of the artist's life career. And today, Christie's Rockefeller Center opened "The Collection of Donna Summer," an exhibition and sale featuring more than 90 of Summer's personal items.
"We had a large house with a lot of stuff in it and it just felt like, 'What is the best that we can share with the world that feels meaningful and that the scope of it feels broad enough that it encompasses all the different facets of my mom's life, career, and personality?'" Sudano says.
It's important for Sudano and her family that the public walk away with a "real" understanding of her mother's work — and to honor her legacy. So they made sure that portions of the proceeds will be donated to St. Jude Children's Hospital, the Save the Music Foundation, and the Elton John AIDS Foundation — all charities Summer held close to her heart.
Sudano spoke with the Cut about highlights in the exhibition, on view at Christie's Rockefeller Center from June 23rd - 28th (an online part of the sale is open for bids through June 29th.)
Artwork by Summer titled Scarlet Starlette, 1988
"I remember her being in the garage area at our house in Thousand Oaks, California, where she would have multiple canvases up, working on different paintings, letting one dry, and starting something else. And she always included us. So if we were there after school, she'd tell us, 'Here's a canvas, here's some paint, go ahead, you can paint alongside me.' So the artwork featured particularly came from a period in the late '80s when she was home and did a lot of it for herself. It was a personal means of expression without an agenda. Within them, you see a lot of characters and identities and she's created a mood with the figures she painted."
A Mexican silver goblet from Mexico City, first half of the 20th century
"She would have this silver goblet onstage filled with diet, caffeine-free Pepsi alongside her water. My sister Amanda and I would work on her tours during the summer, and one of our jobs was stirring the bubbles out of it because if we didn't, she would burp while she was singing, so the Pepsi had to be completely flat. That chalice has seen many a concert."
Two Polaroids of Donna Summer
"Other items that I personally love and helped choose for the exhibition are the Polaroids. Some of them were really hard to break up with. Still, again, I felt very strongly about sharing because my mom always had a camera and so these Polaroids are just snapshots of a lot of things that she really loved: her creativity, her costumes, trying on costumes, and her paintings. I love them so much and I feel like they're a token that won't take up too much space; they're such strong images."
An RIAA Gold Record award issued to Summer for "Hot Stuff," 1979
"For her, being a respected artist was more important than an actual award. So a lot of the awards and the gold albums and other things — she made a concerted effort not to have them on display. That was so our family didn't feel like we had to live up to any expectations or strive for that, or live up to this pressure of Donna Summer all of the time. When she was home, she was 'Mommy.' Yes, the awards are representative of just how impactful her career and music were at that particular time, but she didn't put a lot of stock into that. I think one of the things she did pride herself on in terms of awards is that she won them in many different genres. It wasn't just disco. It wasn't just pop. It wasn't just R&B. It wasn't just gospel. It wasn't just dance. It went across the board on all of these things."
A group of seven designs drawn by Summer
"She played a very big part in creating her stage shows and persona, particularly as she became bigger and had a little bit more control. When you think about the first 'Love to Love You' dress, she chose that dress, which became very famous. She rented it! She wasn't able to afford it in Germany. So very early on, the costumes, and the outfits, and the fashion were very much a part of her creation of the character for each individual song or each individual section of the stage performance. Her fashion was very integral to the totality of the experience of her performances."
Draft manuscript lyrics for "On My Honor"
"Some of the most meaningful pieces to me, other than her artwork, are the handwritten lyrics because you see her artistry in motion. You're able to see how her brain was working. She crossed out this word, and this word was inserted. Whenever I see the handwritten lyrics, it feels like you're getting a part of her artistry and creativity on the ground level, really from its inception like a snapshot in time."