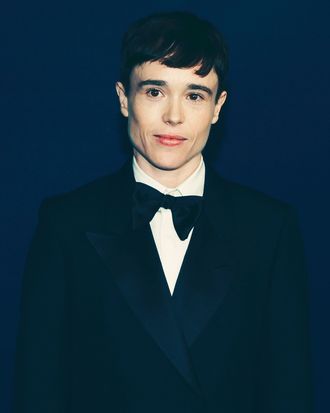 Photo: Kevin Winter/Getty Images
Elliot Page's memoir, Pageboy, was only published a week ago, but it's already a talker. The book, according to excerpts and reviews in a wide range of publications, is both fascinating and heartbreaking. In it, Page writes openly about gender dysphoria, coming out twice — first as gay and then as transgender — and about being "groomed" and sexually abused by adults in the film industry when he was still a teenager.
According to ET, Page writes (in a chapter aptly titled "Leeches") about an unnamed director whose attention made him "feel special," at least at first. Page says the person in question would send him frequent texts and give him books to read. But one night, the director allegedly took Page out to dinner in Toronto and began "stroking [his] thigh under the table," Page writes, recalling the director whispering in his ear: "You have to make the move, I can't."
In the same chapter, Page also recalls an incident he says occurred during the filming of Hard Candy when he was 17: As Page remembers it, a man involved in the movie's production — who had apparently shown him particular attention on set — gave him a ride home from the wrap party and forced himself on the young actor after they arrived. "I went stiff. Unsure what to do as he stood tall and removed his glasses," Page writes, according to BuzzFeed. The man then proceeded to lay Page "down on the bed," he continued: "Starting to remove my pants, he said, 'I want to eat you out.' I froze. After it was over, he tried to stay in the bed with me. I had thawed marginally and told him he couldn't, to get out. He slept on the couch." This person would go on to become a director, Page says.
In another, similar incident, after a female crew member offered to take Page house-hunting, he says she grabbed him and "pressed her face into" his — "some version of kissing," he writes, per The Guardian. "That freezing coming over me again. The next thing I knew I was on the rug, the floor firm on my back. I didn't say no, I did not resist, I just stiffened."
Speaking with The Guardian about the book, Page wondered if all these adults, who showed him kindness before turning predatory, were playing on his particular vulnerability at the time. "As puberty transmuted me into a character I had no interest in playing, my isolation, insecurity, and unknowing grew. I desperately needed to anchor myself," he reportedly writes. "In new cities, with no friends, alone in hotel rooms, it was not hard for someone to prey. I'm sure they sense that."
Pageboy is available now.