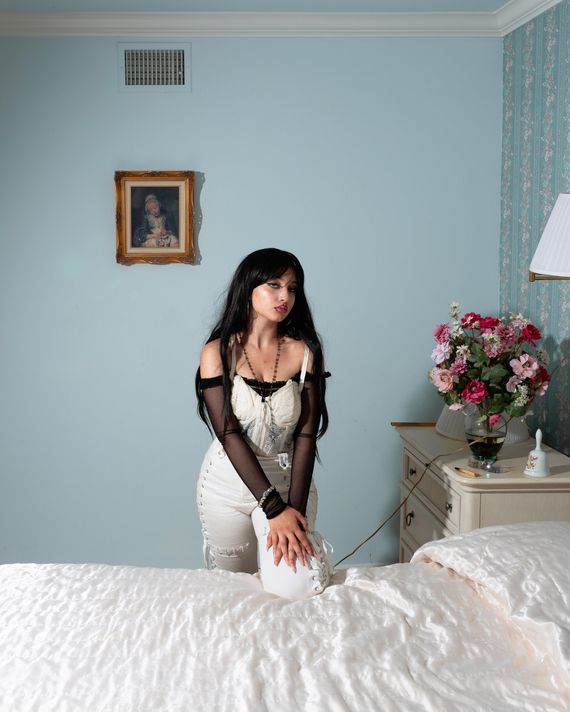 Nicole, she/her
Photo: Emily Monforte
On a muggy September morning in the outskirts of Los Angeles, Benjamin Adams zipped their lacy white dress in preparation. With a painted face and a nude lip, Adams dropped into their artistic persona: Nightmare.
Adams, 19, has been cultivating this transcendent queer being for the past two years. For them, it's a medium to embody the discomfort of a fluid self; a self that is unrestrained by gender, sexuality, cis-beauty expectations, or social rules. Nightmare says queerness is about so much more than who they desire. In fact, their persona is a direct challenge to these confines. "It's upsetting to me that it's just assumed that I'm attracted to a certain thing, because it limits who I'm allowed to love," they say. "Being boundless with my gender helps me deal with being in a world that's so binary. I can't change the world, but I can change my world and the world around me."
The pain of being a boundless queer person can be immense. Despite living in the liberal stretches of Southern California, Nightmare is one of hundreds of young queer people in Los Angeles who are fighting to honor their LGBTQIA+ multiplicity. They, along with many others in their generation, are asking, what exactly is queerness and how should we define it?
For this subculture, queer identity is about more than who you're kissing. Their queerness emerges through their external expression. Painted faces, daggered jewelry, visible scars, dancing poles and spray-painted walls — through their nonlinear, arresting visual representation and their determination to live as open-hearted as the soul can bear, comes the extreme beauty of knowing oneself.
Nightmare finds themself in the darkest wigs possible, lengthy press-on nails, ornate gothic crosses, and a tattoo reading superstar spread across their chest. Adams feels the fullness of themself within Nightmare, but it can be exhausting. They often reflect about what life is like for people who don't experience identity in such extremes and "aren't so painfully self-aware."
"I wonder if they have it easier, if they even know what they're missing out on," they say. "People like me experience beauty at such a profound level. I'm sure that certain people can't ever experience it. I don't think that that makes me better at all, it's just different."
I began to meet and photograph this group of over 70 queer youths in the fall of 2021. I had no idea they would change my life. Coming into my own identity in my freshman year of high school, I felt confused and lost within the rigidity of LGBTQIA+ labels of the 2010s. I was limited to choosing between "lesbian" and "bisexual," but neither felt encompassing for me. Back then, these words were culturally understood as wholly contingent on who one wanted to have sex with or who they desired. I found myself attracted to all expressions of genders and sexuality, while simultaneously experiencing discomfort in my assigned femininity. This left me with seemingly nowhere to turn to make sense of myself.
Children are often introduced to queerness as an act of sex and desire between themselves and another queer body. Within this heteronormative label comes the insidious lack of recognition that one's queerness is their own — living and breathing within them — no matter attraction or intimacy. I held extreme fear within me that if I wasn't proving myself to be a proper "lesbian" or "bisexual," parading around my intimate exchanges, my so-called community would reject me. Evidently, this community never actually felt like one I could relax within and lean upon.
Although each person I've documented in this photo series invited me deeper into their subculture, I felt like an outsider peeking into a mysterious world that hadn't previously been offered to me. These young people, who range in age from 15 to 28, seemed unwavering in their loud outfits, striking makeup and unkempt bedrooms. Initially, I could see glimmers of myself reflected back to me, but ultimately the insecurity about my lack of self discovery left me feeling detached.
Halfway into the project, I began to verbalize my curiosities and internal pains surrounding the identity limits thrust upon me as a teenager. To my surprise, I was heard and held. We began to share our stories of grief and frustration, love and compassion. Where previous generations faltered, this generation is embracing the expansiveness of being queer.
"There's so much more to queerness than just relationships and sex, and all of that shit," Sand, then 17, told me. "I remember the first time I came out as bisexual to my mom, I must have been 12 or 11. She told me, 'You haven't had sex, how would you know that? Come back to me when you've had sex.'"
Sand continued: "It was really funny, in the summer after eighth grade I came out to my mom again. This time she believed me because I had a girlfriend. I didn't want to validate that line of thinking. She was trying to invalidate my queerness by reducing it to just sex … It's just really hurtful."
These kids are over it. They aren't going to settle for what they've been handed. In harnessing bravery and vulnerability, they honor their truth, no matter how uncomfortable or confusing it may be to others. They're here to legitimize their own experience, to revolutionize the word queer as inherent to their being. Each person may not know the radical power they possess in full, but collectively they have begun to expand the social understanding of queerness beyond the limitations of desire.