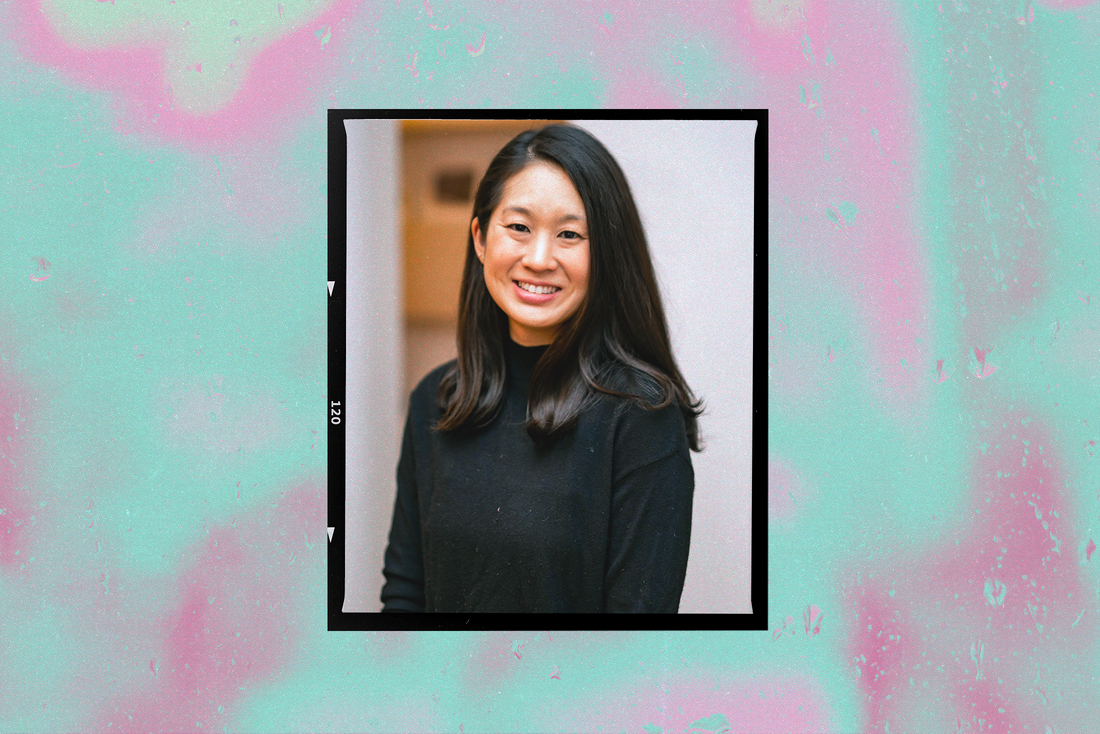 You're flipping through a home tour when you notice a trio of neutral-handled knives resting elegantly on a magnetic wooden stand in the kitchen. Or you're watching an ASMR cooking video and its focal point is a cutting board — one of those that comes in a nontraditional, aesthetically-pleasing hue. Material is the brand behind this eye-catching kitchenware — and it's seemingly everywhere, from Instagram reels to your friends' wedding registries to online shopping round-ups.
Eunice Byun and her co-founder Dave Nguyen started the brand in 2018 when they recognized that the needs of a new type of home cook — one who's inspired by design, smart innovation, and sustainability — weren't being met by the traditional kitchenware industry. "Dave and I had both gotten into cooking more and were lamenting about how it was hard to figure out what to get because everything felt so uninspired and unimportant," Byun says. "We didn't want to spend money on things that would fall apart and things that were designed to be hidden in drawers and cabinets."
Five years later, it's safe to say that Material is decidedly the brand that isn't designed to be hidden — it's the brand you turn to when you want cutting boards pretty enough to display on your open shelving or striking glassware to complete your tablescape. We chatted with Byun about how she got her start, where she gets her ideas (hint: it's in the shower), and why building a community-first brand is so important.
On filling a gap:
Byun's love of food began at a young age. Growing up, her parents owned a restaurant in San Diego where she spent a lot of time in the kitchen. "I loved the drama and flair of it all, but also the way people came together around a table, opening up and sharing bits and pieces of their lives when partaking in a meal together," she shares.
But it wasn't until she began exploring in the kitchen herself that she noticed she wasn't getting what she needed from traditional kitchenware brands. Byun wanted things that made the experience of cooking better and realized she wasn't the only one. It was this realization that propelled her and Nguyen to create Material. "The needs of home cooks have changed and evolved," she notes. "Gone are the days of walking into a local kitchenware store to find exactly what you're looking for. Modern home cooks are inspired by design, smart and useful innovation, quality over quantity, an edited, curated perspective, a sustainable mentality, an eye toward health and wellness, and a stronger personal connection to a brand and its products and community."
On finding inspiration:
Any business owner or creative will tell you that new ideas can strike at any time and any place. Byun and her team look to art, architecture, and industries past and present for design notes and inspiration. But she also has a more unexpected answer: Some of her best product ideas have come in the shower.
It makes sense; a good shower has the power to relax not only your body but also your mind, which can lead to creativity and clarity. And Byun takes her morning showers seriously. It's a self-care ritual — one complete with energizing essential oils that give her a mental jolt to hit the ground running. Her tip? Use a shower infusion device, like the Sprig Shower Infusion System by Kohler that infuses the water stream with aromatherapy (and self-care ingredients) to help you make the most of your shower. It's where she came up with the idea for Material's best-selling reBoard as well as its popular mini assortment for kids.
"Usually when I'm in the shower, random thoughts will pop into my head and true enough, I thought about recycled materials and whether or not we can find one to be used in cutting boards," she says. "We had launched our wood cutting board with great success, but I kept thinking about how most home cooks also like having a material for their cutting boards that can be thrown into the dishwasher to be sanitized. But the idea of creating yet another plastic cutting board didn't sit well with me. A year later, we found the right material and launched one of our biggest franchises in prepware."
As a mother, Byun's also always looking for ways she can help her kids find joy in the kitchen. "I had just hopped into the shower from a weekend baking session with my two daughters, and was thinking about how much they have fallen in love with cooking. If we designed tools that were made just for them, would it drive even more connectivity to the kitchen and creativity in the process? So we started designing and I'm proud to say that our (Mini) Air Whisk and (Mini) Spatula are now beloved by both kids and the young at heart."
On fostering connection:
Considering that sharing a meal with loved ones is what Byun values most about cooking, it's no wonder that connectivity plays an important part in the ethos of her and Nguyen's brand. In both her Korean heritage and Nguyen's Vietnamese heritage, coming together over a meal is how bonds are formed.
Even more than creating modern, well-designed kitchenware, they felt that they could build a company upon values they care about deeply, like true partnership work that uplifts underrepresented communities. Since 2018, the brand has donated over $150K to organizations at the intersection of food and underserved groups across the country, including City Harvest, Heart of Dinner, and the Korean American Community Foundation.
If you ask Byun what makes Material successful, it isn't a product or making it on a celebrity's coveted must-have list; it's making her customers feel connected. "Business is deeply personal and in today's digital age, it can be easy to make things automated or scripted, but we strive for personal connection and knowing that our customers feel that connection makes it all worth it."
This advertising content was produced in collaboration between Vox Creative and our sponsor, without involvement from Vox Media editorial staff.