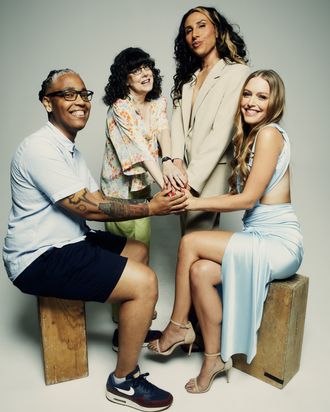 Photo: Erik Tanner/Getty Images
Several years ago, director Julie Cohen began looking into the case of David Reimer, the subject of a 1970s experiment on sex and gender identity. Reimer had a botched circumcision as an infant, after which his parents sought the help of psychologist and sex researcher Dr. John Money. Under Money's guidance, Reimer underwent sex-reassignment surgery and his parents raised him as a girl. Money wanted to prove that gender identity is determined by nurture, not nature, and deemed Reimer's experience a success; but in reality, Reimer struggled. After learning the truth at age 14, Reimer went on to live as David until his suicide at age 38. While Money's experiment has long been discredited, it paved the way for how the medical establishment confines intersex children to the gender binary. "I was trying to do some research into what the modern-day legacy of that whole troubling, fascinating, alarming case was," Cohen says. "That's what brought me to the relevance of today's intersex rights movement."
Her documentary Every Body, out on June 30, follows three advocates — Ph.D. student Sean Saifa Wall, actor and screenwriter River Gallo, and political consultant Alicia Roth Weigel — as they recount how their experiences with nonconsensual medical interventions in childhood impacted them and inform their activism today. Cohen marries the advocates' personal stories with archival material and expert interviews that flesh out the ways in which the medical establishment has failed the intersex community and how policy changes can address unnecessary medical interventions on intersex children.
Experts estimate that about 1.7 percent of people worldwide are intersex, meaning they are born with male and female sex characteristics, including genitals, gonads, and chromosome patterns. The Cut spoke with Cohen and Wall about why the film is timely and what they hope viewers will take away from it. "You are not going to learn everything that you need to know about intersex variations. That was not the intention," Cohen says. "It's a complex, nuanced subject. I wanted viewers to get to know three incredible people, to really start to care about the story and to try to go out and educate themselves further."
Julie, can you walk me through how this film came to be? How much knowledge did you have of the intersex community? 
Cohen: In 2018, NBC News Studios invited me to look back through their archives for old pieces that might make good jumping-off points for documentaries. I gravitated immediately to the story of David Reimer and Dr. John Money. I did know and understand who intersex people are, but what I didn't know was the movement for intersex rights and how much it's really been blossoming over the past few years. I thought just as a story of action and activism, it was such a great positive example of how a few vocal, strategically clever people can start to get their message out and make a difference. That's what brought me to Saifa and his fellow activists Alicia and River. The original plan was really to mix the stories of these activists and Reimer. But the more I was following the activists, the more everything they were doing was so undertold and unsung, and I really tried to make that the central focus of the film.
So Saifa, how did you decide to participate?
Wall: I have done my share of media stories, but this was my first time participating in a feature film. Julie contacted Alicia, and Alicia suggested that Julie reach out to me, and Julie did. What I appreciated about her is that she came with knowledge and respect. She sent me My Name Is Pauli Murray. I appreciated how she does tell those unsung stories. She moved with a lot of care and sensitivity, which for me, as someone who's been doing this work for a long time, felt very important.
I think that really comes through in the film; there is a lot of difficult material but also a lot of joy. Julie, can you speak about how you worked to strike that balance?
Cohen: I think a lot of that vibe comes from the people who are at the center of a story. I like to have people who have some real organic connection to one another. But I also was careful to have the story based around people who were already sophisticated activists, who weren't telling their stories for the first time. There's intimate material here, talking about the most intimate parts of one's own body. It's one of the real downsides of activism in a fair amount of areas; it's true for sexual-assault stories, for example. I wanted people who had a fair amount of experience, so that this wasn't going to be throwing them into the deep end. Saifa, Alicia, and River had so many interesting insights into their own experiences and how it had impacted them as people, how it related to the choices that they were making as adults, and how it related to the activism that they were trying to pursue for others. It was like, Wow, every single thing they're saying is interesting to me. I think viewers are going to feel that way too. Everyone's like, Oh, the movie has humor in it. Well, yes, because the people that are in it all have senses of humor the way that cool, humorous people do.
We know there's a lot of misconceptions about the intersex community, and watching the film may be the first time some viewers are thinking about this topic. Saifa, how can the film and the activism that you all are doing help address them?
Wall: There still is a need for a lot of education. There's a belief that intersex people are infertile, that we have both sets of genitals, that we don't know we are intersex, that we are rare. A lot of people don't know what intersex is. There's still a lot of misconceptions, which is why these state legislatures, in Republican states, have been able to pass anti-trans legislation that also has exclusions to continue doing surgeries on intersex children.
And there's still a huge lack of information about the health and well being of intersex people over the longer term. Often, being intersex is framed as a children's issue. It is, if we're talking about medically unnecessary surgeries in infancy and in childhood. But then those children, who are survivors of these interventions, grow up to be adults. What do we do to help, assist, tend to the people who have been hurt? I hope that there can be real conversations about policy protections for intersex children and conversations about what repair looks like for intersex adults who have been harmed.
I think this film does a really good job humanizing who we are as people. I really hope that people come with curiosity, not only about our experiences, but also about themselves. I think it helps uncover the secrecy and the silence that exists in all of our families. I heard, recently, someone say, Wow, when I saw the film, it made me think about my brother and my uncle who had similar surgeries. I hope that this creates a dialogue for people to really get curious about the intersex issue and to see this deeper, complex side of humanity. The way we're all portrayed, it shows that nuance that we have survived trauma, but we are also living and we are funny and we're silly. People do not have to be defined by their trauma.
You mention the way that anti-trans legislation carves out exceptions for intersex children. Can either of you speak to the timeliness of the film and how these fights are connected?
Cohen: The fact that intersex people are singled out in so much state legislation that's being raised, and in some cases passed, and people haven't heard about that—that's really troubling. There are other implications in that legislation. The Florida laws that Ron DeSantis just signed have specific language that says gender is binary, everyone is either male or female, and that's just how it is for all time. That's not true.
Wall: There has been very purposeful misinformation about biological sex and gender. There's a real commitment by conservative groups, by members of the right, by Christian nationalists, to hunker down and say that there's man and woman, boy and girl, male and female, and that's it. It serves that agenda. This movie is a good primer for people to start thinking about biological sex differently, and not to the exclusion of trans people. We really need to start thinking about how the spectrum of sex and gender adds value to our lives.