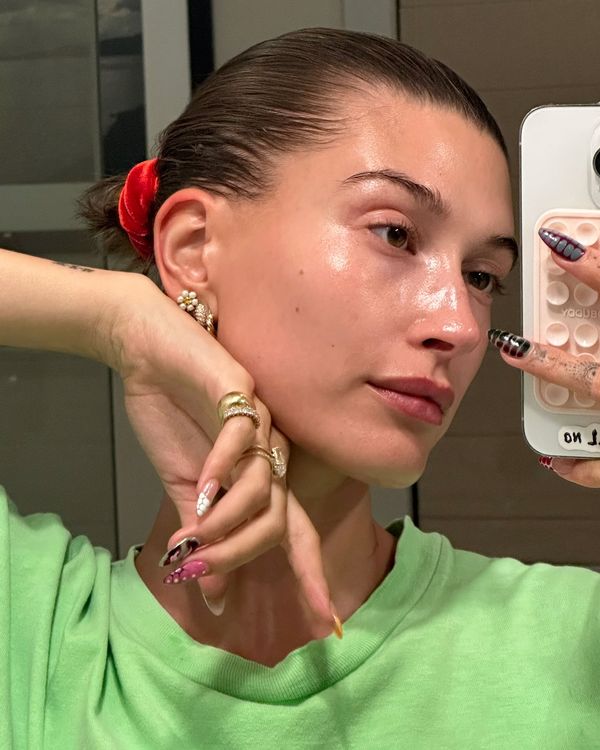 If you're wondering what Hailey Bieber's vibe is right now, she says she has "no concern for bullshit." This summer, she'll be spending most of her time exploring, being with loved ones, and celebrating her brand Rhode Skin's first anniversary. "I am in a season of life right now where I just want to embrace everything that's going on around me, be in the moment, and have a good time and laugh with my friends," she says.
Last summer, Bieber launched Rhode with a trio of products: Peptide Lip Treatment, Peptide Glazing Fluid, and Barrier Restore Cream. The lip treatment, with a glazelike texture that leaves lips glossy and plump (it also smells really good), quickly grew to be the brand's best seller, something she didn't expect. She was hoping the scents would feel nostalgic, making the treatment a staple product to nourish lips and keep them glossed, or, as she likes to say, "glazed." To her, peak glazeness is skin that looks like a glazed doughnut or dessert. "I want someone to want to take a bite out of my skin. I want you to want to bite me because it looks so delicious that you can't resist," she says.
Bieber's secret lies in her skin-care routine and in one of her beloved prescription treatments: tretinoin, a topical medication she credits with providing a natural glow even when nothing else is on the skin. Since using it, she has seen a significant difference. Another part of her recipe for glazed skin is sleep, which is high on her list of priorities. "I feel like I'm a big adult baby," she says, laughing. She must have nothing less than eight hours of sleep or she'll be cranky. With sleep, Bieber's trusty tretinoin, and her daily routine, the model's skin is always ready whether she's on a boat or the red carpet.
Here, Bieber's routine:
Bieber normally just rinses her face off with water in the morning to cleanse. But if she's cleansing the morning after using her tretinoin, she picks up a cleanser. Lately, she has been using a classic dermatologist-beloved product: CeraVe's Hydrating Facial Cleanser with ceramides and hyaluronic acid. The restorative formula cleanses and moisturizes. "It's an O.G., a forever go-to brand for me," Bieber says.
Next, Bieber uses Rhode's newest product, Glazing Milk, a ceramide-packed essence with a milky yet lightweight texture. She relies on it for instant hydration, and it leaves her skin pillowy soft. She also loves how well it sits under her SPF: "When I'm out in the sun all day and I need that reset of hydration after swimming, especially after being in salt water or the pool, I need that extra oomph before reapplying sunscreen."
She layers the Glazing Milk with her brand's Peptide Glazing Fluid, a dewy gel serum that plumps and hydrates. Blended with niacinamide and peptides, it also hydrates the skin.
Some days, Bieber lathers on Rhode's Barrier Restore Cream, but lately, she has been jumping right into her SPF step since it melts into her skin on top of the essence so effortlessly. She has a handful of current go-to sunscreens, including Krave Beauty's cult-favorite Beet the Sun, a lightweight cream that also soothes and hydrates the skin.
Her other favorite sunscreen is Elta MD's UV Clear, a calming cream with niacinamide. It leaves behind a silky layer of protection.
And since she can never have enough sunscreens, she has been using Kosas's new DreamBeam, which leaves her with a subtle glow. The brand makes many skin-care–and–makeup hybrid products, and she's always open to using them because she loves this combination.
At night, Bieber double cleanses, usually with a regular cleanser like her CeraVe and an oil cleanser. Currently, she's using Caudalie's oil cleanser with a blend of sweet almond and grape-seed oils to soothe and nourish the skin. It breaks down her makeup and sunscreen seamlessly.
Once or twice a week, she incorporates exfoliation into her nighttime routine. She loves Krave Beauty's gentle AHA exfoliator, Kale-Lahu-yAHA, which brightens the complexion while smoothing out skin's texture with glycolic acid and antioxidants like kale and spinach.
If her skin is feeling a bit on the drier side after a long day, Bieber likes to seal in all of her products with a rich moisturizer like Weleda Skin Food, a cream her mother introduced her to. "My mom used Weleda products my whole life because she always buys everything organic from the health-food store, so it's familiar," she says. From the familiarity to the intensity of the formula, it's an immediate nighttime obsession.
On what unplugging looks like to her:
Bieber gets lymphatic-drainage massages at least once a month. It's the one thing she admits she'll splurge on forever because it's that worth it to her. "With traveling a lot, blood flow becomes stagnant from planes and dehydration," she says. It's her preferred way of unplugging. If she's not getting a lymphatic massage, she's lying down and watching a good movie because that's self-care to her too. "I just want to laugh and not think about anything, or get lost in a story," she says.
On her morning wellness hack:
Her lymphatic-drainage masseuse, Rebecca Faria, gave Bieber some of the best wellness advice she has ever received: not to drink anything in the morning until she brushes her teeth and tongue. According to Faria, any bacteria that develops in the mouth while you're sleeping is just putting it back into your body if you don't brush it out before consuming any liquid. It's a hack Bieber lives by. After brushing her teeth, she drinks water before anything else goes into her stomach. "I'm a coffee-on-an-empty-stomach type of person, which I know is not very good for you, so I at least drink water or hot water with lemon before the coffee goes into my body," she explains.
On men using Rhode:
Her husband, Justin Bieber, uses her brand. "He incorporates it into his stuff and loves the peptides," she says. Her friends' partners also use it. She insists Rhode is for men, too, and that's why she was so intentional with the color of the packaging. "I want it to be for everyone. I wanted the Rhode gray to feel like it was neutral enough where if your boyfriend went into your bathroom and saw it, he would be like, Oh, this isn't too girlie for me to use," she says. "I think guys sometimes think skin care can feel a little bit too girlie for them. I really wanted it to feel as genderless as possible."
On her go-to date-night makeup look:
When Bieber thinks of date night, she thinks of sexy. Since she's pretty consistent with her makeup looks, date night gives her a little time to play with products or at least some lipstick. "In the daytime, I don't really put anything on my eyes. I don't wear mascara in the daytime unless I'm getting my makeup done to do something," she says. "At night, it always has to be great skin: a really beautiful cheek. For date night, I'll play around with the lip; I love a little red lip with a cute little black dress. I always think that's so classic and sexy."