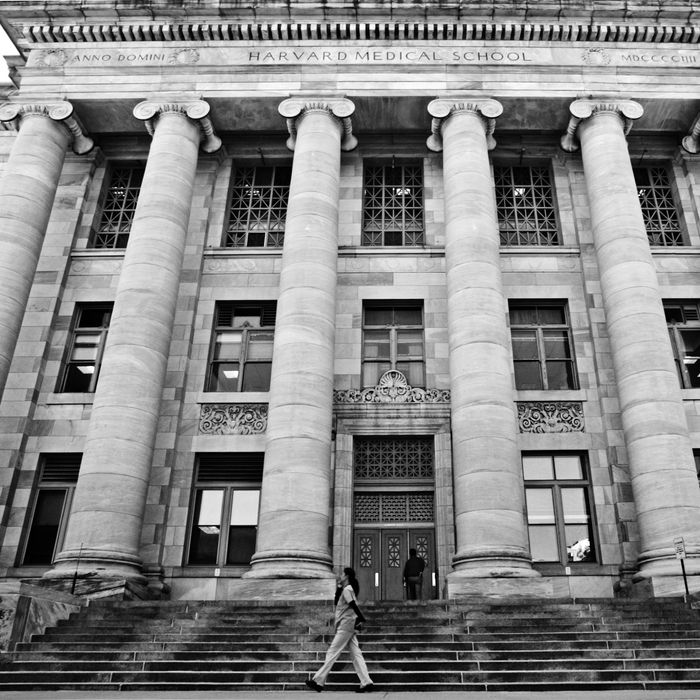 Photo: Kevin Galvin/Shutterstock
A Harvard Medical School morgue manager and his wife were arrested in Massachusetts on Wednesday for allegedly having stolen body parts — including brains, bones, faces, and whole heads — to sell across state lines in a disturbing and wide-reaching "red market" scheme, according to the Boston Globe.
A federal indictment issued this week alleges that while working at Harvard, Cedric Lodge, 55, took organs and parts of cadavers that had been donated to the medical school for educational purposes, surreptitiously spiriting them to his home in New Hampshire. From there, he and his wife, Denise Lodge, 63, would ship them out to buyers — sometimes using USPS to mail the grisly cargo, according to the Department of Justice.
"Some crimes defy understanding," U.S. Attorney Gerard M. Karam said in the statement, adding that the alleged offenses are particularly "egregious" because many of the victims were people who donated their bodies to science. "For them and their families to be taken advantage of in the name of profit is appalling."
Investigators believe the Lodges often found their customers through social media: Katrina Maclean, for example, runs a business called Kat's Creepy Creations, an emporium for haunted-looking dolls, "oddities," and "bone art" that "shock the mind & shake the soul," according to the store's Instagram page. Maclean, 44, was arrested on Wednesday for allegedly having bought two faces from Lodge in 2020 for $600. According to the indictment, she flipped some of the flesh she bought from the Lodges. WBUR and the Washington Post report that she sent human skin to an artist named Jeremy Pauley, asking him to tan it into leather for her. Authorities believe she then paid Pauley for his work not in cash but in … more skin.
In the indictment, a Pennsylvania man named Joshua Taylor is accused of paying for the body parts he bought in cash, sending Denise Lodge a total of $37,000 via PayPal. The transactions allegedly included a $1,000 payment for a head and a $200 payment with a note that said "braiiiiiins."
If you think five people selling chunks of cadaver is five too many, I have bad news for you: At least two others — Mathew Lampi and Candace Chapman Scott — have been charged or are facing charges in connection with the operation. According to the Post, Scott sourced her stolen corpses from the Arkansas mortuary where she worked. She allegedly got in touch with Pauley the first time over Facebook, asking him to send her a quote for a "fully intact, embalmed brain." Per WBUR, the two would go on to do frequent business together with Scott purportedly selling Pauley hearts, brains, genitals, and even a stillborn fetus she was supposed to have cremated, the last for $300. Investigators believe Pauley then sold the fetus to Lampi, and the pair allegedly logged a total of more than $100,000 in online exchanges.
Per the Post, Pauley was charged for his part in the scheme last year and, on Tuesday, pleaded guilty to conspiracy and transporting stolen goods in a deal with prosecutors. Scott pleaded not guilty to mail fraud, wire fraud, and interstate transportation of stolen property in April. Maclean and Taylor, meanwhile, were indicted alongside the Lodges and Lampi on charges of conspiracy and interstate transportation of stolen goods.
In a statement issued on Wednesday, George Daley, dean of the Faculty of Medicine at Harvard University, and Edward Hundert, the dean for medical education at Harvard Medical School, said they were looking through logs that show when donor remains were sent to be cremated and when Lodge was on campus to determine who the victims might be. The statement said that Lodge was fired on May 6, though according to WBUR, a LinkedIn profile that appears to belong to him suggests he held his job at Harvard for nearly 30 years.  Daley and Hundert admonished Lodge's behavior as "morally reprehensible" and an "abhorrent betrayal." According to the Justice Department, his charges carry a maximum prison sentence of 15 years.