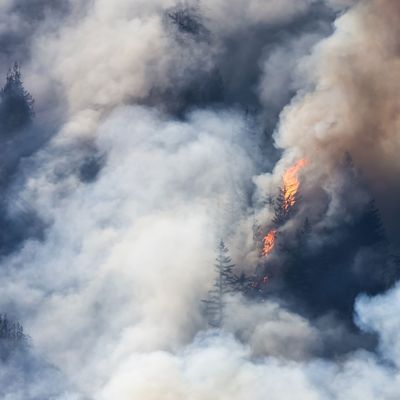 Photo: Shutterstock / EB Adventure Phot/Shutterstock / EB Adventure Phot
Over the past month, more than 400 wildfires have scorched swaths of Canadian forest in Nova Scotia, Quebec, and Ontario. Canada is now on track for its worst-ever wildfire season as more than 10 million acres and counting have burned — roughly 15 times the ten-year average. The fires have displaced about 20,000 Canadians, and hundreds of homes have been lost. They have also overwhelmed local firefighting resources, so the U.S., Australia, New Zealand, and South Africa are sending more than 950 firefighters to help put out the blaze.
The catastrophic fires' spread isn't expected to slow soon, with warm and dry conditions predicted to persist until the end of September. Relief organizations are distributing masks, helping people relocate to safer areas, and providing financial assistance to affected families. Here's how to help.
Canadian Red Cross
The Canadian Red Cross is aiding those in the most impacted regions of Nova Scotia and the Atlantic provinces with community preparation, immediate relief, and recovery efforts. The government of Canada and the government of Nova Scotia say they will match every dollar donated to the Canadian Red Cross Nova Scotia and Atlantic Canada Fires Appeal, so every $1 donated will become $3 to support those affected by the wildfires.
Donate a Mask
"I'm advised that nearly 100 million people are experiencing very, very poor air quality as a direct result of the smoke from these wildfires," Canada's minister of emergency preparedness, Bill Blair, told the BBC. Because of hazardous smoke and air pollution, wearing a mask is recommended when braving the outdoors. Donate a Mask is a volunteer-run charity that ships free N95-equivalent respirator masks to anyone in Canada who requests them.
Firefighters Without Borders
As Prime Minister Justin Trudeau calls in international firefighting resources to fight the unyielding wildfires, supporting and donating to local Canadian firefighting services will help in times when they are overwhelmed and running out of resources. Firefighters Without Borders is a nonprofit organization based in Ontario that donates equipment and training to communities throughout Canada.
Odawa Native Friendship Centre
The Odawa NFC is a nonprofit organization serving the Indigenous community in the Ottawa-Carleton region and is currently collecting donations for First Nation evacuees (with "wildfire evacuees" as the donation type). On Facebook, the NFC noted that it can no longer accept clothing donations.