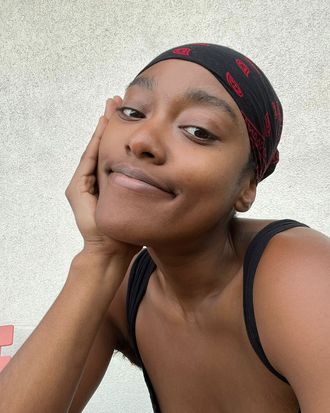 Photo: Courtesy of Arséma Thomas
Arsema Thomas's breakout role on Queen Charlotte: A Bridgerton Story thrust the 29-year-old actress into fame. In 2018, she graduated Yale University with a master's degree in public health — not so adjacent to being on the big screen. Throughout her educational journey, she started to realize how much curriculums were built on capitalism and classism, and it became time to chase goals that she really saw for herself. "The moment that I recognized this structure that I almost built myself on was broken, I realized it's actually all on me — every plan I create and every goal I set for myself," Thomas says. While that realization was scary, it was the one she needed to pivot, and she did.
Sitting on television sets daily has changed her in multiple ways — some she didn't imagine, like the way her relationship with beauty routines has changed. Prior to being onscreen, Thomas never had a skin-care routine. She grew up in Africa watching her mom's beauty routine — lots of organic shea butters for optimal moisturizing, lipsticks matching her outfits, and never leaving the house without applying mascara. Her mom was the type to wear red lipstick to the gym, but Thomas was uninterested in beauty routines. She hated washing her face or putting anything on it. "I would put moisturizer on and that was a wrap," she says. Her form of cleansing her skin used to be just a makeup wipe, but that changed. Being onscreen, Thomas has to wear television makeup daily, and in the beginning her skin had no idea what was going on, so she started to break out every time she wrapped filming. "I had never seen my skin react like that before … I had whiteheads appearing and my skin built this new sensitivity," she says. Her skin had always been resilient, but she also never wore much makeup. Suddenly, she had to learn her skin all over again, and she's gotten a routine to maintain the health of her skin through the heavy makeup and everything in between. Her goal is healthy skin that ages gracefully, embracing her wrinkles when they eventually come.
Here, Thomas's routine:
After doing research on the practice of oil cleansing, it's become a step that Thomas refuses to omit from her routine. She starts cleansing with the Lip Bar's nourishing balm; the balm-to-oil formula cleanses the skin while keeping it hydrated with hyaluronic acid.
Her nonnegotiable is that she must double-cleanse. Next, she uses oSea's ocean cleanser with superfood seaweed to gently resurface the skin. Thomas loves to lather the milky texture on her skin because it feels like a "moisturizer made to be washed off."
Next is her toner, a product makeup artists on set taught her the importance of. "I just didn't understand what it was for, but now that I use one consistently, I see the difference in the radiance of my complexion," Thomas says. Her go-to has been Karuna's red-ginseng- and niacinamide-infused toner that revives the skin's glow while soothing the complexion.
Following her toner, she uses a hydrating serum to retain moisture in her skin. She loves oSea's hyaluronic, a blend of seaweed and snow mushroom that increases firmness and hydration in skin.
She keeps a detoxing mask on her beauty shelf to use a few times a week to deeply clean her pores. Hanahana's vitamin-packed powder mask restores the skin in just ten minutes by extracting excess dirt and oil from the skin.
Since she deals with acne from time to time, she always keeps products to combat blemishes. She loves oSea's blemish balm, a lightweight nondrying moisturizer that reduces the appearance of blemishes, decreases oils on the skin, and doesn't clog her pores.
When she wants a dewy finish on her skin, she reaches for her moisturizer from the Lip Bar. The nourishing formula soothes the skin with aloe while leaving it glowy and luminous, which is how she likes her skin, especially under makeup. "It does what five different serums would do in one moisturizer," she says.
Because her skin tends to get really dry, she can never have enough moisture; Thomas swears by Shiseido's white lucent overnight cream mask. The brightening mask decreases dullness in the skin and evens out the skin tone, but Thomas doesn't use the rich cream as a mask, nor does she use it overnight. She applies it at the end of her daytime routine for a glow and extra moisture.
For her sunscreen, she uses a mineral-sunscreen serum. It protects her skin without leaving a white cast.
Lastly, she makes sure her body is deeply moisturized with Hanahana's shea butter, a rich, whipped butter that smells dreamy and absorbs into the skin immediately.
On aging:
"I have nothing against aging. I want to be able to be the most healthy version of myself as I get beautiful wrinkles and all these beautiful indicators of having been experienced and on this earth for so long. I don't want a routine made up of so many chemicals that I look young."
On her wellness routine:
While she may not have always cared about having a thorough beauty routine, she does have a wellness routine to decrease her stress. "I feel like it's quite common amongst Black people to feel like we need to be doing something all the time and we can never sit still," Thomas says. But she does find time to force herself to sit still. In those moments, she just likes to sit on her couch with no TV or music on and meditate while using her scalp massager to unwind and decompress.
On her No. 1 beauty rule:
Moisturizing. "It should be to drink water, but I don't even drink water," Thomas says, laughing. Her mind and body feel reset and reborn the moment she lathers her body in shea butters and balms. "It's like walking through the desert and you get that first taste of water and it's like, Oh my God, I just realized that I was thirsty — it's that feeling, but for your skin, that's my rule."
On building her confidence:
As a Black woman entering the entertainment industry after a career pivot, there can be some challenges, but Thomas is figuring out what confidence looks like for her by remembering that other Black women have been on this journey before her and knowing that there's something powerful about that and being connected to them. She admits that she doesn't exactly know what confidence looks like. "It's so difficult for me because I often ask myself, Are you confident or are you delusional?" she says.