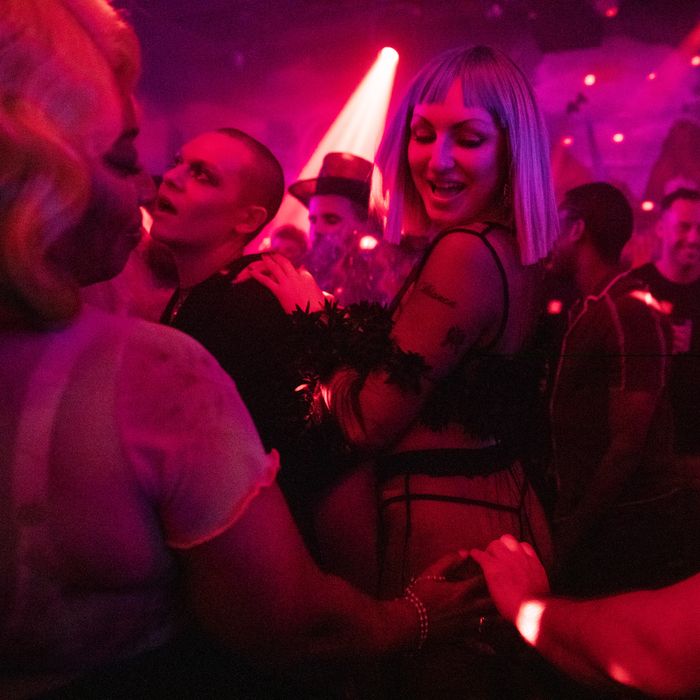 Photo: BRITTAINY NEWMAN/The New York Times/Redux
Instead of lining up outside a club with a big group of friends, Kevin O'Connell will likely spend Pride weekend in a West Village apartment he can barely afford, enviously watching his peers' Instagram Stories. After experiencing a string of layoffs and unexpected housing obstacles, the 29-year-old food-service worker and aspiring actor couldn't pony up the cost of entry for this year's parties. "I can't afford these big plans I see everyone doing," he says. "Honestly, it just makes me feel so lonely to not be able to do any of that."
At least there are some free-to-the-public community events during NYC Pride, like clusters of outdoor block parties and the parade. O'Connell still hopes to take advantage of those celebrations, though he feels the parade is now "overrun with straight people." He moved to New York City from Idaho in part for its queer community, but he feels his financial status has prevented him from fully participating in it. "I do feel looked down upon by other gays because I don't have the money to do what they're doing," O'Connell tells me. "I'm not trying to feel bad about myself, but you do feel cut out from this picture of what gay life during Pride is supposed to be." 
In recent years, a constellation of music-festival-like experiences have cropped up to dominate the weekend. There's Planet Pride (priced from $199 to $299.98), Dreamland Pride ($150 to $200), Alegria ($188 to $209), BRÜT ($60 to $119), and Horse Meat Disco ($100). Weekend passes that grant entrance to three mega Pride parties can be purchased for $499 to $729 — not including $50 to $75 in service fees — and tickets to "afters" can be added on for an additional $99 to $199. "When I was buying tickets a few months ago, I just bought as many as I could and even maxxed out my credit card. That'll be a later problem," says Mason, a 28-year-old computer scientist who plans to travel to New York City from Atlanta. "I was just stoked to get them before they sold out." In total, Mason, who requested to go by a pseudonym, has spent $700 on Pride-weekend tickets. Several people told me they skipped out on trips to see family or worked extra shifts in order to participate in the parties they've looked forward to all year.
After spending $120 in cover charges to gay-bar-hop during last year's Pride weekend, Michael Bautista, a 26-year-old pharmacist, budgeted $525 for tickets to this year's parties. "If my friends start buying tickets to these events, I don't even question the purchase," he tells me. "The tickets sell out so fast, so I'm trying to check out before I even look at the price … I feel like I missed out on so many queer opportunities in my younger 20s, and now I want to take any chance I get to be a part of that." A 27-year-old law associate based in San Francisco whom we'll call Garrett has spent $900 on tickets. "There's just no Pride anywhere like there is in New York City," he says. When I ask what draws him to these events, he says "hot men," point blank: "I really hate the music they play at these things, but it's really easy to find guys to hook up with." As Mason put it, "There are few spaces you can go and be surrounded by 100 percent gay men and do very gay shit without danger. It's hard to feel safe kissing another guy in public." He adds, "when you know there's a space where everyone will be doing that and I can too, of course I'll pay what I need to."
The rise of these big-ticket Pride events in New York City can be traced back to around 2010, when event producer Jake Resnicow, who is gay, threw his first party at Governor's Island inspired by the techno-heavy and highly produced Pride events he had attended in Ibiza. He's since produced more than 1,300 queer events. At one point, Resnicow and his business partner were sued by the nonprofit Heritage of Pride for using the term "NYC Pride"; a federal judge ultimately sided with the nonprofit's argument that "NYC Pride" ought to be trademarked for its events recognizing the anniversary of the Stonewall riots.
Resnicow's 30,000-person World Pride 2019 party at the Jacob Javits Center seemed to mark an inflection point. Several of the longtime New Yorkers I interviewed remember that before 2019, Pride weekend centered around the parade and parties at bars that charged $5 to $10 covers or no cover at all. Shaneeda Bump, a 26-year-old nightlife worker and drag performer, says venues began to realize how much money they could make off of queer people after World Pride.
"After 2019 and COVID, tickets all of a sudden were $150," Bump tells me. "I get if an event is headlined by Sam Smith or Kim Petras, and then it's more like a music festival, so you pay that price. But if it's mostly local talent, DJs and performers, then that high price tag doesn't really make any sense. All that money is definitely not going to the entertainment. I would know."
It's incredibly hard to find queer-owned venues of the scale needed to host Pride parties, according to Luis Fernando, a 36-year-old DJ and queer events producer. Fernando says he seeks to price his events reasonably — tickets to the 300-person Pride party he's producing this year range from $35 to $45 — because his parties suffer when he prices his tickets too high. "The moment you start charging more money for tickets, the parties become whiter and more homogenous," he tells me. "In many ways, less queer too. The moment that you increase your price, you can't have an inclusive party."
Many cis gay men, myself included, paid between $145 and $350 to go to the inaugural Planet Pride event in Brooklyn in 2022. Other attendees I interviewed described the event as a crowd of mostly white, almost exclusively cis men. It was the largest celebration of the weekend, produced by Resnicow and Ty Sunderland; Resnicow tells me that he firmly believes his Pride parties "are for the entire LGBTQ+ community." When I ask how he's looking to increase racial diversity at his parties, he says that this year he's partnering with he.she.they, a London-based rotating party series founded and operated by two white people, to feature 15 racially diverse performers and "actively increase diversity with their expertise and foster an environment where everyone feels welcome and celebrated." (Sunderland declined my request for comment.)
A 24-year-old service worker who is trans and requested anonymity tells me they worked four extra shifts last year to finance their Planet Pride ticket. When they got to the event, they were disappointed. "The only people of color I really saw were a few of the DJs and the friend group I arrived with," they say. After witnessing a group of white men spit on their friend, a Black trans woman, they say, "I'm never going back and I can't believe I spent that much money to be there. Members of our community are literally paying to see the most marginalized of us get assaulted." Instead, this year they'll attend their friends' house parties and maybe stop by the parade. "It's not even about our community anymore," they say of Pride weekend. "It's just about partying and white men paying to look hot for other white men."
Jonel Jones, a 25-year-old actor, doesn't believe the music-festival-like Pride parties are priced to include people like them. "I'm Black. I'm nonbinary. I'm extremely effeminate," they say. "No one that is looking for me is there." Jonel plans to "go with the flow" and be where they can afford to be this Pride weekend. Patrick (not his real name) agrees these events are "priced to keep Brown men who look like me out of the door." "My Pride is now about finding spaces made for non–cis gay white men," the 25-year-old research assistant says. "It's not easy, especially during Pride, when all the large venues are bought out by the cis gay white party producers."
Jacqueline Wladis, a 30-year-old who works in marketing, plans to spend her weekend attending events that are produced with a non–cis male audience in mind. It'll be her first real Pride celebration since coming out, she tells me, and she feels lucky that the $200 she's budgeted for Pride tickets doesn't present a major financial barrier. She estimates the ticket prices for the events she's interested in range from $30 to $80. "Women are still paid 78 cents on the dollar to men, and even less for women of color," she notes. "When events are ticketing their crowds and are thinking about who can pay what, it makes sense that events for non–cis men will have to charge less too."
As a performer, Bump is all for entry costs that are reasonably priced for the communities they serve. "It's not necessarily bad to pay a cover or an entry fee for a queer party if it's going to our queer community and supporting our local talent and DJs — hell, we need to survive," she says. What Bump can't support is when the profits from those events don't end up back in her community. "During Pride especially, I wish we as queer people, and especially gay men, would think about what we're doing with our money," she says. "Are we using it to help our community? Or are we making rich people richer?"