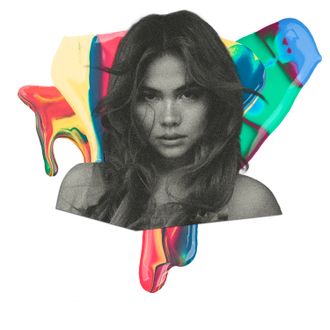 Photo-Illustration: by The Cut; Photo: Trevor Flores
Back in 2015, musician, author, and bona fide "Lesbian Jesus" Hayley Kiyoko released the music video for "Girls Like Girls," and the internet went feral. The video, which has over 150 million views on YouTube, depicted a hopeful queer love story between two teens. From the time it came out, Kiyoko knew she had more to say about those characters. "My goal was to direct a feature for it," Kiyoko says. But seven years went by, and her dream still wasn't a reality. So she went rogue: "I decided to take the story and write a novel version of it to be able to share this story with my fans as soon as possible." That YA novel — also named Girls Like Girls — came out in May and has been on the NYT bestseller list ever since, currently sitting pretty at #3 after reaching the number one spot.
Kiyoko's no stranger to going rogue if it means seeing her dreams through. The singer-songwriter spent this past spring promoting her sophomore full-length album Panorama after pushing for a tour: "Everyone said that everyone's going on tour right now and it's so expensive, and that no one's going to shows," says Kiyoko. But she didn't listen to them. "I did a whole tour and people showed up." She's back home in Los Angeles now, unpacking when we catch up on the phone. It's those moments of support from fans — not to mention her girlfriend, Bachelor alum Becca Tilley, and parents (her dad religiously wears a 'Kiyoko' hat in support of his daughter) — that inspire her to press on. "My whole journey as an artist and storyteller and creator has not only been convincing others I'm worthy, but also reminding myself of the fact, and that representation is worth fighting for, even if the world makes it impossible sometimes."
On her morning routine: 
Every day is different. I try to get as much sleep as I can, and I start the morning saying mantras about being kind to myself and listening to my body. Then I check my phone and make breakfast. I love a big, yummy meal. I normally do sourdough toast with avocado and scrambled eggs or eggs over easy, and some orange juice. I work out three times a week; sometimes I'll do it in the morning. I love circuit training: weights, bands, and stretching. After that I hit the ground running — lots of meetings and running around.
On the challenges of retaining creative control: 
It's hard. I'm very grateful that my fans and supporters acknowledge that all of my work is very thought through, that it feels like it comes from me and my vision. I have to fight for that on a regular basis, and it never gets easier. With the novel, I had to fight so hard to be able to design and draw out the cover myself. I won that fight, but I don't think people realize it's not a normal thing as an artist to keep full creative control and have people support that. I was kind of like, "If people aren't going to listen, I'm just going to write and release the novel. And they'll see that there's a market for it, and then they'll be kicking themselves in the butt for not trying to make it happen for seven years."
On the moment she felt she "made it" professionally: 
Girls Like Girls being a number-one New York Times bestseller was probably one of the coolest things that's ever happened to me in my career. It's one of the first tangible items and titles I've had — I've never had a number one in the music industry, never been nominated for a Grammy. The bestseller list was my first massive win in a very long time. I'm very appreciative and grateful to have my fans come through and support not only me, but queer love and hopeful stories.
On coping with stress: 
I try to navigate it as best I can. I take deep breaths so as to not allow the stress to take over my body, because then I start crying or having a breakdown. And that's not productive, especially when you still need to work through the situation you're in. Journaling is helpful, and so is therapy, taking walks, and connecting with nature. Putting your feet in grass or having your feet touch sand or the ocean, if you have access to one — that helps.
… And chronic pain: 
I've experienced a lot of professional failure, and the hardest part is always getting back up and convincing yourself you're worthy and have a lot to offer, even if the world doesn't believe that or see it yet. But a different form of failure has been my health. I've felt very failed by my body at many points in my career. I had to cancel one of my headlining tours in 2020, and it was devastating. I felt like I'd failed, and on top of that my body started shutting down. I've dealt with years of chronic pain and have felt like my body is just not meant for this industry, like I can't show up the way I need to for myself and for my fans. I'm proud of myself for getting through and for finishing Panorama, which happened during a period of decline. I've become my own health advocate because it can be debilitating and frustrating.
… And criticism: 
No one likes it! I've always been told "no." So I've just had to go out there, spend my own money, fly myself to a city, shoot visuals, and prove that I'm worth believing in. I'm constantly in a state of doing that in my career. Girls Like Girls is a massive example of that. There was no machine behind it; we just did it. With my music videos as well, I don't have a budget, I don't have support, and I go shoot them anyways. I feel like most of my career is always like, "I told you so." I don't want it to be like that. I want it to be like "We did it together," not "I went rogue and did it anyways." I still hope to make Girls Like Girls into a movie, and I would love to continue directing feature films and television. I just want to be able to have the ease and opportunity to tell stories. That's the dream: for people to actually listen and support you, and you don't have to prove yourself. You just get to do it.
On unwinding: 
I started watching The Queer Ultimatum because everyone told me it was really terrible and really amazing. It's cringey, but really good. I'm hooked. It's got the juice, for sure. And in terms of unwinding: nature, nature, nature. When I'm on tour and I'm stressed and feeling isolated and alone I'll try to find a park in the city, and sit there and relax. I love sitting in silence in nature. So just trying to get outside, getting some vitamin D — that's been a huge part of keeping my sanity and protecting my mental health.
On the people who help her get it done: 
Definitely my family; my parents are very supportive. We call my mom "Coach" sometimes, and she's a driving force for me. My dad is my number-one fan. You'll see him wearing a "Kiyoko hat" wherever he goes. I told him he needs to start wearing other ones, but he won't. There's my girlfriend, Becca, my friends, my team, my manager. When I say I "go rogue," there's still a massive team and support system that goes rogue with me. And then my fans, who show up for my tours, who buy my book, who prove I'm not alone in my crazy dreams. I'm endlessly grateful.
This interview has been edited and condensed for length and clarity.