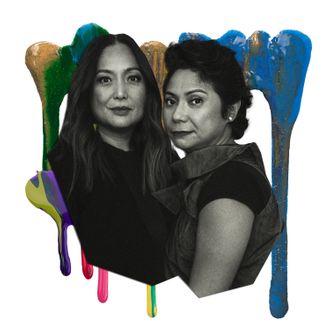 Photo-Illustration: The Cut; Photo: Joseph Pascua/Yulia Reznikov
Isa Lorenzo and Rachel Rillo oversee two galleries on opposite ends of the Earth, in Manila and New York, but that wasn't always the plan. When Lorenzo returned to her native Philippines in 2004 with an MA in photography and media studies from the New School Parsons School of Design (she's also a licensed doctor with a medical degree from University of the Philippines), she wanted to be an artist, not represent them. But there was no formal gallery system in place in Manila to cultivate artists' careers locally or internationally. "It just wasn't the culture," said Lorenzo. "So I decided to start a gallery, and it became very apparent that what we were doing, it made people uncomfortable. We wanted to be included in artists' practices outside of the pieces that are brought into the gallery, do studio visits." That same year, she opened Silverlens. Then, in 2007, Lorenzo opened her second space in the city. The inaugural exhibition featured work by artist Rachel Rillo. The show was a success in more ways than one — Rillo decided to move back to Manila, and they became a couple. "We got along, and she's like, 'Why don't you run the gallery with me?'" Rillo recalls. Since Lorenzo and Rillo partnered in life and business, Silverlens has blossomed into one of Southeast Asia's most prominent galleries, representing Hugo Boss Asia Art 2015 award winner Maria Taniguchi, Corinne de San Jose, and James Clar. 
This past September, Lorenzo and Rillo took the leap and opened an outpost in one of the world's leading art markets, on West 24th Street in Chelsea. Their goal is to introduce Southeast Asian and Southeast Asian diaspora artists to an American audience, elevating their careers stateside. Shrines, their next New York exhibition open from June 22 through August 19, looks at the idea of spiritual places through the work of sixteen Filipino artists. The couple also established the Lubi Art Residency, dedicated to giving artists a platform to create fully carbon-neutral public installations. "Because we're both artists, we treat our artists the way we want to be treated," says Lorenzo. "And because we also buy art, we treat our collectors the way we want to be treated as collectors." Lorenzo and Rillo live between New York and Manila, balancing two homes, two galleries, and caring for their dog, Chika. Here's how they get it done. 
On their morning routine:
Rachel: We both have to look at our phones as soon as we wake up. We see the list of things that have been done, or the questions that have to be answered before the end of the day, and we start talking to New York or Manila. That's the new routine, besides the coffee. We like staring at our garden in Manila, playing with the dogs. Here [in New York] we stare at the trees in Central Park.
On managing homes and galleries in two different time zones:
Isa: We have a very efficient team of about twenty people in Manila. They've been doing this a long time. We can come here for weeks and still feel like we're connected to them. We have constant communication. Whether it's WhatsApp or Viber, there's constant updates and discussions going on in real time.
On a typical work day:
Rachel: Our days are very different. I handle staff management, art handling, exhibitions, the creative team, and quite a big media team in charge of our websites and social media. I'm a very structured person. Whatever needs to be discussed and done, I'm always open.
Isa: I'm doing the business and sales sides. I also handle all the problems and the artists. If there's somebody who's gonna do the difficult thing it's gonna be me, and that's how it's evolved. I make sure all the bills are paid and Rachel makes sure everyone is fed and has a drink in their hand.
On balancing their romantic life and professional life:
Isa: In the Philippines, the fact that we're in the art world, that's why we're so easily accepted — because we're creatives. It took so many years to reach a point where I was okay with myself. I came out to my family and I found Rachel … we found each other. It was like a ten-year process. So now of course I'm going to take care of what we have because it was so hard. It's also easier to be in this because we enjoy the same things. Rachel is really funny. I really enjoy that she doesn't take things very seriously. And it's great because she's there for the ride.
Rachel: That's my cue to say it works because we're so different.
On the moment they felt they'd "made it" professionally:
Isa: Opening the gallery in New York was a big deal. It's an amazing achievement. Getting recognition for our artists is also a big deal. Every time we attend a museum show for our artists or something amazing happens, whether they receive awards or their works are placed or bought by really big institutions, that's why we're here. That's what we're doing. The fact that we still enjoy what we're doing, we love it, and we're still excited every single day, I think that's an accomplishment because we've been doing this for 20 years.
On overcoming professional low points:
Isa: We had a massive fire in 2016 that destroyed our entire storage facility and we lost hundreds and hundreds of artworks that were not insured. I wanted to close the gallery. It was an accident, an electrical fire. Somebody had left something plugged and it went up in flames. Prior to that, there was no art insurance. Rachel was like, "We can't close. What are we going to do?" All the artists were so incredibly generous.
Rachel: Artists in the community, like other galleries, gallery owners, said, "You guys can do it." We heard all of these stories of support.
Isa: We were like, "We're still alive. We're still moving forward." I don't think it was a failure, but it was this terrible setback, which in the end became a huge turning point for us.
On their evening routine:
Isa: I pass out on the couch. I have to take a nap.
Rachel: We host a lot of people at our house.
Isa: Here in New York there's a never-ending list of people who we need to see or want to see and there's never enough time. A lot of the evenings are spent out in the city. It's great to be able to have a huge home life in Manila and then to have this huge city life in New York.
On the people who help them get it done:
Rachel: It's my mom who cares for whatever I leave over there in Manila — food, the babies. I couldn't do what I'm doing here if she weren't around to sort of say, "go ahead, you guys do your thing."
Isa: Her mom would really just step in and take care of things. And my sister lives here in New York. She gives us the warmth of home. For Filipinos it's family on all sides. We also have a whole baby army of Silverlens graduates, people who worked with us over the years. They all come back to do one thing or the other.
On their media diets:
Isa: I am reading How to Hide an Empire by Daniel Immerwahr. It's a historical book about all the territories of the U.S., greater America. It's super fascinating. Rachel listens to podcasts.
Rachel: I love crime, weird stuff, geeky stuff like 99% Invisible. Random stuff that has nothing to do with art.
This interview has been edited and condensed for length and clarity.