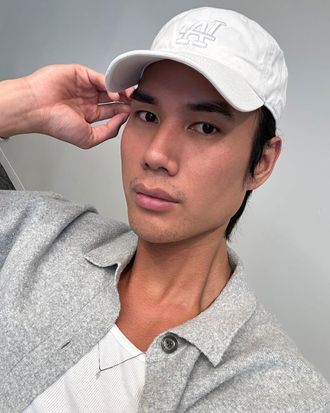 Growing up Vietnamese, makeup artist Patrick Ta remembers how seriously his mom took skin care, especially when it came to protecting her skin from sun damage. "My mom is that Asian lady with a full visor, gloves on, covering her entire face. When she walks around, she'll walk around with an umbrella. She's made me wear sunscreen ever since I was young." Ta added that his mom would wear a blanket over her arms when driving so the sun didn't damage her skin.
So she must have been surprised when, at 18 years old, Ta opened his own tanning salon in Arizona. The store failed but introduced him to the world of beauty. He got a job at a M.A.C counter, and he would post all of his artwork on Instagram. Shay Mitchell stumbled upon his content and immediately wanted to work with him. He since has worked with Rihanna, Bella Hadid, Kim Kardashian, and Ariana Grande, and most recently has been appearing in TikToker Alix Earle's chaotic "get ready with me" videos.
In 2019, he launched his namesake brand, Patrick Ta Beauty, which started with products for the ultimate glow: a highlighting mist, glow lip shine, body oil, and a makeup-setting fan. Now, the brand has extended into more makeup products, including the brand's best seller, a duo blush palette with a creamy and a powder formula. Ta's cream-over-powder viral blush technique has over 1 million views on TikTok and has changed how the beauty community wears blush.
Here, Ta's routine:
To start his routine, he cleanses his skin with a salicylic-acid wash in the shower. Since it's a bit harsh on his skin, he only uses it about three times a week. The foaming cleanser exfoliates dead-skin buildup and prevents blackheads and whiteheads from forming.
His daily cleanser is iS Clinical's resurfacing gel wash, which Ta swears helps re-texturize the complexion and tighten the appearance of pores.
Ta usually follows his cleanser with a multi-essence toner from K-beauty brand Cellflex, not available in the U.S. Next, he uses a brightening serum to give his complexion a next-level glow. He applies SkinMedica's pigment-correcting serum because he is prone to hyperpigmentation forming post-breakout. With ingredients like tranexamic acid and phytic acid, the serum treats dark marks and evens out the skin tone.
Next, he applies Summer Fridays' plumping oil, a blend of oils including meadowfoam and cranberry to soothe and nourish the skin. Ta usually gets really oily on his T-zone, so his hack for applying this oil is putting it on his high cheekbones for a reflective glow that bounces off his skin.
If he really wants high shine under his makeup, he'll use Vintner's Daughter's cult-favorite botanical serum, a blend of 22 rich oils to moisturize the skin.
Next, he applies SkinMedica's brightening eye cream, a lightweight hydrating cream that brightens under eyes and treats stubborn dark circles.
He finishes his routine off with his own lip mask, a moisture-sealing formula that softens lips and gives them a more plump appearance.
At night, he layers on a bunch of serums, mostly because he's that obsessed with skin care. The first serum he applies is a StemFactor growth factor serum that stimulates new skin cells and promotes a more youthful complexion.
Next is Dr. Dennis Gross's retinol blended with bakuchiol to treat fine lines and wrinkles overnight. Ta has recently started getting crow's-feet, so he applies this around his eyes.
Last, he uses La Mer's the Concentrate Serum to lift and soothe his complexion while he sleeps.
On his most nontraditional skin-care hack:
Exfoliating in hot-yoga class. "I try to work out at least five days a week, and if I am doing hot yoga, I always like to have an extra towel that I'll kind of exfoliate my skin with by wiping off my sweat in the yoga class. I'll go into the steam room and I'll take a towel and I'll exfoliate my skin there as well," he says.
On skin advice he always gives his clients:
Match your body makeup to your face. "If your face is really glowy, the body should be, too." He loves using his own products to achieve this finish: dewy milk mist for the face and major glow balm for the body.
On treatments he swears by:
He admits that he has had many treatments done, but there is one that he actually sees a significant difference after: microneedling. "I haven't gotten it done recently, but I used to get it done about four times a year and my skin instantly feels tighter. I've had laser done, but I love the tight glasslike feel I get after microneedling," he says. As for the runner-up, he loves the HydraFacial and how the machine sucks everything out of the skin.
On advice to aspiring makeup artists:
"I think there's something powerful with the word 'no' and saying 'no' and knowing that if you want to be a makeup artist, I don't think that you should take on anything until you know that you're fully ready. In the celebrity makeup industry, there's only a few chances that you'll be in front of, let's say, Rihanna's face, and if you don't slay her face the first time, she's probably never going to book you again because there are so many other amazing artists out there and instantly, your name is out of the drawing board. So I think there's something powerful with saying 'no' and taking on jobs when you know that you're ready and knowing that's okay."