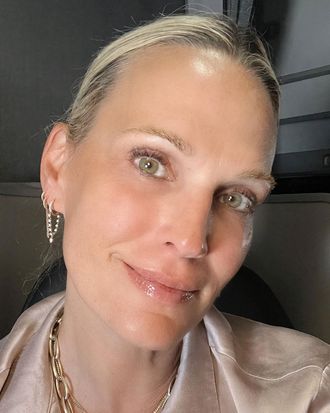 In the early aughts, supermodel Molly Sims was busy being a CoverGirl, walking on runways, like in the Victoria's Secret Fashion Show, and modeling in fashion campaigns for brands including Chanel and Jimmy Choo. Now, at 50 years old, she's busy living her best life. "I love putting on some damn good skin-care products, grabbing a hat, having a cocktail, and going in the sun." She's tested a handful of products during her career and has had her fair share of treatments, too. "I did a cold laser that cost me thousands because I was trying to pretend that I could be a Kardashian, and it didn't actually do anything, but it was drastic and left me with weeks of being inside because of the downtime," she says, laughing. After being tired of trial and error, she decided to launch her own skin-care line, YSE Beauty. But, according to her, it is not a celebrity skin-care line." This brand is for a community of women and men who want to feel good, look good, and use products that are efficacious," Sims says.
Beauty has been a huge part of Sims's career, especially over the past two years, since the release of her weekly beauty podcast, Lipstick on the Rim, with her best friend, Emese Gormley. The podcast has been a safe space for beauty questions and topics for women in their 40s, who, like Sims and Gormley, enjoy a good time and a glass of wine but also have developed skin concerns as they age. While anti-aging is becoming a huge marketing buzzword in the beauty industry, Sims isn't concerned about that. She's just concerned about having healthy and bright skin while targeting hyperpigmentation and keeping her skin hydrated. "Dry skin makes you look old," Sims says. So when it comes to curating her own routine, she packs on the brightening and hydrating ingredients. Using a mix of her own products and a few favorites, she manages to have her version of what healthy skin is supposed to look and feel like.
Here, Sims's routine:
To start, she washes her face with her oil cleanser. She loves it mostly because of its butterlike texture and how effectively it removes everything from her skin. With its blend of cloudberry seed and meadowfoam oils, the cleanser softens the skin texture and restores the barrier.
Next, she exfoliates, which is her favorite step of her routine and what she credits for her glow. The gentle glycolic-acid pads exfoliate and brighten the skin. What's even better is the name: Your Favorite Ex, "because everyone has a favorite ex," Sims jokingly says. She wants everyone to view these pads as their favorite skin-care product.
Before she lathers on her serums, she uses these eye patches that immediately plump and hydrate her under-eyes. "These suck every fucking ounce of water into your eyes in the morning," she says.
While she locks that moisture into her eye area, she applies her vitamin-C serum to the rest of her skin. The serum is infused with Sims's magic trio — niacinamide, squalane, and hyaluronic acid, which all work to hydrate her skin while also evening out her skin tone.
Following her serum, she applies her lightweight creamy moisturizer to soothe her skin and brighten it with ingredients like licorice-root extract.
To finish off her routine, she wears IT Cosmetics' cult-favorite CC cream foundation with SPF so she gets her protection and a subtle tinted glow all in one.
In order to have lips just as nourished as her skin, she wears Summer Fridays' lip balm to plump her lips and keep them hydrated throughout the day.
Because she can never have enough nourishment, she keeps Macabalm by her side. The multipurpose healing balm repairs the skin with its organic ingredients. It can be used almost anywhere, but Sims uses it on her legs and lips.
Occasionally, she does a mask at night to resurface and brighten her skin. Her go-to? Glow Recipe's AHA Night Treatment, a hydrating and firming PM mask that exfoliates.
Some people may indulge in a lot of water for hydrated skin, but Sims has other drinks of choice. At night, alongside her glass of wine or paloma, she makes herself a "pink drink," also known as Moon Juice's magnesium. It keeps her calm and helps her get eight hours of sleep, which shows up in her skin.
On aging:
"I don't think age matters. I have friends who are in their 70s, and they're fabulous and fun. I think age is a state of mind. I hate the word anti-aging. And it's not to say that I don't want to age; I don't like it. When people hear 50 and they're like, 'Oh, menopause.' I'm like, 'I'm not going through menopause, boo. I'm never going through menopause'. And if I am, I'm not going to acknowledge it. I'll tell you this, I'm better in my 40s than I was in my 20s."
On her worst beauty mistake:
Sims has made a handful of beauty mistakes and received advice that she could have gone without, but by far the worst beauty advice she's ever received came from her mom, who told her to put castor oil on her face. "She had the driest skin in the world and advised me to put castor oil on my skin. It broke me out so bad because clearly I cannot use castor oil if I have cystic acne. The best advice is to just be consistent with efficacious products and don't be trendy."
On treatments she's loving:
While Sims loves at-home self-care like indulging in her facial tools, including the NuFace and Dr. Dennis Gross's LED mask and laying in her HigherDose infrared sauna blanket, she also loves in-office treatments like micro-needling: It reminds her of what she loved 30 years ago — mesotherapy. She also thinks EmSculpt is effective. The one trendy treatment she doesn't believe in is Morpheus 8 because she thinks it's important to be careful with touching scar tissue that we can't see. Overall, she has one rule when it comes to treatments: "Don't over-plump; we don't need to have chipmunk cheeks."
On confidence:
"I faked it until I made it," Sims says. With a career in modeling, she's heard it all from people telling her she's not blonde enough to telling her if she goes too blonde it'll ruin her career, making comments about her body, and more. Nothing about people's opinions felt good, but what it did was build an armor for her. "You get this protection and with that comes confidence and suddenly you don't give two shits," she says. She's human and admits that she'd be lying if she said she doesn't care what people think or say, but the difference is she no longer lets it bother her or ruin her entire day. To her, that's the most powerful place to be and that's confidence.