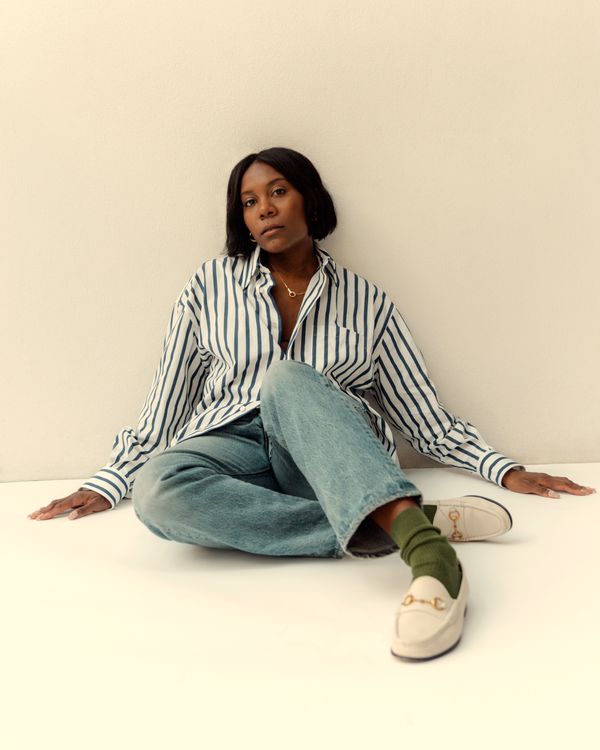 For more of the Cut's favorite fashion, beauty, and home finds, sign up for the weekly Cut Shop Newsletter.
When you calculate cost per wear, the math is simple: You can have a smart investment (yes, even in luxury fashion). This week, the Cut's fashion director, Jessica Willis, suggested investment is the classic pair of loafers. With a twist.
A pair of white loafers hits Willis's big three style words, timeless, functional, and edgy. In this installment of "The Jess Edit," she breaks down how to make them pop, the perfect jeans to pair them with, and how to embrace the oversize top. Read on for the full outfit breakdown.
The Hero Piece: Loafers
For the hero piece, Willis chose Gucci's horsebit loafers, the classic design the brand reintroduced this season. Why? They are the shape of a classic loafer with an unexpected twist: a heel and the gold hardware, which you can pair with gold jewelry (but more on that below). They will never go out of style and pair easily with basically every outfit.
Add an oversize button-down
Summer calls for a shirt that can do it all in: "You can wear it with jeans or with a bathing suit underneath," Willis explains. "It's a three-in-one because you can wear it as a dress because it's oversize. At the end of the night, when it gets cold, I throw on some jeans."
The key to wearing an oversize top is to "let your oversize shirt be oversize," she says. Unbutton the cuffs and untuck it from your jeans, and layer it over something fun like a bathing suit or bralette. Wear it open, or button just one or a few buttons to play with proportions. Borrow it from your boyfriend or thrift it from the men's section, you want to really embrace the oversize fit.
With a maximalist shoe, pair down the jewelry
You can just skip the statement necklace (the shoes are enough) and add a simple chain to your look. Play off the gold accents in the shoe with lightweight gold accessories. A minimal chain like this one from Repossi provides a nice touch as well as interest to the neck area, especially if you skip a few buttons.
Elongate the leg with the right pair of jeans
Willis is a diehard 501's fan and wears hers twice a week. "They're my absolute favorite of all time," she says. Willis recommends shopping the vintage ones, which are readily available in Levi's stores if you can't thrift them. They get better with time, and with each wear, they get softer and have a more lived-in feel and look.
With this look, they're a good length to show off the loafers and socks. The length of the 501's helps to elongate the leg and balance the oversize shirt. If you don't have these jeans but want a similar look with cuffed jeans, you can tuck in your oversize top to create balance.
Don't be afraid of contrasting colors with socks
Resist the urge to go for neutral socks, and add an unexpected pop of color. To contrast the blue stripes in the top, Willis opted for an olive-green pair from Comme Si. She loves this brand for its rich colors and materials like wool and silk.
Get the Look
Here are five pairs of loafers to wear with your jeans.
Toteme's sleek take on the loafer features summer-ready canvas with a sheepskin leather trim.
Add a little extra shine with Ref's patent-leather loafers; the ruched details adds some texture to your looks.
Or embrace the square toe with Miista's glossy ruched loafers that are both functional and edgy.
The very definition of quiet luxury, these understated loafers from The Row are a matte cream color that's easy to pair and wear with everything.
The soft slip-on loafer has a light brown that seems more than appropriate for summer dressing.