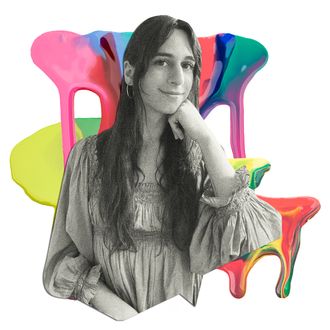 Photo-Illustration: by The Cut; Photo: Willow Defebaugh
Willow Defebaugh has been planning her career since she was 5 years old. In elementary school, her parents took her on weekly trips to their local magazine shop, where she would pore over the latest edition of National Geographic. She started to tell anyone who asked that she wanted to be the editor-in-chief of a magazine about the natural world. Since then, her life has unfolded in pursuit of that goal, even when she wasn't aware of it. After getting her start with intern and assistant positions at Vogue, GQ, and CR Fashion Book, she landed at V magazine in her mid-20s. She was there for almost five years, developing all print and digital content for the magazine and VMan by the end of her tenure. After working at what she describes as her dream job, though, she experienced acute burnout and decided to quit. She spent a year traveling the world, attempting to decipher what life after the fast-paced world of publishing could look like. Then Jake Sargent, whom Willow had reconnected with through mutual friends, approached her with the idea of launching a magazine that was "a cross between National Geographic and Vogue."
"As dead set as I was against continuing to work in publishing, when someone says, 'Hey, I think we should do this thing that is your lifelong dream,' I had to say okay." They co-founded Atmos in 2019, and their first issue, out the same year, featured creative icons like Yoko Ono and Ryan McGinley. Since then, they've expanded, and the team now includes a full digital staff, daily online stories, and multiple print issues a year. Through stunning, high-quality photography and the exploration of issues like queer ecology, Defebaugh has created a climate publication that speaks to the possibilities and perils of being alive right now. Willow lives in Brooklyn with her dog. Here's how she gets it done.
On her morning routine:
I usually wake up when the sun comes up. I'm a huge natural-light person. I find it helps me get energized so much faster. I brush my teeth and then take my dog for a walk. I'll take him around the block and then we'll go to my favorite café. Getting out of the house first thing in the morning is key for waking my brain up. Depending on the season, I usually make yogurt or oatmeal for breakfast and throw in all kinds of yummy granola and fresh fruit. There are a few variations on that. And I always dress for the day. If I'm not getting dressed for my life, I'm not motivated.
On a typical workday:
Most days, the Atmos team logs into Slack and starts messaging around 9 a.m. We all work remotely. There's a fair amount of the team that works in the U.K., so it works out that the first half of the day Eastern Time I'll spend in meetings. The afternoon might be spent editing a story, proofing the new issue if we're at that stage of the production process, brainstorming ideas if we're starting a new issue, or sorting through pitches from writers.
Thursdays are a sacred day for me. I set them aside for writing. I have a weekly newsletter that goes out via Atmos that looks at the natural world through the lens of deep ecology, so I might spend that day writing about what hummingbirds can teach us about living lightly or what beavers can teach us about resource conservation. I have a tea-meditation practice I'll do on Thursdays as well, and that really clears my head for writing. It's very important to me to have one day with no meetings. I can't "fit" creativity into a regular day. I have to make space for it.
On working in climate while living in a big city:
I try to remember that Brooklyn is an ecosystem. Richard Powers said something during an interview a few years ago that really stayed with me, which is "live where you live." For me, that looks like knowing the names of my tailor and who does clothing repairs. Knowing what's in season and what's not. Not thinking of nature as "somewhere else" where I need to go spend time has been really important to me. If I can clear my schedule for even an hour and go for a walk, a hundred little ideas will come to me while I'm walking down the street. I've really tried to shift my idea of what "work during working hours" looks like. Because sometimes, that hour spent going on a walk or listening to a podcast might be the thing that unlocks the rest of my day.
On plugging in and tuning out: 
I don't have Slack or email notifications on my phone. I do have the apps, so if I need to look at them, I can do so intentionally. I find that when my whole day is spent on my computer or my phone, work can start to feel inescapable. A lot of the last few years for me have been about not just setting boundaries but about living intentionally. I recently read in Stolen Focus by Johann Hari that when we are working on something and get distracted, it takes us 20 minutes to refocus. If you think about that with every Slack notification or email, it adds up.
Some of the work I have to do around boundary-setting has to do with the news and how much I'm tapped into it, even though I am a part of the media. Whether it's the most recent anti-trans legislation or a politician's viral video, those are things that really inhibit my ability to do my job. That's the side of it that people don't often think about. Sometimes being a trans woman in America, it can feel like the world doesn't want me to succeed. It means something to me that I can be a trans woman editor-in-chief, that I can show my community that we can have anything. What makes me sad is when my ability to do that job is compromised because of the culture. I feel like I'm in a good place and I've done a lot of work to cultivate those boundaries, but it is a challenge. Whenever anything happens, I feel this pressure to have a statement. I've given myself the permission to say, I'm going to engage with this because it feels like something I need to address or I don't need to pick up my sword for this one. Sometimes, I want to focus on this story that I'm working on that may have nothing — or everything — to do with it.
On dealing with self-doubt:
Atmos is unique in that it's a climate and culture publication. We had a lot of moments of doubt where we asked, Can that even exist? When does it feel like an impostor in both spheres that it's trying to occupy? I felt that way for at least the first two years, but you just keep going and keep telling stories. I think authenticity resonates more than anything else. Atmos from the very beginning wanted to be something with heart, and I think that's much more important than experience or bullet points on a résumé.
On the advice she wishes she'd had at the start of her career: 
Follow the threads. At the time I quit V, my career trajectory looked so confusing, but I learned so many things during that time. It always felt like this eternal tug at a string. This thing is important, pay attention to this, follow this, and don't worry so much about where it's going to lead or how it will tie into this other thing you're trying to accomplish. Just follow the thread.
On eco- and budget-conscious shopping: 
Most of the shopping I do is secondhand. Human beings are incredibly resourceful and creative when we want to be. There is so much great clothing already in existence on the planet, and there's no limit to the possibilities when it comes to reusing or upcycling. It makes every piece feel really special. There are a couple of brands whose practices and values align with my own which I'll also shop with semi-regularly, but I do have to set a clothing budget for myself. Every time I go to buy something, I ask myself, Is this something I want to be in a relationship with? Am I trying to fill some kind of void or need? Am I anxiety-shopping? Is it operating from a healthy place of thinking, This is a beautiful piece, I want to feel celebrated wearing this? Forcing myself to ask those questions has put a healthy boundary on what I buy.
On winding down: 
Cooking grounds me. It's alchemy in the truest form. Using ingredients from the earth and taking an hour of my day to do something that is for the express purpose of nourishing my body is hugely important to me.
On the people who help her get it done:
I am so incredibly fortunate to work with such a supportive and talented group of creatives that make up the Atmos ecosystem. Most notably, my co-founder and friend Jake Sargent, who has been with me every step of the way. Not just in the creation of the magazine, but also in becoming my most authentic self. I will always be grateful to him for that.
This interview has been edited and condensed for length and clarity.