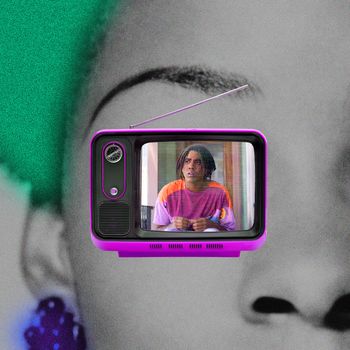 Photo-Illustration: byThe Cut; Photo: Pete Lee/Prime Video/Amazon Studios
We get it: There's an overwhelming amount of television right now. The streaming landscape is an impractical maze, and the good stuff easily gets lost in the shuffle. But most of us can still find one show that cuts through the noise. We call this "appointment viewing" — or the time you carve out in your busy schedule to watch the show you'll want to unpack the next day with your friends while it's still on your mind. Tune in here each month to read what writer Michel Ghanem, a.k.a. @tvscholar, deems worthy of a group-chat deep dive.
Previously on "Appointment Viewing," we've covered HBO's The Last of Us and Prime Video's Daisy Jones & the Six and Dead Ringers, and we laughed along to Rose Byrne and Seth Rogen's misadventures in Platonic on Apple TV+. This month, we can't stop thinking about I'm a Virgo, an absurdist Prime Video comedy about a 13-foot-tall giant venturing out into the real world for the first time.
Wait, Boots Riley made a TV show?
If you loved Sorry to Bother You, Boots Riley's surreal 2018 film about the push-and-pull between activism and corporate climbing, you should tune in to I'm a Virgo on Prime Video this month. The seven-episode absurdist comedy series is a coming-of-age story starring Emmy-winner Jharrel Jerome (When They See Us) as Cootie, a 13-foot-tall guy in Oakland, California, who has been carefully hidden away for 19 years by his aunt and uncle, played by Carmen Ejogo and Mike Epps. Upon making his first-ever friends (Allius Barnes, Brett Gray, and Kara Young), he is convinced he should wander out of his well-hidden home to explore the world as a giant for the first time.
Cootie spent his childhood watching and absorbing media, repeating lines from television shows and commercials back to himself in an attempt to rehearse social norms while in isolation. As an autodidact, he speaks in a (sometimes hilariously) childish way once he's out in public. For example, after Cootie discovers bass from driving around to a thumping subwoofer with his new crew, he compares it to friendship: "Like the bass coming out of the speaker, friends can help you fill the inside of yourself and the world at the same time." Eventually, Cootie begins to realize that what he has learned through pop culture — including to idolize a vigilante comic-book "hero" who polices Black lives in Oakland — is a fallacy.
The series, in true Boots Riley fashion, is very much a show about Oakland, a city that has been dealing with many negative outcomes of the housing crisis. Songs from Bay Area musicians like Tune-Yards and Remi Wolf pepper the soundtrack, and the show specifically examines how gentrification and capitalism have exploited the city by highlighting a handful of local spots Oakland natives will recognize.
Where can I watch it?
All seven episodes of I'm a Virgo will be available on Prime Video as of Friday, June 23. Since episodes range from 20 to 30 minutes apiece, the total run time is shorter than some films, so you may find yourself binging it all in one sitting. If that's not your jam, I split my viewing into two halves: The first four episodes really establish the characters and tone before moving into the superhero satire of the last three.
It may strike some as ironic, and potentially problematic, that I'm a Virgo's home is Amazon's streaming service. In an interview with IndieWire, Riley admitted it was not his first choice. "I'm trying to get people specifically to organize at their place of work, including at Amazon," he said of the paradox. Unsurprisingly, the show is hard-hitting on all things capitalism and corporate greed, through direct monologues and metaphorical plot devices. Whether this style of Marxist storytelling — spoken through Young's character in particular — will resonate with viewers (not to mention Amazon executives) or fall into the overflowing bucket of "eat the rich" narratives remains to be seen, but it certainly feels timely during a wave of strikes across industries and a broader reckoning with the exploitation of labor as the rich get richer.
Yet Prime Video has been the site of some of the more creative storytelling on television so far this year. I'm a Virgo could be placed in conversation with Swarm, the satirical serial-killer thriller inspired by the Beyhive, and is the third show from the streamer I've included in this monthly column after Daisy Jones & the Six and Dead Ringers. It also brings to mind other shows about the alienation of the working class, like Severance and Mr. Robot. Riley clearly had access to a significant budget to make I'm a Virgo work, and thankfully, Amazon allows him to bring his full vision to life in a way he might not have been able to at another network.
Okay, but will it be too weird for me?
It has been argued that we've reached peak prestige television. And there's certainly too much reliance on rebooting preexisting intellectual property, which has given us far too many series that may as well be straight-up copies of copies. So it's refreshing to recommend a show that feels packed to the brim with weird, small details that may leave you scratching your head by the end of each episode. I'm a Virgo is a brilliant antidote to bland television — with a lot to unpack. Riley has so much to say about negotiating Black identity in a capitalist society and living under constant surveillance, and he does so with a style so singular that there's no mistaking his work for anyone else's. One of my favorite story lines involves Cootie going viral for his height, leading to an opportunity to work with a fashion brand that makes him model bespoke outfits for an audience at a mall, explicitly capitalizing on the racist "scary Black man" trope. But Cootie is willing to go along with it to make enough money to take his crush, played by Olivia Washington, out on a date. He wears these outfits until the end of the season despite his body's physically rejecting them in the form of a worsening rash.
I'm a Virgo is also a visual treat. As you can imagine, a human being who stands roughly the height of an elephant provides creative challenges, but they are tackled with clever use of forced perspective by the production teams and costume designers. Everything from Cootie's eating tiny burgers to his custom-proportioned house is thoughtfully represented. The show is cartoonish at times, but it all clicks with the more surreal moments, and if you suspend your disbelief from the jump, it resonates on a similar register as Sorry to Bother You. If nothing else, I'm a Virgo will certainly be the most memorable series you'll watch this year, and it may just inspire you to pick up a Marxist text.