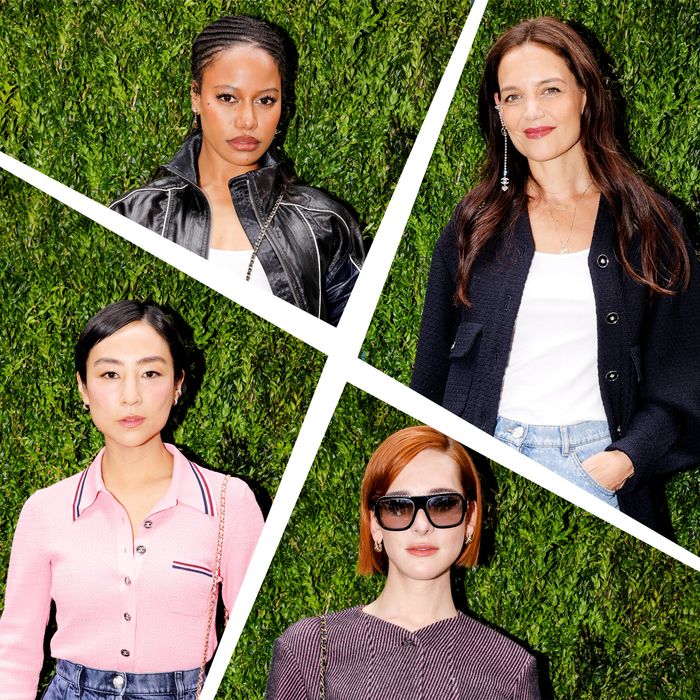 Photo-Illustration: by The Cut; Photos: BFA
A good fête should have at least one of the following: trays of French fries, towers filled with oysters and lobster tails, and Greta Lee talking about her IBS to an audience of fellow actresses including Katie Holmes and Dianna Agron. Luckily, Chanel's Through Her Lens luncheon had all three.
On Friday, the fashion house, along with Jane Rosenthal and Paula Weinstein of the Tribeca Film Festival and the Through Her Lens Advisory Committee — which included Patty Jenkins, A.V. Rockwell, and Lee — hosted a lunch to celebrate their collaborative Women's Filmmaker
Program at the Odeon in New York City. In the nine years since its founding, the program has aimed to provide industry support, artistic development, and funding to emerging self-identifying women and nonbinary filmmakers.
The program is a three-day immersive experience that leans into mentorship and classes focused on script-to-screen development and all of the things that make movies exceptional: music composition, costume design, producing, and directing. Throughout, program participants refine their projects and pitches with the guidance of their mentors and present their projects to a jury. In the end, one team receives full financing with support from Tribeca Studios to produce their short film. Four other projects are awarded grant funds to support their own films.
"It is so essential in this very weird, ambiguous business that we're in to find people who can unlock some of these tricks of the trade," Lee told me when she arrived on the black carpet in a pink, tweed-patterned Chanel cardigan tucked into a pair of blue jeans. "There are certain things, especially for anyone who considers themselves an outsider in any way, that includes women, that includes people of color, that includes people like me from an immigrant experience. It's been paramount to have these mentors who are able to teach me some really important things along the way."
Fellow A-listers like Hari Nef, Zoey Deutch, Nina Dobrev, and Jemima Kirke floated down the carpet set up outside the iconic New York restaurant — all, obviously, wearing head-to-toe Chanel. It was here Agron, wearing a sparkling black blazer and light-wash denim, credited her mother and grandmother for piquing her interest in movies: "They both shared many, many classic films with me, so my introduction into this industry was from films of the past," she told the Cut, "I loved that education, and I really thank them for giving me that."
"The female experience is universal. It's shocking people are still asking the question 'Why does a woman's voice deserve to be heard?' because we all came from a woman," actress Kate Siegel said. "When you were a child, your favorite voice was your mother's voice. It is shocking that people think we deserve anything less for the rest of our lives."
Inside, as guests like Nef and Francesca Scorsese hugged each other hello and settled into booths and café chairs and waiters drifted about with stout lattes, sliders, crudités, and glasses of Champagne for the taking, Rosenthal took to the mic to welcome attendees and celebrate the program's mentors and mentees.
"It's more vital than ever for women and nonbinary people to have a platform to tell their stories," she said. "Representation matters, plain and simple."
Rosenthal mentioned that this year, three Through Her Lens participants are premiering their first features at the Tribeca Film Festival, including past winner Hannah Peterson, whose first feature, The Graduates, is entered in the festival's U.S. Narrative Competition.
Lee, who stars in the newly released, critically acclaimed film Past Lives, spoke next and joked to the room that it had been so long since she'd received a feature role, she had no idea what a "set drink" was (an actor's go-to beverage that is always stocked on set) and, panicked, chose an energy drink that left her feeling ill.
"It's an ability to take up space unapologetically, be bold in everything you know and everything you don't know, and not coincidentally, it's with women," Lee had told the Cut earlier of the acting projects she gravitates toward. "I like men too … but if I could choose, it would be women only, women all the time."
Same, Greta, same.