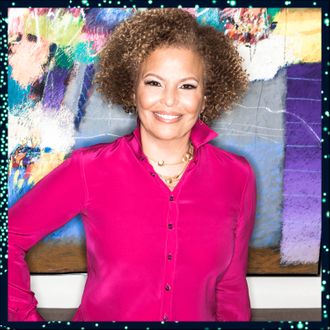 Photo-Illustration: The Cut; Photo: Sharon Suh
"It's still lonely at the top, and especially for Black women." Debra Lee would know. The former CEO of BET may not be a household name like Oprah and Shonda Rhimes, but there's no question she stands shoulder to shoulder with them in shaping Black culture. Lee spent 32 years at the network, her last 13 as CEO. "I was a unicorn," she tells Cut editor-in-chief Lindsay Peoples on this week's episode of the In Her Shoes podcast. As in "the only Black person in the room, the only Black woman, sometimes the only woman." That hadn't changed much by the time she retired in 2018. That realization, plus being stuck at home because of the pandemic, spurred Lee to write her memoir, I Am Debra Lee.
In the book and on the podcast, Lee reflects on her career and the "heavy burden" that comes with "setting the standards for our community." As the only network at the time targeted to African Americans, the audience had high expectations. "On VH1, they could call it a guilty pleasure. On Bravo, when they were watching Real Housewives of Atlanta, they could call it a guilty pleasure. If we put it on BET," she recalls, "they would say we were destroying the race." After airing the music video for Nelly's "Tip Drill," for example, a minister bussed his congregation to Lee's house every Saturday for seven months to protest explicit content.
To hear more about Lee's time at BET, from navigating an abusive relationship that spanned both her personal and professional lives to sending a camera crew to film her daughter's junior-high-school playoff game when she was unable to attend herself, listen and subscribe for free on Apple Podcasts or wherever you listen below. You can also read the full transcript below.
Lindsay Peoples: Welcome to In Her Shoes. I'm Lindsay Peoples, editor-in-chief of the Cut. On this show, I get to talk to people that we love and admire or just find interesting. We'll explore how they found their path, what got in their way, and how they think about bringing others along now that they've arrived. On this show, we always ask about the literal shoes on the feet of our guests. I know you're at home right now. What shoes are you wearing right now or what are your favorite shoes to wear?
Debra Lee: Right now I'm wearing UGG slippers so I won't slip on my wooden stairs. I had a fall. I'm into Altuzarra. They have nice pumps and I've been wearing a lot of their things. But my favorite pair, I must say, is a pair of Khaite patent leather boots for the book tour.
Lindsay: Oh, nice. Okay.
Debra: Oh my God they're so comfortable. They go over the knee and they look great with everything.
Lindsay: You've been in the industry for over 30 years. Why did you feel like right now was the right time for you to move into a different chapter and tell your own story?
Debra: Well, four years ago I stepped down from BET. At that point, I had been with the company 32 years and CEO for 13. I had accomplished almost everything I wanted to accomplish at BET, so I stepped down. I figured that was a good ending to the book (it starts with my childhood), so that's why I did it. Retirement has been very busy, but I knew I always wanted to write a book. The other thing that helped was COVID. That kept me home and off a plane for two and a half years.
Then, also, when I stepped down I noticed, looking around, there are still very few Black female CEOs. I found that disturbing and I was like, Why aren't there more of us? That gave me extra push to write the book and tell my story, and kind of look at some of the issues that we face as women in the c-suite and as Black women.
Lindsay: You've been such a trailblazer for women and women of color in the industry, particularly Black women working in entertainment. Tell me a bit about what that was like starting out, being the only one and trying to make a name for yourself.
Debra: It was challenging, but exciting. I started out as a lawyer. I talk in my book about how I never wanted to be a lawyer. It was really my father's desire. So when I came out of law school, I clerked for a year. I thought I was going into government, but the Republicans won, and I didn't want to go into a Republican administration. So I went to a big law firm, stayed for about five and a half years. Then, it was time to really decide what I wanted to do in life.
Luckily, BET was a client. I had done some outside counsel work for them for a couple of years. Bob Johnson [co-founder of BET] offered me a position as vice president and general counsel. I was always interested in the communications industry and media, but that was kind of hard to do in Washington. So as I was leaving the firm, I did a lot of interviewing in New York, but I wasn't really ready for New York. I liked Washington. So when Bob Johnson offered me the job, I was like, Well, this is perfect. I can still practice law. I can join a communications/media company. It's in cable, which was very new at the time. I went to BET in 1986. At that time they didn't even have cable in D.C., so people thought I was falling off the face of the earth. They were like, "You're doing what?" It was perfect and a good way for me to enter the industry. Almost immediately I started doing a hybrid of legal work and business, and found out that I was more interested in the business side. When I got in the business side, that's when it really became clear. I was a unicorn. I joined a couple of boards. I'd be the only Black person in the room, the only Black woman, sometimes the only woman. I remember — you would appreciate this — when I went on the Revlon board many years ago. I replaced Martha Stewart because she was going to prison. It was true. I was only the second woman on the Revlon board. I'd always thought that was so amazing because we would sit in board meetings and talk about colors of lipstick and packaging. Marketing people would come in and pass products around. You had all these men commenting on it. I was like, What do they really know? I mean, I know they know what they like and what they see. By the time I left the Revlon board, it was about 50% women. Eventually Ronald Perelman's daughter took over as CEO. That was a big move. [But] It's still lonely at the top, and especially for Black women.
Lindsay: Did you have any sense of imposter syndrome when you were starting out in the industry? How did you combat this?
Debra: That's a great question. At first, I didn't. I was working at a Black company, so that was helpful. You take race off the table. Until we went out and tried to borrow money or when we went public I was surrounded by people that looked like me. Then, when I was appointed COO, I realized that it was still unusual for a woman to be COO, even at a Black company. The women were high-fiving me in the halls, and they were so happy. They said, "We never thought this would happen at BET. It's such a boys club, and you're so nice!" That amazed a lot of people: "How can you be so successful and be nice?" So I started thinking of it in those terms.
The biggest case of imposter syndrome I've had was when I went to Harvard Law School. One, I was a little intimidated by the name, Harvard. Two, a white woman who lived across the hall from me at Brown who I became friendly with did not get into Harvard. She told me that I got in because of Affirmative Action. It's kind of weird that I remember that 50 years later, or however long it's been. But that had an impact on me. When I got there, I looked around and saw all these smart people, and everyone was valedictorian in their class from college. There were a lot of people in my section who would raise their hand to volunteer. Each section at Harvard Law is about 140 people. It's scary, especially for an introvert like me. I didn't like speaking in big groups of people. Then, the professors didn't want to talk about public policy, which is what I was interested in. I was interested in using the law as a weapon to get better laws and policies for my community. They didn't want to talk about that at all.
So, I would say my first year of law school I really suffered from imposter syndrome. Most of the students were in study groups. They'd get together with four or five other students in their section to talk about the law and the issues. I didn't even join a study group. I was so afraid someone would find out that I didn't belong there. So I did it all on my own, which is probably not a good idea in retrospect. Then the second year I went to the Kennedy School. I did a joint program. I kind of found my footing and found people who had the same interests that I had. That made the rest of law school much easier.
Lindsay: We talk a lot at the Cut about being the first, and the weight that that carries for a lot of people, the pressure of representation. Describe to me in what ways you felt that weight throughout your career, particularly when you're working for a network that has to represent Black people in such a big, public way.
Debra: Right. Well, for me, that was a heavy burden. At BET, it was a heavy burden because for a long time we were the only network targeted to the African American community. So our audience expected more from us. They expected news, they expected breaking news, and they expected us to be there and deal with the issues they wanted to deal with. [But] we didn't have those kinds of resources, you know? We didn't have a lot of live shows until we finally had 106 & Park. We always had to think about the community. The Black community is pretty conservative, truth be told. So, we had problems with videos. A lot of people didn't like them. We had a show called Uncut that showed kind of explicit videos. That was the first thing I canceled when I became CEO. I said, "I'm not taking the flak for Uncut." I never watched it before I became CEO because I'm never up that late. The community was just down on us because of that. Then Nelly's video for "Tip Drill" came along. One time, I went to Spelman and I thought the women there were going to tar and feather me because of "Tip Drill." I was like, "Look, I'm not even CEO yet. I'll deal with it when I'm CEO." So, it was the first thing I canceled.
In my book, I talk about the protestors outside my house for seven months. It was caused by a local minister who wanted me to take off three specific videos. I said to him, "I have a standards and practices committee. They review every video. They send them back to the label to be edited. If there's a real problem, they bring it to me, and I make a final decision." I said, "I can't let you decide what video's going to go on BET. If I let you take off three this month, you'll be back with three next month." He was not happy about that. He bussed his congregation to my house every Saturday for seven months. They would stand outside with bullhorns yelling, "I am not a bitch. I'm not a hoe." It didn't make my neighbors too happy. Luckily, I had a gate around my house. They couldn't get too close, but it was really disturbing. I felt I was trying to do the right thing.
When I became CEO, I made a pledge to the audience that I would do more original programming. Viacom had acquired us. We had more resources. I was in the midst of rebranding the company, getting more staff who knew about original programming so I could do shows like The Game and Being Mary Jane and The New Edition Story. But that took a while. So, it was really disheartening to me to be in the midst of that controversy. I always say, "I didn't go to Harvard Law School to decide what videos should go on a network." That wasn't my choice, but here I am. It's part of my job. The first real stand I took against a video was Kanye West's "Flashing Lights." The woman was scantily clad. She had Kanye in the trunk. She pulled him out of the trunk, and I think beat him to death. I just said, "I'm not airing this on BET." My music programming folks were like, "But Kanye's a genius. He's going to be mad, and he's going to call you." I said, "Well, let him call me. He wasn't out there counter-protesting or helping me when all these people were outside my house." So, they took it off. Oh, the other feedback was, "Well, MTV is airing it." I was like, "Well they're not setting the standards for our community. They have a different audience." Anyway, I took it off. Kanye never called, never mentioned it to me. At that point I said, "If I'm going to be the only adult in the room, I'm going to make the decisions. So, if it goes bad, I don't feel bad about it." You know?
Lindsay: Yeah.
Debra: So, I did. I started being a little tougher on videos. When I took over as CEO, the programming was 60 percent music videos. That was a legacy from us just not having money for programming, and videos were free. When Janet Jackson and Michael Jackson made those incredible videos they were making, the record labels were spending a million to $2 million on videos. No one could say it was cheap programming.
By the time I left BET, we had no music videos. We were still committed to music through our award shows and documentaries, and even reality shows we did, like Keyshia Cole: The Way It Is. We knew we were different from other networks. Our brand was to respect, reflect, and elevate our audience. That's what we tried to do with everything that we did. We knew it was important to our audience, but we also knew our audience had tougher standards.
Lindsay: I mean, did you feel like other CEOs, or other people who were also part of BET, were getting as much flack, or were under as much pressure as you?
Debra: Other CEOs at other companies?
Lindsay: Yeah.
Debra: No.
Lindsay: Or your counterparts.
Debra: No. No one's ever asked Oprah why she doesn't put on news. No one in the media industry has had the kind of pressure we do. Then, when we were in the family with Viacom, MTV and VH1 were in the family. VH1 was doing a lot of Black reality programming that I knew we couldn't air on BET. I had the executives at Viacom say, "This is getting good ratings at VH1. Why can't you air it?" I had to explain to them that our audience wanted different things. On VH1, they could call it a guilty pleasure. On Bravo, when they were watching Real Housewives of Atlanta, they could call it a guilty pleasure. If we put it on BET, they would say we were destroying the race. So, that was a heavy burden. I always said to my team, "It's good news and bad news. The bad news is it's a heavy burden. The good news is when we get it right, the audience shows up in droves."
We got 7.7 million viewers for the first episode of The Game. The Game had been off the air for two years. Before that it was on the CW and it got about 1,000,005 viewers. So, to have it come to BET for us to produce it ourselves at the same level of quality that CBS was producing it and to get that many viewers just proved that if you do high quality, authentic programming, the audience will show up. A lot of other networks have learned that, now. You know? A lot of networks have a Black night like Bravo or We TV. The streaming services definitely understand that. Netflix is amazing in the amount of Black programming they have on. It's a great time to be a Black viewer because there are more choices. I assume that's taken less pressure off of BET, but I'm not sure.
Lindsay: You do have a chapter in the book called "What Balance?" There's all of this pressure and responsibility so many women feel in high-powered roles, but also trying to have a life outside of work as well. How did you make peace with trying to find balance while understanding that certain things were going to take precedence over others in certain seasons of your life?
Debra: I don't think I ever made peace with it. I just tried to do the best I could. Luckily, I had a lot of resources. By the time I was CEO, I was making lots of money. At one point — I always tell this to women — I had four people working for me at home. I was divorced by this time. I had a house manager, a chef, a babysitter, and a housekeeper. Then, I had people working for me at work. So, I had a really great support system, but I could afford it. I could also take the company plane and do a red eye trip from L.A. to D.C. so I could make the holiday program for my kids.
I think one of the most outlandish examples is when I had surgery, so this wasn't even a work instance. My daughter was in junior high, and she was in a semifinals game. I really felt bad I was going to miss it, but being in the media, I sent a camera crew to film it. So, you do what you have to do. I mean, there are certain events as a parent you just know you have to meet. Back-to-school night is once a year. So as soon as I got the dates for that, I put it on my calendar and blocked it off. I couldn't do anything else. I had to be in town for back-to-school night. The same with Halloween Parade, or holiday programs.
The other thing I tried to do was get my kids involved in my work. If I had to give a speech, I might take my son or daughter. They always came with me to Kids' Choice Awards, and eventually the BET Awards and Grammys. Both of their first jobs were in the music industry. Some of it rubbed off, but I wanted them to see what I was doing and get the perks in addition to having me travel a lot. So, I'd say it's like a seesaw. It just goes up and down. You hope that there's nothing so critical that you have to miss something that's important to your kids.
Lindsay: Tell me about a time where you remember making sacrifices for your family and personal life because of work life.
Debra: Just being away from home a lot, not being able to do homework. A mother asked me the other day, "Well, did you do homework?" "No. I didn't do homework." I could not be at home for that. If I was in the city, I was probably late. I made sure I hired babysitters who were teachers. They would come in and help with the homework. Things like that I missed. I tried to be there and if I couldn't, I tried to do a workaround of some sort.
For holidays and birthdays, I was always there. The overall travel schedule I had was tough. It was tough on me and it was tough on the kids, especially after I got divorced. But to this day, my daughter is best friends with many of her babysitters. She's starting to go to their weddings and meet their babies. I'm not saying it was perfect, but you do the best you can.
Lindsay: You've also talked about the tough relationship that you had with Bob Johnson, how isolating that was, and getting out of that situation. How did you finally get to the other side and build up the strength to be able to talk about it, and be so vulnerable about that?
Debra: It took a long time to be able to talk about it. I talk about it in my book. I talk about how Bob was a great mentor to me and gave me a lot of opportunities and pushed me and appointed me as COO, which led to me being CEO. But for a time we had a personal relationship. That was tough. Well, first of all, becoming a COO was tough because all my friends were my peers. When I became COO, that put me above them, and there went all my friends. I found out half of them had asked for the job. I didn't even know there was a job. Most of the men had asked for the job so they weren't so happy. They were more aligned with Bob because he had hired them. So that was very isolating. It took me six years to build my own team, and that was way too long.
One of the first mistakes Bob made was telling them I could not fire them. That was devastating to me as a manager, because you have to have that ability to terminate people if they start acting up. You can't not have that tool in your toolbox. Then, after Bob and I started having a personal relationship, that made it more isolating. It was difficult. We eventually both got divorced at different times. It became public that we were having a relationship, and that was even more difficult. We had to let the company know because they had a business conduct policy that said, "No one that reports to another person should be involved in a personal relationship." So, we had to disclose it.
Then over time, with most relationships, you start having disagreements. Ours was on the personal side and the work side. The relationship became abusive, and [there was] also harassment because at times the work relationship was tied to our personal relationship. Bob would say, "You can break up with me, but you have to leave tomorrow." I could just see my career going up in smoke and me having to leave a company that I had been at for 15, 20 years, with no reference and probably little ability to get a job somewhere else. I talk about that because that's not your typical Me Too story. When Me Too and Time's Up came out, it was more about guys who were in hotel rooms doing horrible things to women. That was not my story, but I wanted young girls to know even what felt like a consensual relationship could really not be, if the power structure was different.
Lindsay: Right.
Debra: That's what happened in my case. I think it was consensual from the start, but I know in the back of my mind I always had to think about, Well, if I say no, what's going to happen to my job?
Lindsay: The power dynamic was off.
Debra: Very much so. So I wanted to especially tell that story. Young people, boys and girls, men and women, know what to look for. Nine times out of 10, office romances just don't work, for many reasons. When they don't work, you have to be prepared to deal with it.
Lindsay: What gave you the strength to be able to move past that and just be confident in your own abilities and in your work?
Debra: Over time, I became more confident in my role as a COO. I knew Bob was going to leave, at some point, because he had only signed a five-year agreement. He was already starting to do other things. He had bought a basketball team and other things. I became more confident in my own voice, had my own ideas about how BET should be run, which caused more conflict. I was just getting stronger in my position.
The other thing, I'll be honest, that really helped me was therapy. One of my girlfriends looked at me one day and she said, "Debbie, you need to go talk to somebody." I never even thought about that because I didn't think I was depressed. I didn't think I had other issues. But she gave me the name of someone. I went to her, and she told me I was depressed and that I had probably had anxiety all my life. She said, "That's why you've been so successful. You study so much, and you're so afraid of failing, and you're anxious." I think a lot of us have that and don't really know it. The therapy really helped me a lot and gave me the courage to break off the relationship. After Bob was gone, I had become CEO. That gave me the courage to break off the relationship and not be swayed by anything anybody else was saying, that this was not good for me, and I should get out of it.
Lindsay: So, what do you hope to see for other young Black women coming up in the media industry now?
Debra: I hope to see more Black women in the c-suite and going up the corporate ladder. I would love to see more Black women green-lighting programs — that's happening to a certain extent — and more Black female directors. I want to see us more involved in the creative process. That's the only way we're going to have authentic programming. That's happening, but I'd like to see more CEOs just because I've been in the corporate world for so long. I'd like to see more COOs, CEOs, heads of marketing. I want our younger women, our girls, to see images of everything with them in it, that they can be doctors, lawyers, heads of magazines, artists, CEOs. I want our young people to be able to dream big and know they can do anything. I want them to have the opportunities to do that.
Lindsay: I love that. Thank you so much. That was so great.
Debra: Oh, thank you.
Lindsay: In Her Shoes is hosted by me, Lindsay Peoples. Our producer and editor for this episode is Tarkor Zehn. Our engineer is Brandon McFarland, and our executive producer is Hanna Rosin. The Cut is made possible by the excellent team at New York Magazine. Subscribe today at thecut.com/subscribe. I'm Lindsay Peoples, and thank you so much for listening.
This transcript has been lightly edited for clarity.