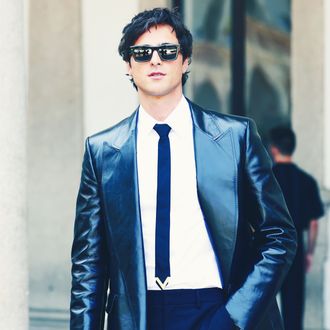 Photo: Jacopo Raule/Getty Images
Jacob Elordi shared a little kiss with a gorgeous golden-haired girl at a Valentino show in Milan — and, lucky for us all, someone caught it in a video now circulating on Instagram.
Although the world is filled with rumors about Elordi's dating life, rarely have we been offered such a compelling piece of visual evidence regarding who this tall man is bending down to smooch. You are probably wondering, Who is his mysterious Italian lady?
The bachelorette in question is, in fact, a dog named Miranda. Her heart may be Elordi's, but legally, she belongs to Valentino creative director Pierpaolo Piccioli, who adopted her as a puppy two years ago. In the video, Miranda sits daintily in front of the palatial estate where Valentino's show took place while Elordi stoops down (as he, a giant, must do for most ladies he encounters, contrary to his claims) and purses his lips for her to plant a sweet slobbery kiss on his chin.
Miranda seems like a worthy girl for Elordi (after all, who can resist a Miranda?), but can she, as a dog, truly appreciate his buttery leather jacket and razor-sharp jaw? Does she understand just how tiny his earring is? All this remains to be seen. After all, her namesake is the impossibly hard-to-please Miranda Priestly, and she has plenty of other suitors. Fortunately, Elordi has been known to meet high standards — physically, at least.